16 November 2016
16 Nov 2016
Missing Dog – Found!

Thanks to the website, we have her back!!!!!
We are all delighted and it just goes to show how great the website is.
---
 

Scór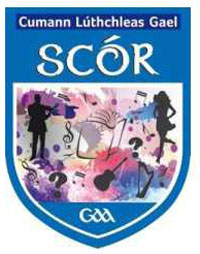 The North Final of Scór Na nÓg will take place in Birdhill on Friday 18th November at 7.30pm. Wishing all Borrisoleigh competitors the very best of luck. All support would be greatly appreciated.
---
Borris-Ileigh GAA Club Notes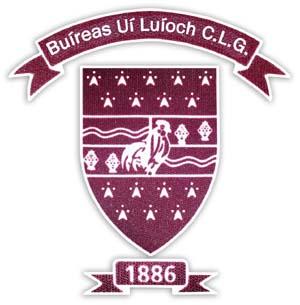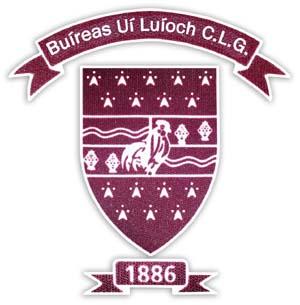 Development: Great work has being taking place in the park in recent weeks on our sports complex. As you will have seen the blocklayers have been doing fantastic work and the project is starting to take shape. Of course all of this great work has to be paid for. A large number of people have signed up to our €250 per year (for three years) fundraiser. However we still require more people to sign up so we can complete and pay for the project in the time frame we have set out. We appeal to all those who have promised to pay into it to contact their promoter and make the payment. We will also be calling around to houses in Borris on wednesday night next to drop off leaflets about making payments.
If you are interested in signing up and haven't heard from someone you can contact Mark Stapleton, Henry Groome, Don Ryan, Bobby Ryan, Martin Ryan, Diarmuid Kinnane, Frank Cooney or Johnny Maher
U21: Our u21 game v Toomevara has been postponed until Sunday week due to an appeal by Newport to the county board. The game will take place in Templederry at 2pm on Sunday 27th.
AGM: In the coming weeks nominations will be sought for officers of the club for the forthcoming AGM. If you are interested in getting involved at some level please contact Gerry Treacy. We will also be looking for people to get involved with underage teams so if you think you would be able to help out please get in contact
Date for the diary: On December 10th we will be hosting a night at the dogs in Thurles Greyhound Stadium. This will be a great night out and fun for all. Details on some of the extra events will be released in the next few weeks
---
Borrisoleigh Track Attack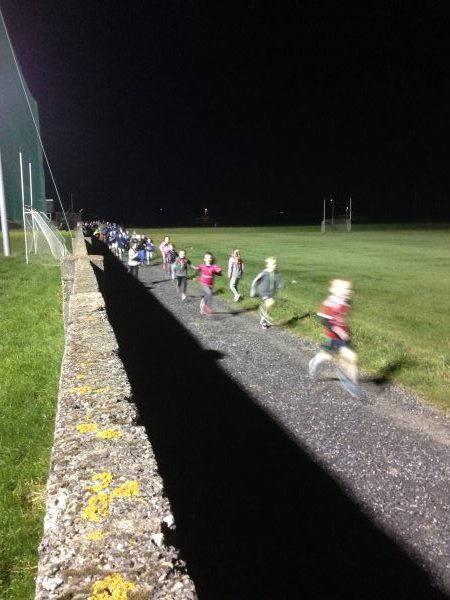 Some of the younger members in action
Nathan Guides Celtic to Quarter Finals
Nathan Hogg is the first captain to lead his team to the knockout quarter final stages of the Track-Attack Champions League Series. His Celtic team overcame the challenge of the Atletico Madrid team on Monday night thanks to a string of very impressive performances. Their scorer in chief on the night was Dylan Fahey while he was ably abetted by the scores accumulated by Aoibheann Carr, Carol Treacy, John Slattery and Tom McGrath.
In the other group one game, Will Cooney's Porto team have all but done enough to earn a place in the quarter finals but will still need another point from their final 2 games to guarantee that progress. On Monday night, they defeated the Borussia Dortmund team with the performance of Jack Galvin in particular catching the eye. They also had a maximum haul of points from Jacqueline Minogue and Mary Rabbitte on the night.
The group one league table is as follows (scores for in brackets):
Celtic 12pts (543)
Porto 9pts (593)
Dortmund 3pts (376)
Atletico Madrid 0pts (430)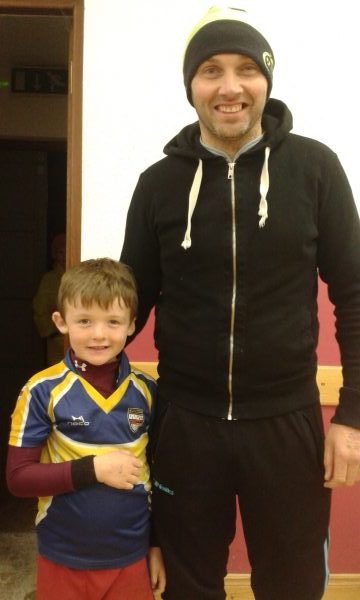 Tadgh & Denis Kelly
The defeat of table toppers Bayern Munich at the hands of Ella Ryan's Monaco team have thrown group 2 wide open with two rounds of the round robin section of the Series remaining. Mark Fahey and Razuk Atik performed brilliantly on the night and now their team are right back in the mix-up.
PSG, captained by Ava Marie Rabbitte also hit top form on Monday night and their victory over Ciara Maher's Leicester team have given them a real chance of knockout qualification. Tara Kennedy produced her best performance to date to be her team's premier performer while there was also stand out performances from Paul O'Brien, Noreen Ryan and Kathleen Mockler.
The group two league table is as follows:
Bayern Munich 9pts (615)
Monaco 6pts (579)
PSG 6pts (411)
Leicester City 3pts (678)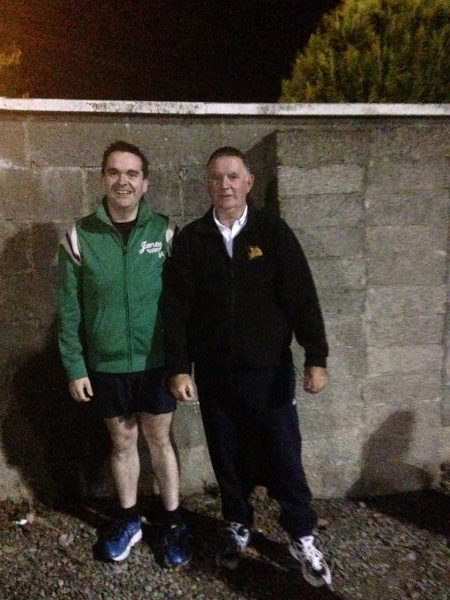 Victories for Juventus and Tottenham have put them in pole position to grab the knockout spots in group 3. Edel Minogue, Donal Ryan, Tom Stapleton and Rachel Ryan were all in fine form for the Spurs outfit while for Juventus, Noel Kennedy, Kathleen O'Meara, Richie Tynan, Sharon Harkin and Rachel Johnston all recorded impressive PB's.
The group three league table is as follows:
Tottenham 9pts (582)
Juventus 9pts (569)
Benfica 6pts (492)
Real Madrid 0pts (463)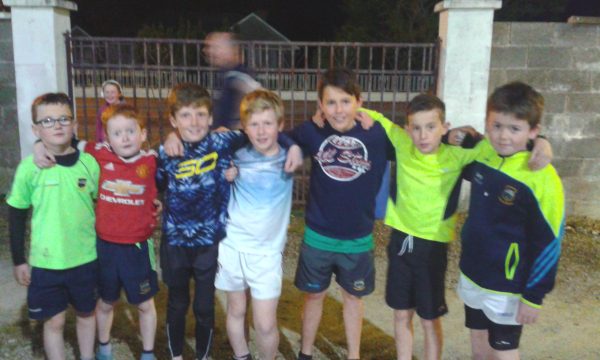 The upset of the night came in group 4 when pointless Barcelona defeated the previously unbeaten Napoli team. Siobhan Groome, Aaron Young and John Kinane were their star performers while captain Ben O'Donnell also chipped in nicely to his teams overall scoreline. Arsenal's victory over Man City have catapulted them into qualification territory. Caoimhe Carey was their trump card on the night with a top class performance. There was also top performances from Naomi Young, Tracy Devaney and Cliona O'Connell.
The group four league table is as follows:
Napoli 9pts (544)
Man City 6pts (618)
Arsenal 6pts (454)
Barcelona 3pts (227)
---
 St. Cualans Social Club
St. Cualans Social Club Christmas party takes place on Sun Dec 4th. The day will start with Mass at 2pm. We will then go to the Community Centre for a Christmas dinner with all the trimmings followed by music, song and dancing provided by Phil & Johnny Maher and a host of local talent. We are also hoping to have a visit from a very  important man in a red suit. Cost €20 and we welcome everyone to join us and if you are interested please contact Lucia Ryan 086 3961211 or Eileen Slattery 087 9849848 before Dec 1st.
---
Christmas Shoebox Appeal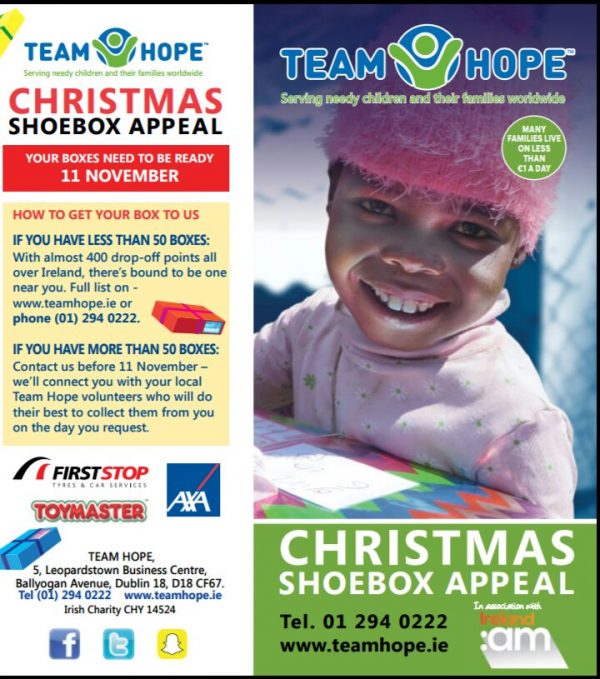 Its that time of year again when we start thinking about what will bring huge smiles to our children's faces on Christmas morning. But what if we couldn't fulfill their dreams on Christmas morning. This is the case for many parents in poor countries. SO, why not help them out. All you have to do is find a shoe box, wrap it in colourful paper & fill it with gifts. I've attached a list of suggestions for you. PLEASE help put a smile on children's little faces this Christmas. Leaflets can be got from & boxes dropped to Fiona at Fifi's Tots Preschool, Ileigh Road or call 087-2169150.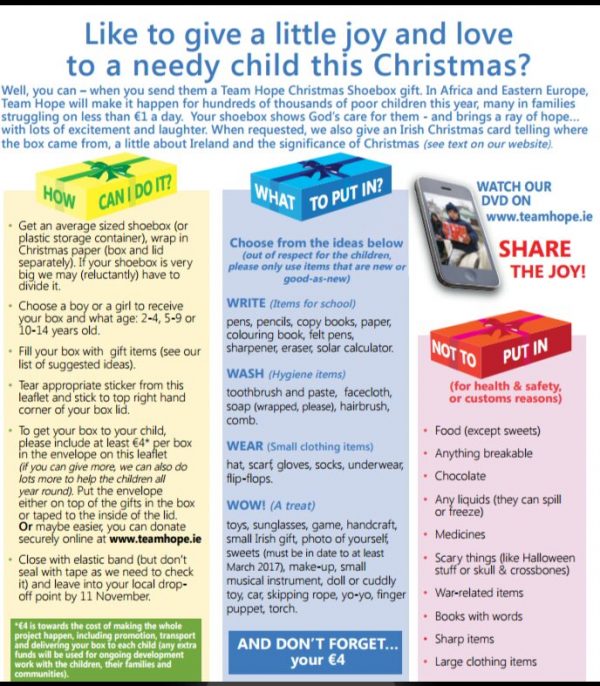 ---
Bush & Briar Evening Walk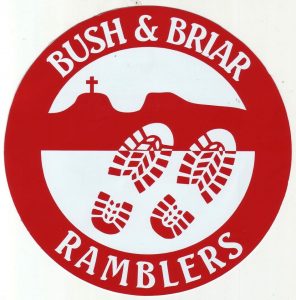 Bush & Briar are walking the Inch Loop every Tuesday evening at 7pm sharp until further notice.
All welcome to join us, walk takes approx 1 hour.
Boots, torch and hi-viz jacket essential.  Ground can be uneven in places.
Please contact Liam on 087-7622267 or Helen 087-6748147 for further details
---
Borrisoleigh Active Social Club
The Christmas party for Borrisoleigh Active Social Club along with St. Cualans Social Club will take place on Sun Dec 4th. We hope to start the day with Mass @ 2pm followed by a Christmas dinner with all the trimmings and music song and dance provided by Phil Maher and friends in the Community centre. Cost is €20 and everybody is welcome to join us. If you are interested please contact Lucia Ryan 086 3961211, Dolores Delaney 086 3815020 or Eileen Slattery 087 9849848 before Dec 1st.
---
Borris-Ileigh Camogie Club Notes

AGM
Our A.G.M. took place last Saturday. The following officers and managers have been elected for 2017:
Chairperson: Mike Galvin,
Vice Chairperson: Carmel Harkin,
Secretary: Darragh Ryan,
Assistant Secretary and Registrar: Paula Ryan,
Treasurer: Triona Fitzgerald.
Child Welfare Officer: Denise Hogge.
PRO: Catherine Delaney.
The club would sincerely like to thank outgoing Chairperson Carmel Harkin for all her work in the club, and we are delighted that she remains on as Vice-Chairperson.
Managers:
Senior: TBC at adjourned AGM
Junior: Michelle Duignan.
Minor: Ruairi O'Connell.
U16: TBC at adjourned AGM.
U14: Mike Galvin.
U12: TBC at adjourned AGM
U10: Kevin O'Brien
U8 & U6: Patricia Ryan, Marion Hodgins & Colm Healy.
Adjourned AGM takes place on January 14th 2017.
---
Bothy Book Club

The Bothy Book Club takes place on the 1st Saturday of each month
---
 Pic of the Past ………..down memory lane

Ryan Family of Ballyroan – Christmas Morning
Back: Tim, Bridget (holding John) and Dympna
Middle: Martin Ryan, The Glebe, Pat, Tim and Angela
Front: Eamon, Aidan and Bobby
---
Committee: Enda Ryan, Noreen Fahy, Margaret Cowan, Marie McGrath, Aileen Óg Groome and Derry O'Donnell
Many thanks to all those who contributed photographs and news items. Remember, we need you to continue to send us material so that we can keep our website current and interesting.
Send your email to:info@borrisoleigh.ie

While we make every effort possible to ensure that the information contained in this Website is accurate and complete, we cannot accept any legal liability as a result of the inaccuracy or incompleteness of the information presented to users of this site
Also, if you like what you see and want to leave a comment, remember to use the Guestbook