16 February 2022
16 Feb 2022
Parish News

Anniversaries: Saturday 19th @ 7pm Mass Mary Ryan, Cronavone,her mother Sarah and father Paddy and for Mary's sister Josephine O'Dwyer.
Sunday 20th @ 11am Mass James and Mary Kennedy, Rathmoy and their daughter Peggy.
Anam Cara Tipperary
The organisation that supports bereaved parents, is holding it's monthly Parent Evening for bereaved parents on Monday 21st February at 7:20pm in theHorse and Jockey Hotel, Thurlus. This event is free and open to all bereaved parents regardless of the age your child died, the circumstances of their death, or whether their death was recent or not.
Exploring Priesthood – Zoom with Seminarians and Priests
On Tuesday 1st March @ 8pm there will be an opportunity for young men to join in on a Zoom to find out more about priesthood and to hear directly from two young men who are currently studying for the priesthood in our National Seminary in Maynooth. The event is being run by the National Vocations Office. Further information and registration details can be obtained by emailing info@vocations.ie alternatively by visiting vocations.ie/zoom or by contacting the Cashel & Emly vocations team at josephwalsh0504@gmail.com.
Follow the footsteps of Jesus from Galilee to Jerusalem 2022
Take the TRIP of a LIFETIME to the HOLY LAND, 23rd May-2nd June 2022.
Group Leader, Mícheál de Barra and Spiritual Director, Fr. John Newman (Scripture Scholar). In association with Premier Travel, Cork
Contact Mícheál at 086-8337681 or email info@carpediemtours.ie
(See also our website: www.carpediemtours.ie)
Thought for the week: Make new friends today, they may in time become your oldest and best.
---
Axa community bike ride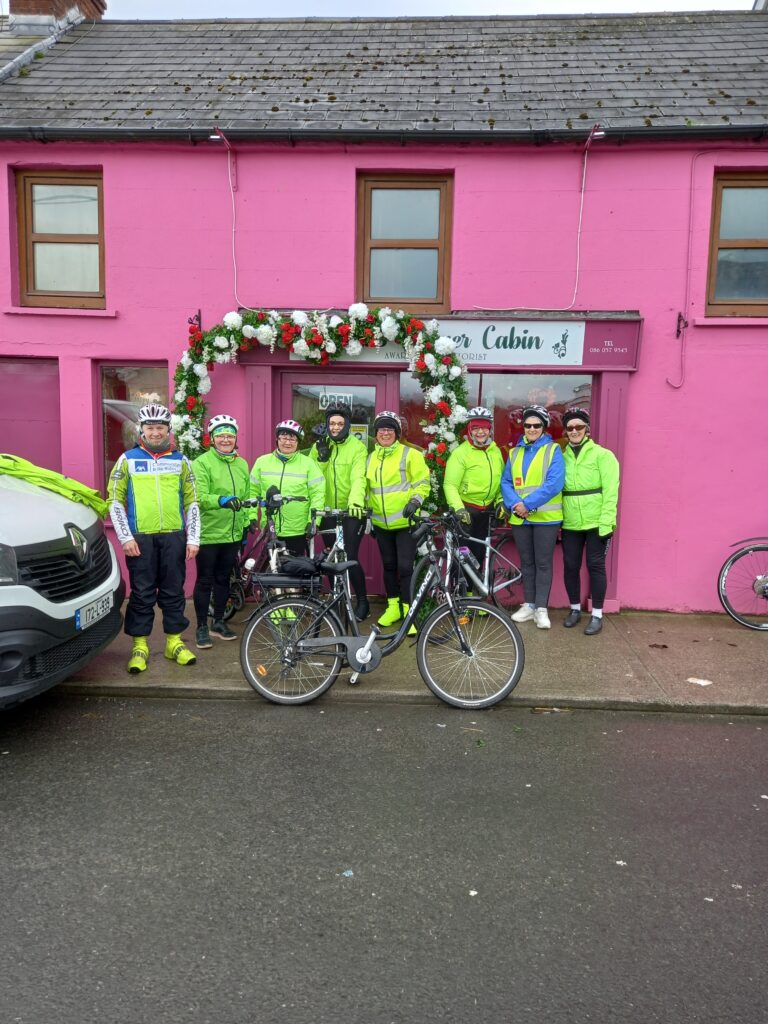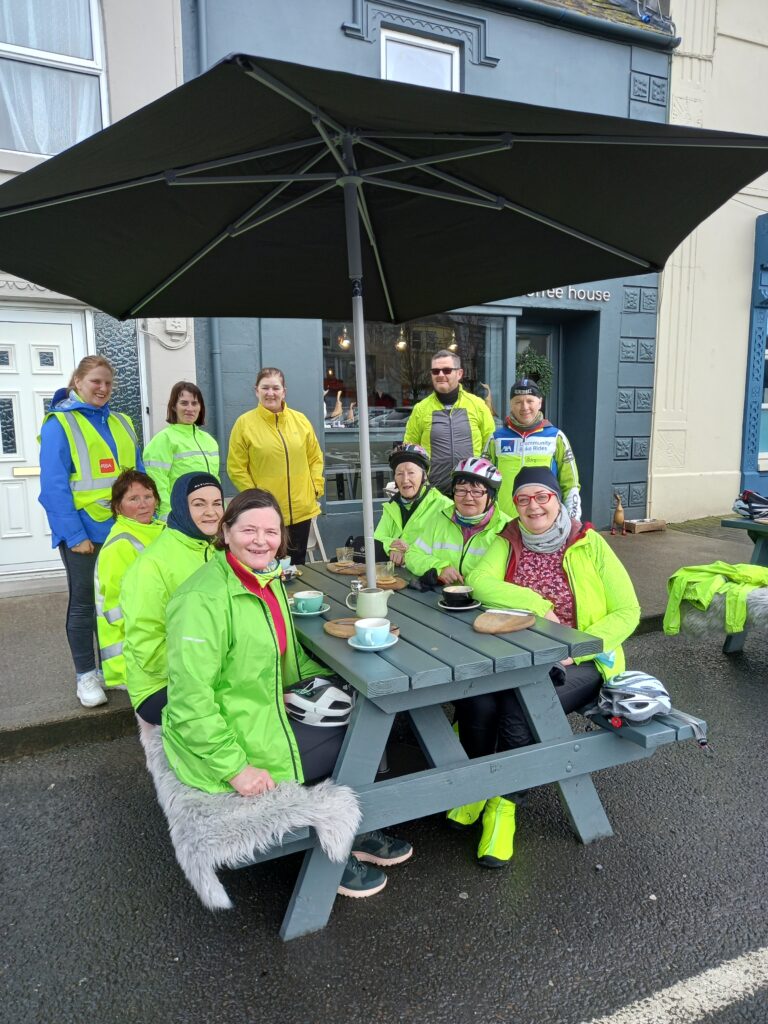 We had another lovely cycle last Sunday where we stopped off for refreshments in Templemore coffee shop One 19 and on return to Borrisoleigh we called in to Jane's flower Cabin to get our orders for in Valentines day.
---
Scoil Naomh Cualán Open Night
---
Jobs in Borrisoleigh
Please click into link below to view upcoming jobs in Borrisoleigh
https://www.facebook.com/585519924982316/posts/1958292437705051/
---
Borrisoleigh Community Development Association AGM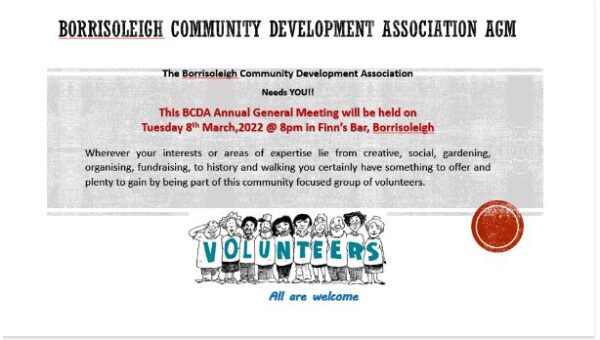 ---
Borrisoleigh Community Development Association Notes
Tipperary PPN is running a Grant Application Writing workshop, on Thursday 3rd March 2022 from 7pm-9pm. To book you place for this workshop please visit https://www.eventbrite.ie/e/grant-application-writing-workshop-tickets-255239136127
Ensure to book in early, the workshop in February was oversubscribed!
Below are the objectives that can be achieved by attending this one evening course:
Understand the components of a grant opportunity and to recognise if a grant opportunity is suitable for your group.
Develop the attitude and skills needed to write competitive grant proposals successfully.
How to manage the challenges of writing a successful grant application.
Gain competence in writing typical grant components, including a statement of need, implementation strategies, monitoring & evaluation, classify outcomes & impact, budget attachments, and an executive summary.
Click here to view the Tipperary PPN January newsletter with 1. PPN News & Members Corner; 2. Funding/ Grant Opportunities; 3. Public Service Announcements, Training and Upcoming Local Events
---
Pic of the Past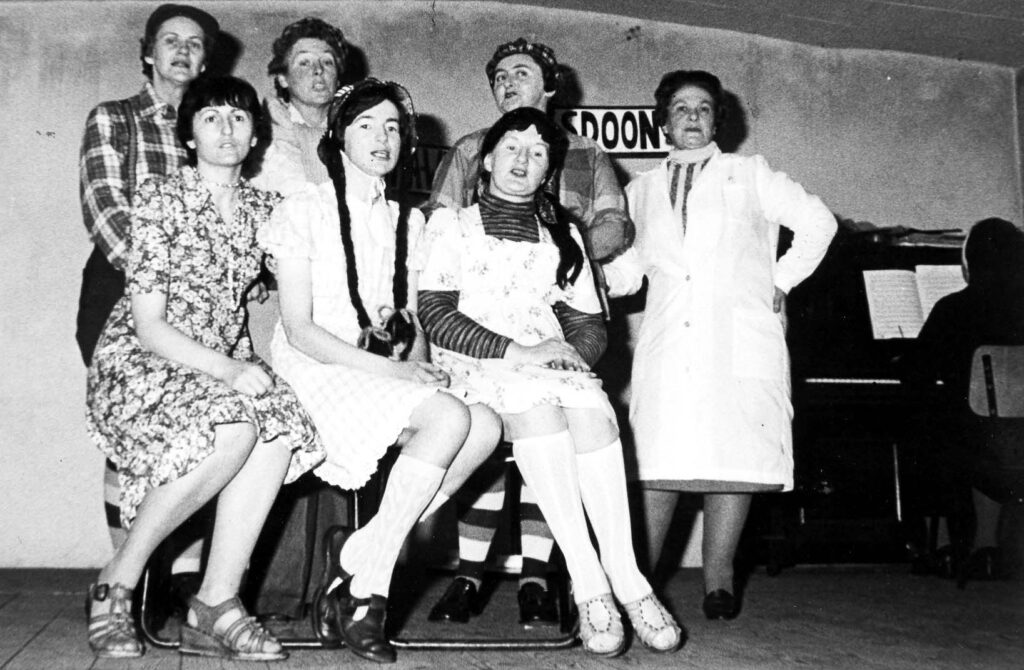 I.C.A. Actresses
Back: Angela Stakelum, Norah Butler, Annette Collins and Rose Leahy
Front: Caroline Treacy, Angela McSherry and Bridie Shanahan
---
Your Website Needs You
Committee: Enda Ryan, Noreen Fahy, Marie McGrath, Derry O'Donnell
Many thanks to all those who contributed photographs and news items.
Remember, we need you to continue to send us material so that we can keep our website current and interesting.
Send your email to: info@borrisoleigh.ie
This website is supported by Borrisoleigh Community Development Association.
While we make every effort possible to ensure that the information contained in this Website is accurate and complete, we cannot accept any legal liability as a result of the inaccuracy or incompleteness of the information presented to users of this site. We also reserve the right to edit material for suitability to a website format.
Also, if you like what you see and want to leave a comment, remember to use the Guestbook