16 August 2017
17 Aug 2017
Parochial House Telephone Number
The telephone number for the Parochial House has changed. To contact Fr. Hennessy please use the following number 0504 51935.
---
Borrisoleigh Community Games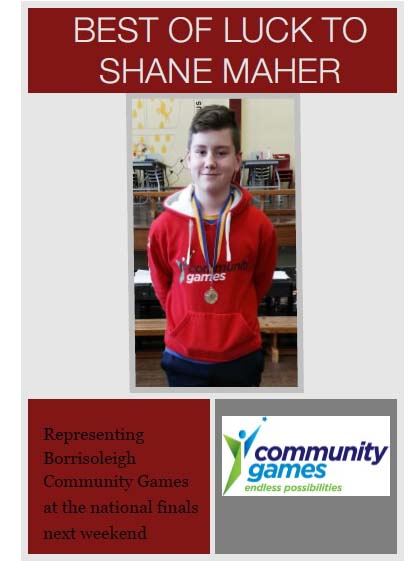 ---
Borris-Ileigh GAA Club Notes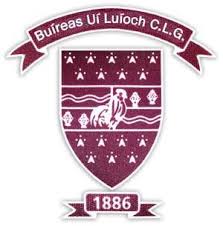 Senior:
Congratulations to our Seniors who qualified from their Roinn 1 County Championship group last Saturday with a fantastic victory over Upperchurch Drombane in Semple Stadium. They were victorious on a score line of 4-17 to 0-15 after a fantastic performance from our lads. This along with Loughmore Castleiney's five point victory over Kiladangan in Dolla ensured our passage into the next round. We must now wait for each divisional championship to be played off before the next round fixtures will be decided. Well done to all involved.
Minor:
Our Minor's recorded a very impressive victory over Ballina in the North Minor 'B' championship last week. They came out on top on a score line of 5-21 to 2-11. Well done to all involved.
Upcoming Fixtures:
Our Seniors will play the North Senior Hurling Championship Semi Final against Templederry Kenyons on Sunday the 20th of August in McDonagh Park, Nenagh at 6.30pm. A victory over our close neighbours and rivals would give us our first North Final appearance since 2010 in what is sure to be a hotly contested encounter.
Our Juniors will be action this Friday evening the 18th of August in Round 4 of the North 'A' Hurling Championship versus Burgess in Kilcolman.
Our Minor's will play the next round of their impressive campaign in the North Minor 'B' Hurling Championship this Thursday evening against Borrisokane in the Park. This game will take place at 7pm.
Our U14's will be action in the North 'B' Hurling Championship this Wednesday the 16th of August in the Semi Final against Newport away in Newport at 7.30pm. Will a North Final place at stake it will be a tough assignment for the lads.
After their fantastic victory over Toomevara in the North our U12 'A's will take on Holycross Ballycahill in the County Semi Final this Saturday the 19th of August. Both the time and venue have yet to be announced for this fixture. Details of this fixture will be posted on our Facebook page once they have been announced. After having such a great year so far hopefully our lads can push on and reach the final.
Best of luck to all players and management in all grades.
All support greatly appreciated.
Lotto:
Our Jackpot is now up to a MASSIVE €18,000 for the coming week. This weeks numbers were 1, 6, 9 and 11.
Tickets are available at all local shops and pubs.
4 – LUCKY DIP WINNERS – €50.00 each
Dan Shanahan, Templederry.
Bernie & Pat, c/o Shanahan's Shop
Benny Harkin, Mountgeorge
John Paul Kennedy, Templederry
Well done to all this weeks lucky dip winners. If you wish to play online you can do so here: https://www.locallotto.ie/localhome.asp?LL_ID=549
---
Tipperary Mini Marathon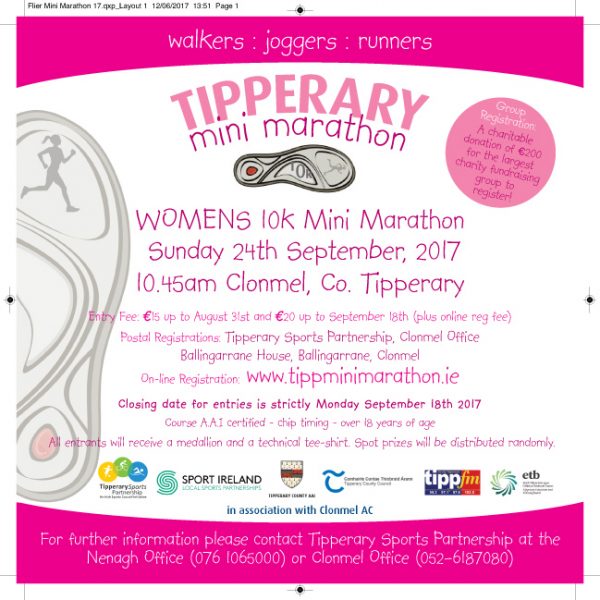 ---
Borris-Ileigh Camogie Club

Seniors are all set for the first round of the championship and play Burgess on this Saturday August 19th in Kilcolman at noon. Your support would be appreciated.
Remaining fixtures:
Sat 26th Aug at noon at home to Nenagh
Sat 16th Sept at noon away to Cahir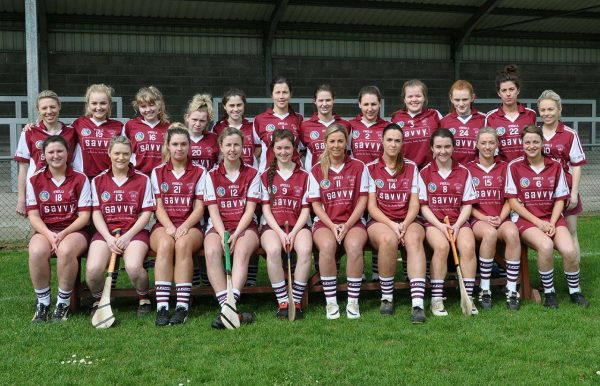 Senior team who play Burgess this Saturday.
Junior B girls play Ballina this Friday 18th Aug at 7pm at The Ragg.
Remaining fixtures:
Sun 27th Aug at 12noon away vs Nenagh
Sat 16th Sept at 12noon at home to Lorrha
Sat 23rd Sept at 12noon away to Burgess
Sat 30th Sept at 12noon at home to Silvermines
Minors commenced the championship this week and played Thurles on Monday last. Up 3 points at half time, and with great pressure from the backs meant that Borris kept their lead throughout. An ever steady Aédin Hogan converted 4 points from frees and 2 from play along with a goal from Aoife Max in the first half and a point from Laura Maher. Final score Borris-Ileigh 1-07 Thurles 1-03. Well done girls.
Remaining fixtures:
Mon 21st Aug at 7pm away to Ballingarry
Mon 28th Aug at 7pm at home to St Mary's
Good luck to all.
U12 had a great day in Toomevara last Saturday at their blitz day. Many thanks to Toomevara for hosting. Borris-Ileigh will host the next blitz day on Sat 26th August at 10 am.
---
Borrisoleigh Historical Society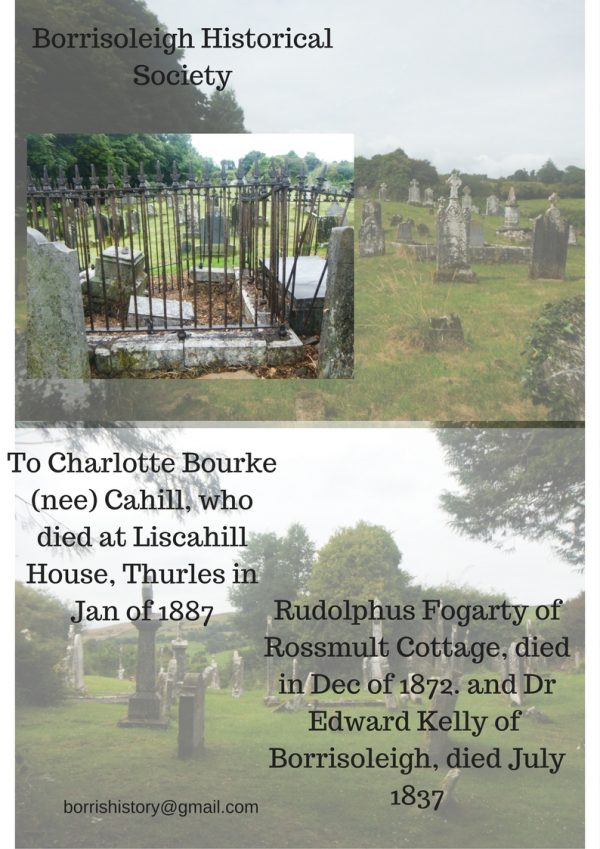 ---
Tipperary War of Independence Tours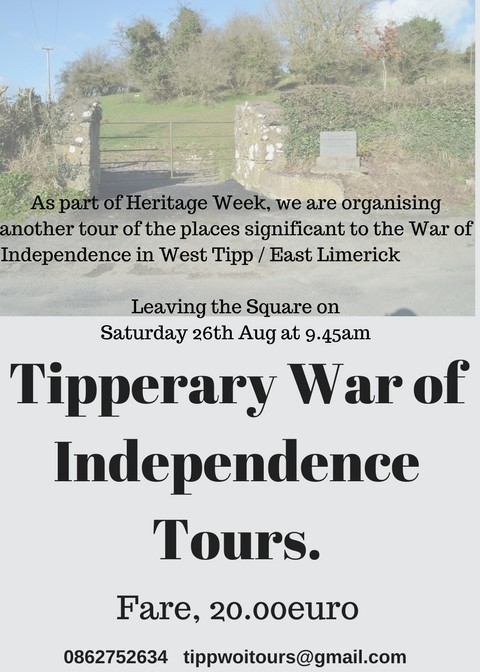 ---
Borris-Ileigh Juvenile GAA Club Notes
Upcoming Fixtures
U16A Quarter Finals
Borris-Ileigh v Roscrea in Roscrea Monday 21st August at 7pm
U14B North Tipp Semi Final
Borris-Ileigh v Newport Wednesday 16th August 7.30pm in Newport
U12A County Semi Final
Borris-Ileigh v Holycross/Ballycahill Saturday 19th August 1.15pm in Templemore
---
Tipperary County Council Draft Plan
"Opportunity to input into the future of our town."
Have you say, Tipperary County Council have prepared a draft plan for the town. It is currently on display. See link below. Opportunity to have your say in the future development of our town. All submissions on the draft must be received in the planning office before close of business Monday 21 st August. Email planning@tipperarycoco.ie with your suggestions.
http://www.tipperarycoco.ie/sites/default/files/Part%20III%20-%20Proposed%20Variation%20NTCDP.Settlement%20Plans_1.pdf
---
Pic of the Past ………..down memory lane
---
Committee: Enda Ryan, Noreen Fahy, Marie McGrath and Derry O'Donnell
Many thanks to all those who contributed photographs and news items
Remember, we need you to continue to send us material so that we can keep our website current and interesting.
While we make every effort possible to ensure that the information contained in this Website is accurate and complete, we cannot accept any legal liability as a result of the inaccuracy or incompleteness of the information presented to users of this site.
Also, if you like what you see and want to leave a comment, remember to use the Guestbook