Borris-Ileigh Camogie Club Notes

Windgap crowned Linda O'Connor 7's Champions:
Kilkenny Club Windgap proved victorious in the Linda O'Connor Memorial 7's Tournament which was sponsored by Kelly's of Fantane on Saturday last in Borrisoleigh.
Having finished second in their group following the round robin section of the tournament, they faced their Kilkenny neighbours Emeralds/St Annes in the semi-final in which they ran out 4-05 to 2-06 victors.
In the second semi, it took extra time to seperate Knockavilla Donaskeigh Kickhams and St Brigids following a titanic battle. In the end, it was the County Laois club that just got over the line on a 3-06 to 3-03 scoreline.
Windgap under the watchful eye of former Tipperary hurler Paul Kelly settled into their rhythm quickly and built up a lead that they never relinquished despite a very gallant effort from an equally impressive St Brigids outfit. The final score was Windgap 4-07, St Brigids 2-03.
Linda O'Connor Memorial 7's Tournament Team Photos
Emeralds/St Annes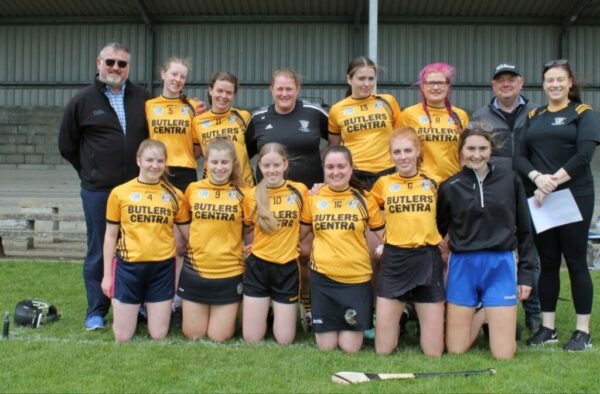 Knockavilla Donaskeigh Kickhams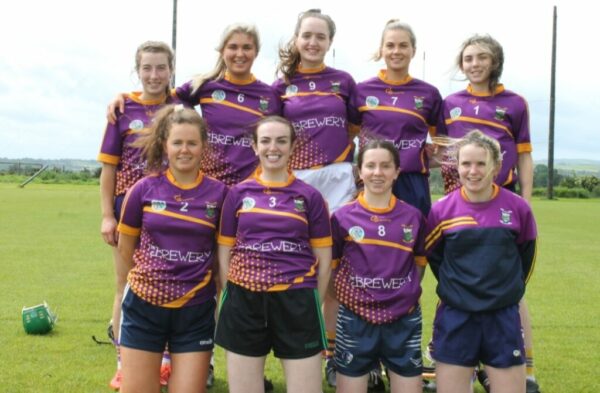 St Brigids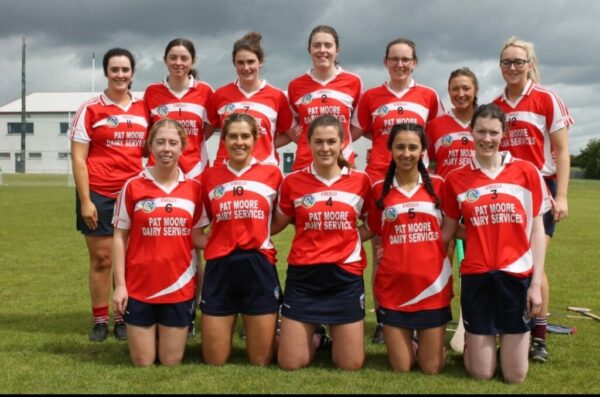 Windgap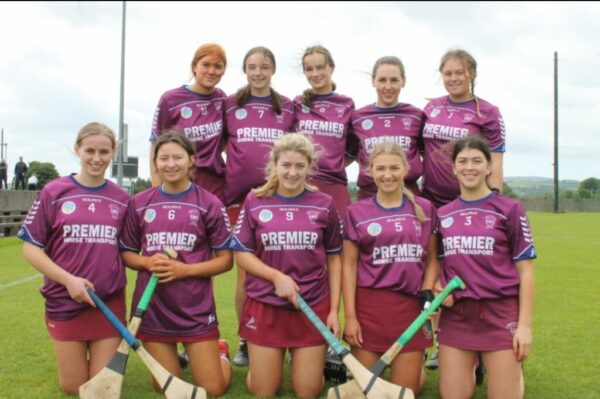 Borris-Ileigh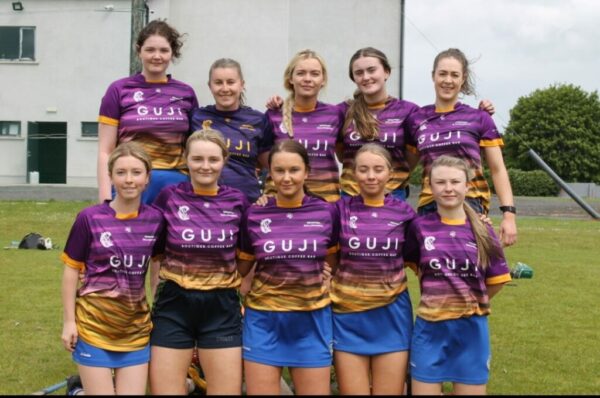 Newport/Ballinahinch
---
Accord Thurles: Requires volunteers who would be willing to sit in the Accord Centre during out of office hours relationship counselling appointments.
If you have some time to spare, and would like more information on the volunteer sitter role, please call us on 0504 22279.
Show a teacher your appreciation and give a gift of hope this summer
International school feeding charity, Mary's Meals, have launched their innovative fundraiser, Present for my Teacher. Parents and guardians can buy an online gift for their children's teachers in exchange for a donation towards the work of Mary's Meals, who are now feeding over 2.2 million children, in 20 of the world's poorest countries, across Africa, Asia, Latin America and the Caribbean.
Donations of any amount are gratefully accepted and for just €18.30, a child can receive daily meals, in their place of education, for an entire school year. It is really two gifts in one: children can send a beautiful e-card via email to recognise and thank their teacher, while simultaneously giving a gift of hope to hungry children across the globe.
Simply visit www.presentformyteacher.com for more information or call Patricia on 086314081
Are you living in Ireland undocumented?
Do you know someone who may be an undocumented migrant? Undocumented people can apply for a legal status now. Applications for the new government undocumented scheme are open until 31 July. Don't miss this life changing opportunity. To check your eligibility and get support to apply visit the Migrants Rights Centre Ireland website www.mrci.ie or email info@mrci.ie or contact 083-0755387.
---
Photography Exhibition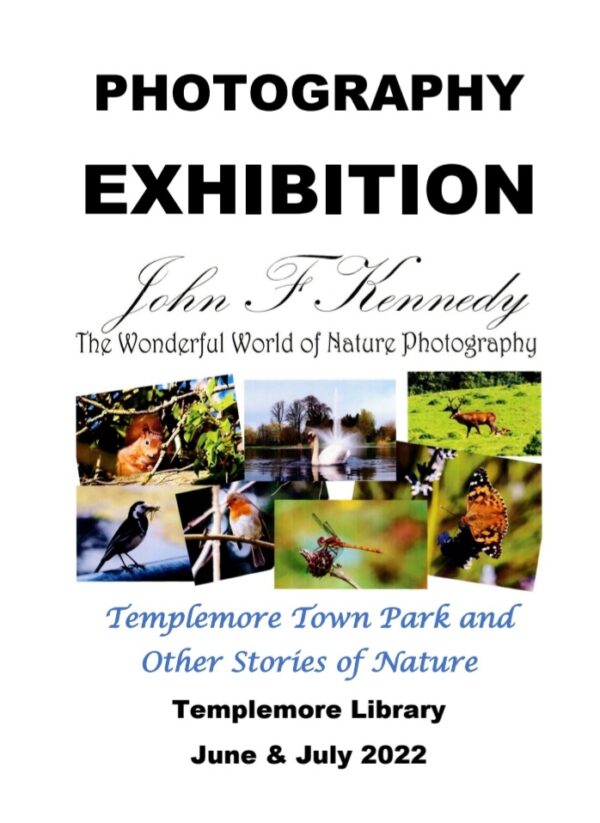 Templemore Library will host a photography exhibition during the months of June and July 2022 entitled "The Wonderful World of Nature Photography". The exhibition will run from the middle of June to the end of July and will be available to view during the library opening hours. It's free of charge and well worth a visit. You might be surprised at what you see.
This exhibition is a collection of photographs from the lens of John F Kennedy. John F is not a photographer, but he is a lover of nature with a camera. He is a former army sergeant and is an outdoors enthusiast, spending a lot of his spare time on our hills and mountains either walking or cycling and his camera is never far away. Closer to home, one of his favourite places is Templemore Town Park and the Park is featured heavily in this exhibition.
This exhibition is a vision of the natural world all around us as seen through his lens.
The goal of this exhibition is to showcase the wide and wonderful world of nature on our doorstep.
This is only a glimpse into the natural world and not a definitive catalogue of all local wildlife but rather a collection of images that can be added to.
---
Pilgrimages to Medjugore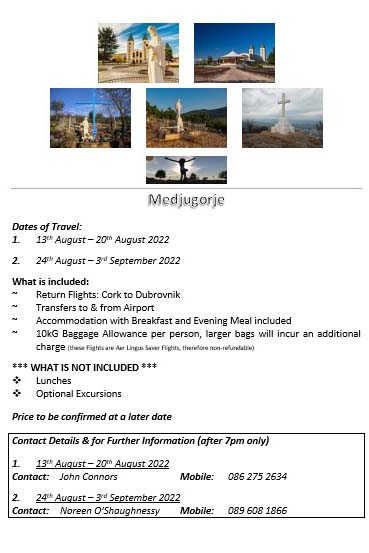 ---
Pic of the Past
---
Your Website Needs You
Committee: Enda Ryan, Noreen Fahy, Marie McGrath, Derry O'Donnell
Many thanks to all those who contributed photographs and news items.
Remember, we need you to continue to send us material so that we can keep our website current and interesting.
Send your email to: info@borrisoleigh.ie
This website is supported by Borrisoleigh Community Development Association.
While we make every effort possible to ensure that the information contained in this Website is accurate and complete, we cannot accept any legal liability as a result of the inaccuracy or incompleteness of the information presented to users of this site. We also reserve the right to edit material for suitability to a website format.
Also, if you like what you see and want to leave a comment, remember to use the Guestbook