14 March 2018
14 Mar 2018
Cooking Demonstration

Cookery Demonstration by Naomi (Naomi's Cafe, Thurles) in aid of North Tipperary Hospice.
The Community Centre, Wednesday March 14th 2018 at 7.30pm. Tickets €10 each
"TICKETS AVAILABLE AT THE COMMUNITY CENTRE OFFICE OR ON THE NIGHT"
---
Recycling Workshop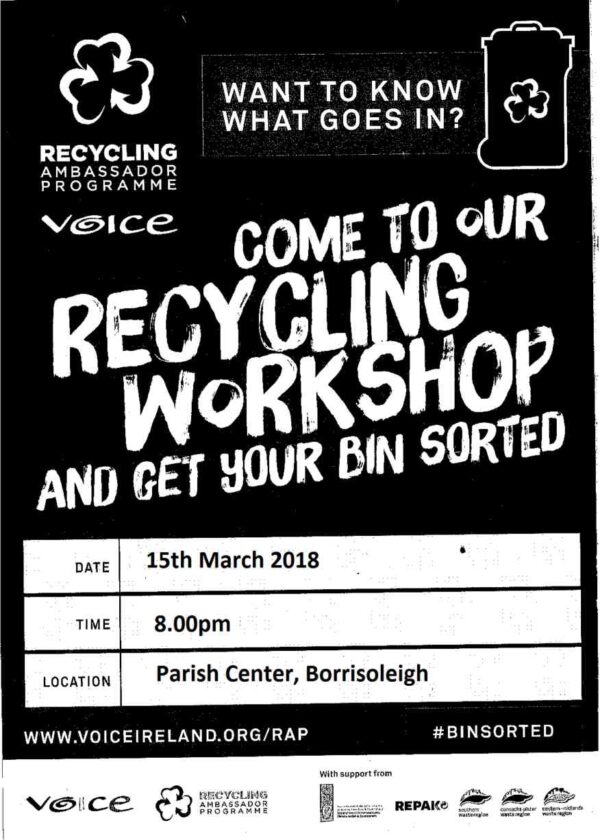 Free Recycling Workshop
Venue: Community Centre, Borisoleigh, Tipperary
Date: Thursday 15 March
Time: 8.00p.m.
Hosted by Borrisoleigh Community Development Association
There is a Free Recycling Workshop being held on Thurs 15th March at 8.00p.m. in Community Centre, Borisoleigh as part of VOICE Ireland's Recycling Ambassador Programme.
Many of us have become confused about what can and cannot be recycled in our recycling bins. VOICE Ireland's Recycling Ambassador Programme will show you what you can recycle in your household bin.
This will be a great opportunity to find out all you need to know about recycling and ensure you are putting the right things in your bins. Please spread the word and let others know about the workshop and hopefully we'll see you there in the Community Centre, Borisoleigh on 15th March.
The Recycling Ambassador Programme is a VOICE initiative funded by the Department of Communications, Climate Action and Environment, and the Regional Waste Management Offices and REPAK to improve Ireland's recycling rates and reduce levels of contamination in household recycling bins.
---
St.Joseph's College Borrisoleigh
TY Trip to Legally Blonde The Musical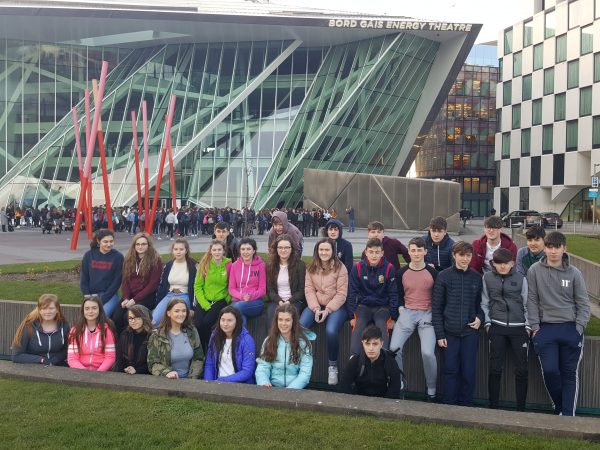 As part of the TY programme in Borrisoleigh, students attend a performance of a West end musical in the Bord Gais Energy Theatre in Dublin. This gives students the opportunity to experience a world class, professional show in a magnificent venue. This year our trip was to "Legally Blonde The Musical". Most of our students hadn't been to this theatre before and were impressed by the sheer scale of the building, the hugely impressive staging, live orchestra, highly technical sound production and lighting, not to mention the all singing, all dancing cast.
Legally Blonde The Musical turned out to be a fun filled, feel good treat for the students. College sweetheart and homecoming queen Elle Woods doesn't take no for an answer. When her boyfriend dumps her for someone more serious, Elle puts down her credit card, hits the books and heads for Harvard Law School. Along the way, Elle proves that being true to yourself never goes out of style. Perhaps a lesson or two is in there for some of our students amidst all the frivolous fun!!
Based on the Reece Witherspoon film, Legally Blonde The Musical earned seven Tony nominations and ten Drama Desk Award nominations during its Broadway run. In the U.K. it was nominated for five Laurence Olivier Awards including Best New Musical, and was nominated for eight Whatsonstage Awards winning four including Best Musical.
It certainly got our vote for a fun day out!
PE XPO
On Wednesday last, St. Joseph"s College, Borrisoleigh was represented at the national PE XPO with 2 projects from the school. The national competition hosted over 270 projects that had sports as the inspiration for the project.
Transition year student Dan Ryan presented his project which focused on how to record and share teenagers total hours spent training in a week with a view to avoid over training in players. He developed and coded a mobile app to achieve this.
The second project from Seamus Ryan, Kate Madden and Christine Delaney was on the topic of golf. They investigated ways to introduce golf to primary and secondary school students for PE classes and they developed a module to teach the key skills. They used their innovative device which they created to help teach the students the correct position to hold the club for both the backswing and putting hits.
Cogratulations to the students as their project was awarded first place in the Science behind Sport. They were presented on stage with a trophy, medals and prize.
They were also selected as one of the three top projects that could be commercialised and won a years membership for the Sport for Business organisation for their innovative technology.
---
Borrisoleigh Community Garden
Tipperary ETB have kindly facilitated for Hanna Van Aelst Willow Tutor to return to us for a follow up maintenance and upkeep class. This is on Thursday 22nd March from 10a.m to 1 p.m. All welcome. Free event. Tea/ Coffee for all.
Please come along all help greatly appreciated.
---
Templederry N.S. Fundraising Concert
---
Borrisoleigh Track Attack Notes
Run, Jog or Walk the Borrisoleigh Mile
On Monday 23rd of April, the village of Borrisoleigh is set to come alive when Track-Attack, St. Joseph's College and event sponsor Declan Maher Financial Services combine together to host the Borrisoleigh Mile.
This will be an event that will promote all that is good about the sport of running at a grass-roots level. The sport is currently enriched by huge numbers that have bought into the positives that it oozes, in terms of healthy living and enhanced general fitness levels. We should never forget the efforts of those who have contributed so much to ensure such participation levels are now possible by working tirelessly in years gone by when present day technology was all but a wild dream.
Track-Attack and Borrisoleigh are honoured to have two such legends of the sport amongst our midst. Ger Ryan and Paddy Dolan were outstanding athletes in their day but they also gave up so much of their time to benefit others and enhance the sport of running.
The resurrected Borrisoleigh Mile rightly honour and acknowledge the outstanding efforts of these legendary individuals. The winner of the men's mile will have their name etched on the Gerard Ryan Perpetual Cup, an honoured bestowed on Templemore A/C athlete Liam Harty last year in a time of 4 minutes and 40 seconds. The first woman to cross the finish line will be the second name engraved on the Paddy Dolan Perpetual Cup following in the footsteps of Thurles Croke's Carmel Fitzgibbon who split the tape in a time of 5:32.
Track-Attack are delighted to announce that all proceeds of the night will be presented to St. Joseph's College and such a partnership can only be good for the future of what will prove to be an outstanding event into the future. Backed by a hard working Parents Association and a creative Students Council, the Borrisoleigh Mile will be the winner from the benefits of their involvement.
Speaking at the event launch, principal of the school Kevin McCarthy spoke of the enthusiasm that is currently been generated by the students and a major training regime is in place to maximise their performance on the night. On the night, there will be a prize for the first male and female St. Joseph's finisher while also up for grabs will be a prize for the first male and female St. Joseph's teacher. Post-race bragging rights could be high!!!
Prizes on the night will be top quality hand crafted slate trophies designed and made by Christy Slattery of Latteragh Crafts. There will be prizes for the first 3 men and women, the first under 18 male and female, the first Over 40, 50 & 60's male and female while there will also be a prize for the first male and female Track-Attacker to cross the line.
The venue for this year's entries and post-race presentation will be at St. Joseph's College. The race will be chip-timed by Niall O'Sullivan of Premier Timing Systems. The entry fee is €10 for adults and €5 for under 18's. Walkers are more than welcome to participate, the only ruling being that walkers will have to use the footpath which stretches for the entire mile.
The mile is Ireland's forgotten race. It's a distance that should be resurrected as it's something that everyone is capable of doing. Track-Attack and St. Josephs College extends a warm welcome to all to come to Borrisoleigh on the 23rd of April and be part of an event that will be a celebration of grass-roots sport.
---
Borris-Ileigh Camogie Club Notes

REGISTRATION: A further membership registration date will take place on Thursday March 22nd
from 7pm to 8pm at the pavilion. All new members welcome.
Adult player €50, Juvenile €30, Committee/Trainers/Social members €20
CLOTHES COLLECTION: Time to do the spring clean!
Clothes collections will take place on Saturday April 21st at the pavilion from 10.00 am to 12midday and on Monday and Tuesday evening (April 23rd & 24th) from 7 to 8pm.
Your support would be appreciated.U12's, 14's & 16's are all back training in preparation for upcoming games, other ages groups will return soon.
---
Borrisoleigh Active Social Club
At our March meeting last week we had John Connors who gave it s a presentation on the history of Borrisoleigh. It was very interesting and of course John made it entertaining as well. How times and structures have changed around our village.
On the night we had a raffle for 2 tickets to the cookery demonstration in the Community Centre Borrisoleigh on Wed March 14th. The winners were Mary Duignan and Chris Tynan. Hope ye enjoy the night out.
Our April meeting takes place Wednesday April 4th at 8pm. We will be having a wonderful evening of "entertainment ". Refreshments will be provided.
---
Marian Hall Lotto Results
Lotto numbers: 9 14 20 24
No winner
1 match 3: Joan O' Dwyer, Borrisoleigh
Next week's jackpot: €6,050
---
Rathmoy Residents Association Progressive 45 Drive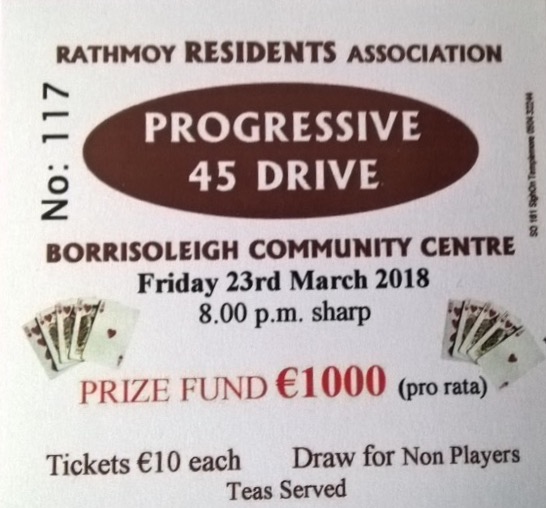 ---
Sr Áine Historical Society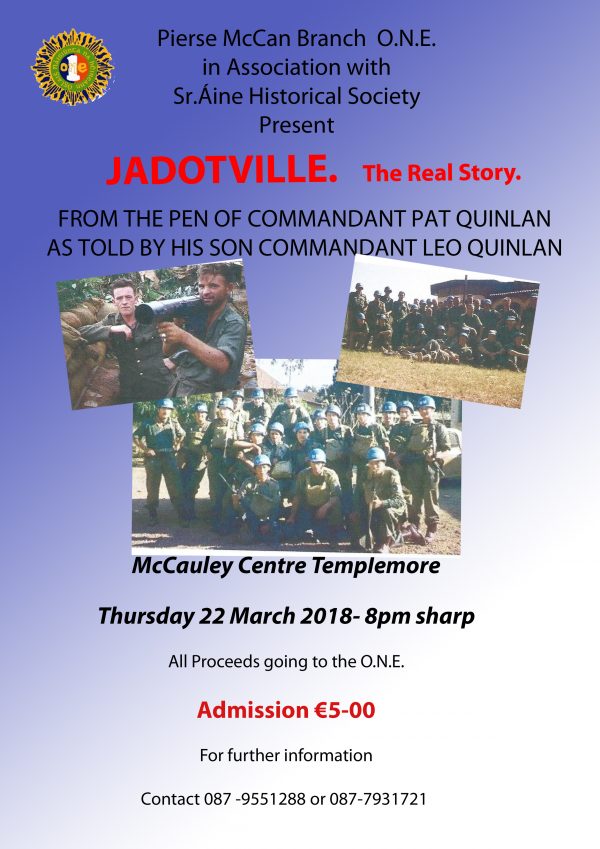 ---
Pic of the Past ………..down memory lane
---
Committee: Enda Ryan, Noreen Fahy, Marie McGrath and Derry O'Donnell
Many thanks to all those who contributed photographs and news items
Remember, we need you to continue to send us material so that we can keep our website current and interesting.
While we make every effort possible to ensure that the information contained in this Website is accurate and complete, we cannot accept any legal liability as a result of the inaccuracy or incompleteness of the information presented to users of this site.
Also, if you like what you see and want to leave a comment, remember to use the Guestbook