14 December 2016
14 Dec 2016
  St Joseph's Borrisoleigh notes
Borrisoleigh Students Win European Final
On Tuesday last St. Joseph's College Borrisoleigh students, Laura Hutchinson and Antoinette Atik departed Dublin for Belgium. The CommOcean conference was being held in Bruges for two days and at the end of the conference the winner of the Dr Mario Ruivo Prize was to be announced.
This competition, which is run by Europe every four years, was open to all European countries with a total of 18 countries involved. The objective of the competition was to increase awareness of our oceans and to take action to protect them.
Having been successful in phase one and phase two of the competition earlier in the year, the girls were funded by EurOcean to bring their project to fruition in early July. They worked tirelessly on their campaign to ensure they were successful and met their objectives.
After submitting their final presentation in late November which was a summary of all their work they had to await the results. 13 different judges adjudicated each project before voting on their winner.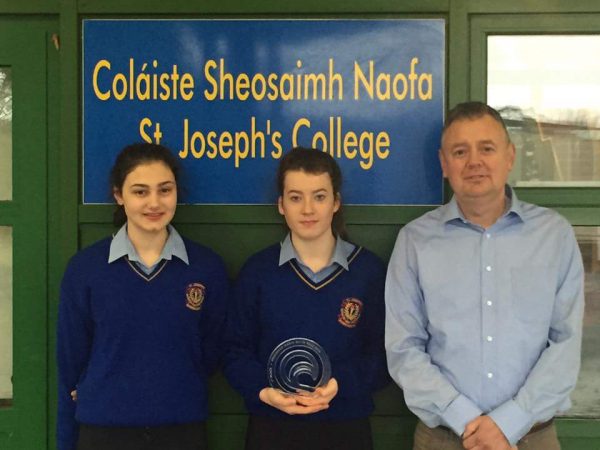 Bags with tags pic shows students Antoinette Atik and Laura Hutchinson with Principal Kevin McCarthy
At the conference in Bruges on Wednesday, Ned O'Dwyer, director of EurOcean introduced the prize and gave a background to the challenge. He then called on each of the three finalists to give a presentation on their projects to the conference audience which was made up of many scientists of various backgrounds.
The girls spoke excellently and presented their project to the large audience as did the other two groups, one from Malta and the other from Loughrea in Galway. Ned then called on Ricardo Serrão Santos, member of the European parliament to present the award. Antoinette and Laura excitedly accepted first place!
'It was a fantastic experience and we really enjoyed the trip and the conference. We arrived on Tuesday and have loved every minute since. On Wednesday morning we took a canal tour of Bruges and then walked around the shops and Christmas market. We then met Ned and the other finalists for lunch. Afterwards we went to the CommOcean conference in a beautiful old castle. We listened to some keynote speakers and attended a workshop. Then it was time for the awards ceremony. We were absolutely thrilled with the result and couldn't be happier. Later that evening we went on a walking historical tour of Bruges with the conference crew. We went ice skating at the Christmas markets and really enjoyed it. It was an amazing day and experience.'
The girls went on to thank everyone who has supported and encouraged them on their project which started last February when they entered SciFest at LIT.
'We would like to say a big thanks to everyone that has helped us. The community of Borrisoleigh have been fantastic and have really got behind us. Everyone at St. Joseph's College, especially the science department have guided us through the experience and helped us at all stages. Sandra and Ruth at EurOcean have been fantastic in keeping in contact with us and for planning our trip to Belgium. We would like to say a big thank you to all our family and friends, in Borrisoleigh and beyond but especially to both our parents who have been so incredibly supportive, Thank You!'
The girls project is based on magnetic 'tags' which are attached inside the handles of plastic bags. These bags, if discarded in waterways, would be attracted to magnets that could be strategically placed along streams, rivers, estuaries etc. They also undertook an extensive awareness campaign on their facebook page and distributed tote bags which they designed themselves to be used in place of plastic bags in the community.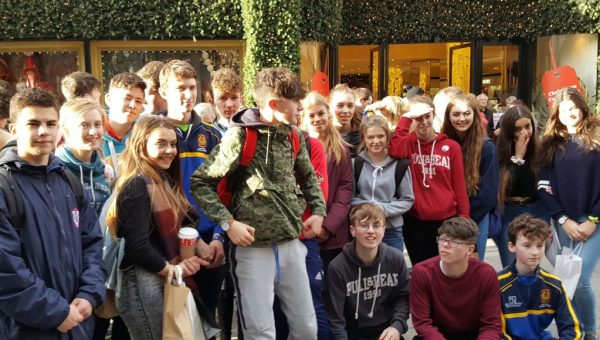 TY students enjoying the Christmas atmosphere in Grafton St before attending the musical "Big" at Bord Gais Energy Theatre
On Thursday, 10 December TY students enjoyed a festive day in Dublin, taking in some shopping , sightseeing and generally absorbing the Christmas atmosphere of our capital city. The highlight of the day however was attending the musical "Big" in the Bord Gais Energy Theatre. Expectations were high with prominent stars, Jay Mc Guinness (of the band "The Wanted" and winner of "Strictly Come Dancing" 2015) and Diana Vickers (who initially came to public attention as a semi finalist on "The X Factor" in 2008), taking the lead roles. The uplifting energetic show, based on the Tom Hanks film of the same name was thoroughly enjoyed by all
---
Scór Notes

Congratulations to Joseph Boyle who qualified for the Munster final of Scór na nóg. All roads will lead to Ovens in Co Cork on the 8th of January 2017 where the Munster final will take place. Well done Joseph we are all very proud of you.
Set Dancing – Our Christmas party will be held in the Marian hall on Monday 19th December 6.45-7.30. All set dancers are invited to attend at this time. Hoping as many dancers can attend as possible as there will be no admittance charge and every set dancer will receive a gift.
---
Sr. Áine Historical Society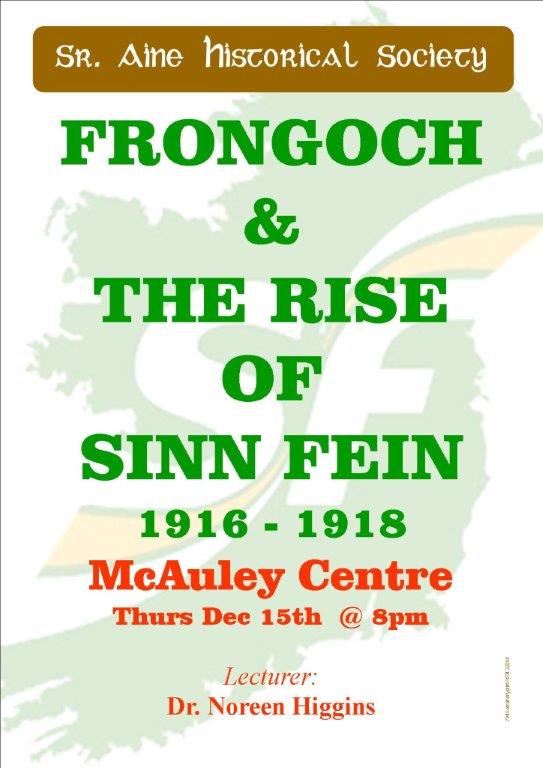 ---
 Borris-Ileigh Juvenile GAA Club
Borris-Ileigh Juvenile GAA Club are holding their end of year social night on Monday 19th of December at 7.30pm in the community centre. We hope all members & parents would be able to join us on this night.
Special guest "Liam McCarthy Cup"
---
Borrisoleigh Annual
Borrisoleigh Community and  Development Association is delighted to be able to announce that our Annual is once again on sale.
We would  also like to sincerely thank all the individuals and groups who submitted articles and/or photos for this years annual, the local shops for selling the annuals and those who purchase it every year.  We hope you all enjoy this year's publication.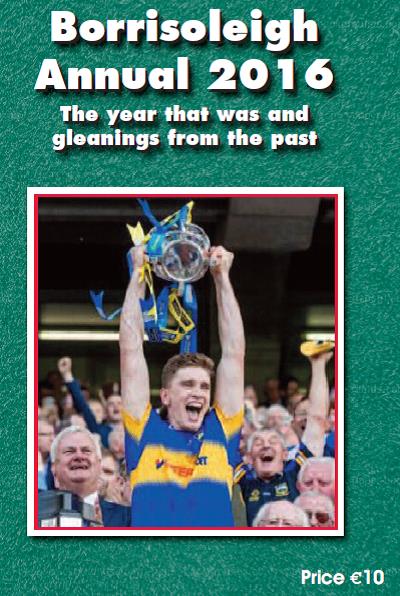 Please be advised if you are considering posting the annual the last dates and costs are:-
Ireland  21 Dec postage €2.35
Northern Ireland 20 Dec €2.35
Great Britain 19 Dec postage €5.00
Rest of Europe 13 Dec postage €5.00
USA 9 Dec postage €5.00
Rest of the world  7 Dec postage €5.00
---
Charity Christmas Market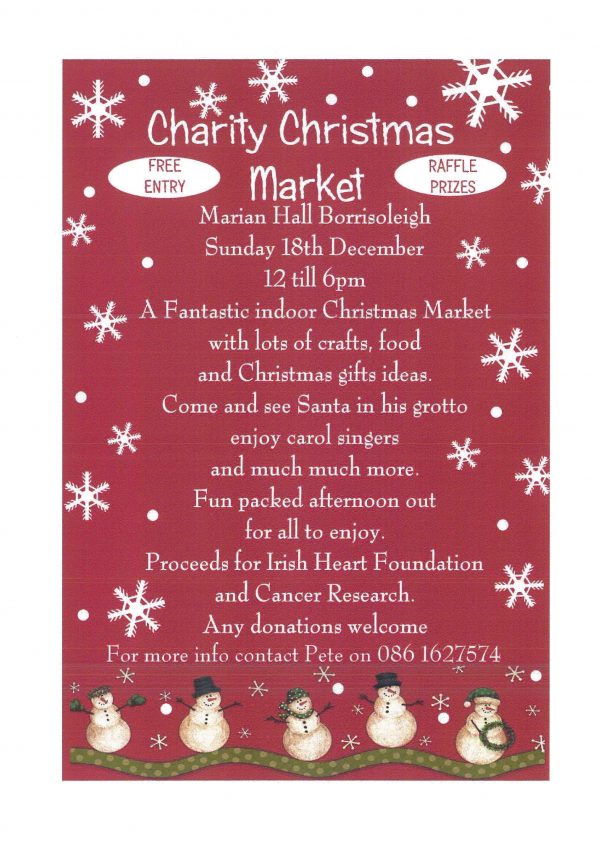 Come and see Santa and Mrs Claus at the Charity Christmas Market selected time throughout the day tickets can be purchased from Jane's Flower Cabin only €5
---
 St Stephen's Day 5km Run and Walk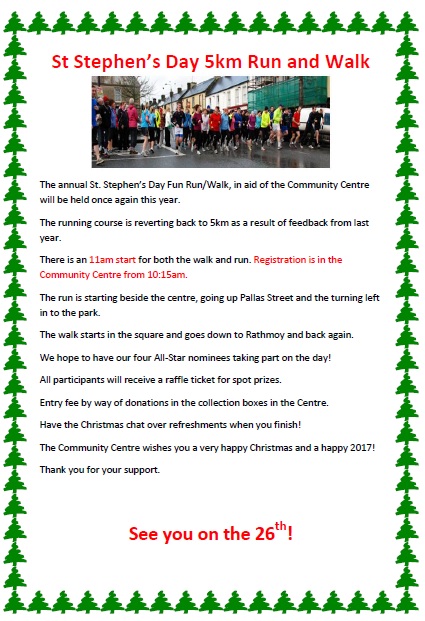 ---
Shop Local

Fiona Max, festival secretary started proceedings and launched the Shop Local flyer. The aim of the flyer is to promote local businesses and encourage everyone to try and keep their business local. If you don't shop in your local town, you won't have a local town to shop in!
---
Pic of the Past ………..down memory lane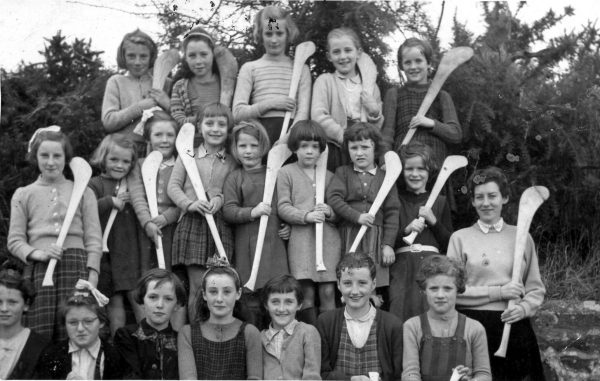 Ileigh School
Back: Kathleen Young, Maura Kelly, Mary Young, Benny Ryan and Eileen Corbett
Middle: Chris Ryan, Geraldine Kelly, Breda Dunne, Angela Ryan, Marie Kinane,
Sadie Quinlan, Noreen Carey, Bernadette Corbett and Carmel Hogan (Teacher)
Front: Josephine Kennedy, Anna Ryan, Irene Kelly, Bridget Young,
Marie Ryan, Nonie Bourke and Mary Teresa Corbett
---
Committee: Enda Ryan, Noreen Fahy, Margaret Cowan, Marie McGrath, Aileen Óg Groome and Derry O'Donnell
Many thanks to all those who contributed photographs and news items. Remember, we need you to continue to send us material so that we can keep our website current and interesting.
Send your email to:info@borrisoleigh.ie

While we make every effort possible to ensure that the information contained in this Website is accurate and complete, we cannot accept any legal liability as a result of the inaccuracy or incompleteness of the information presented to users of this site
Also, if you like what you see and want to leave a comment, remember to use the Guestbook