14 August 2019
14 Aug 2019
AXA Community Cycle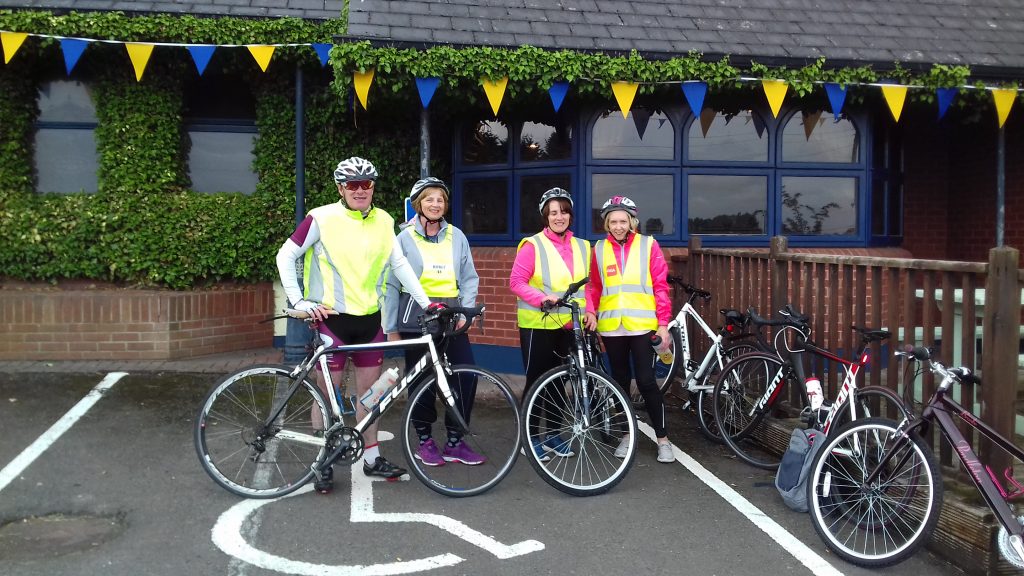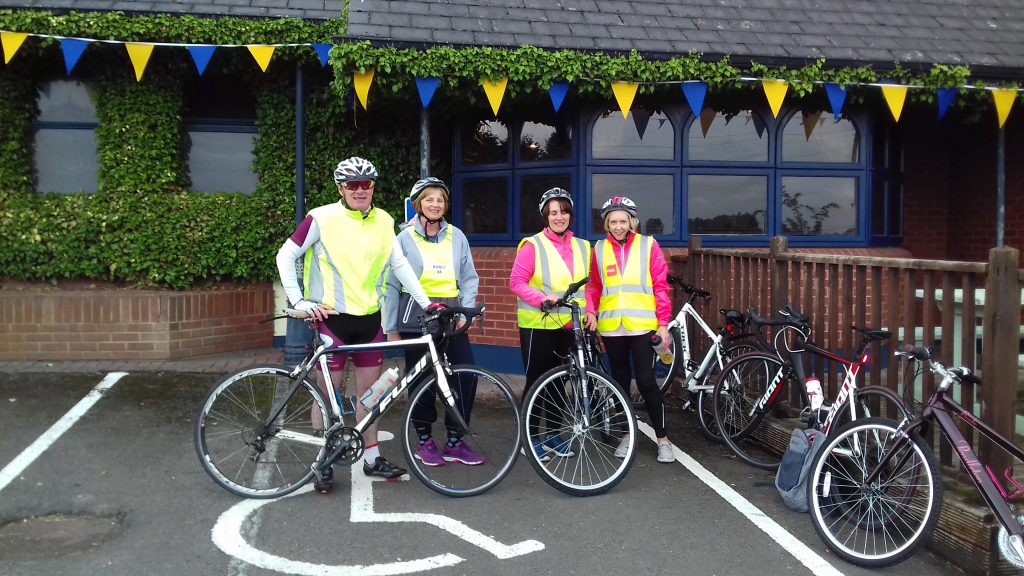 We had a lovely cycle on Sunday evening last to launch our Community Bike Ride. Thanks to all who turned up and well done on a great cycle to the Ragg and back. Our next cycle is on Sunday 18th August at 10.30am from the back car park at Shanahan's Centra.
---
Chiropody Service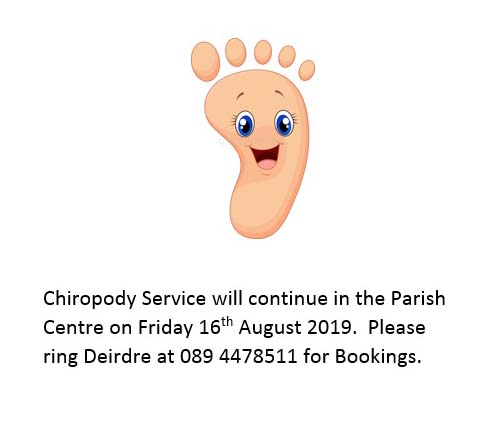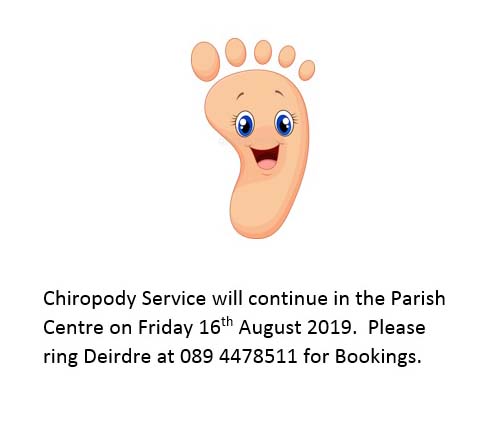 ---
Borris-Ileigh GAA Club Notes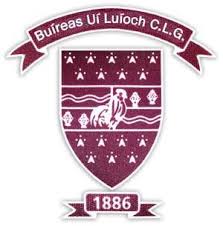 Sympathies:
Borris-Ileigh GAA Club would like to extend its deepest sympathies to the Cooney family on the untimely passing of Nicky Cooney.
Nicky was a huge part of our club, representing us with distinction at all grades from Juvenile to Adult, winning both North and County titles at U16 level in 2014
He was an integral part of our Junior team for the last number of years, his speed, agility and scoring ability were always a thorn in the oppositions side.
He will be sadly missed by all his teammates, coaches, mentors and all those who were lucky enough to know him.
May He Rest in Peace.
New Sports Complex – Volunteering:
The interior development of our new Sports Complex is underway with some great progress being made as we head down the final stretch towards getting the building ready for use.
We would to thank all the volunteers who have giving up their free time so far.
With a number of tasks to complete over the next number of weeks we are looking for anyone available to volunteer to help out where possible to help finish out the project as soon as possible.
If you wish to get involved contact Mark Stapleton (086-8143486) to be added to the Volunteers WhatsApp group.
Thank you for your continued support
Tipperary GAA:
Borris-Ileigh GAA club would like to wish Dan , Brendan and all of the Tipperary Senior Hurling Panel the very best of luck as they take on the old enemy Kilkenny in the 2019 All Ireland Senior Hurling Final this Sunday in Croke Park as we bid to win our 28th title. The hype and build up is in full swing with Blue and Gold flags flying high all over the parish in support of the lads. Fingers crossed we will be welcoming home a winning team on Monday the 19th of August. Tipperary Abú!
Juvenile Fixtures:
Friday 16th August –
North Tipp U16 'B' Hurling Quarter Final:
Borris-Ileigh vs Moneygall/Clonakenny in Moneygall @ 7pm.
Saturday 17th August –
U12 'D' County Hurling Semi Final:
Borris-Ileigh v Cappawhite Gaels in Pairc na NÓg, Thurles @ 12.15pm
---
Parish News

Anniversary Masses:
Please pray for Martin Hayes, Glenkeen, Billy, Paddy and Sarah Ryan Dromgill, Liam Devaney Borrisoleigh and Thurles, Amy Ryan Knockanevin and Kathleen Ryan Cooleen whose anniversaries occur around this time.
Anniversary Masses next week-end:
Saturday August 17th @ 8p.m. Michael & Annie Ryan, Gurteeney. Sunday August 18th @ 11 a.m. Brian Shanahan Castleview, Michael Lynch, Fantane and Emily Rose Moore.
You are also asked to pray for Nicky Cooney, Coolataggle who was interred last week. R.I.P.
This Thursday is the Feast of the Assumption of Blessed Virgin Mary into heaven. It is a holy day of obligation. Mass will be celebrated on Wednesday evening @ 8 p.m and Thursday at 11 a.m.
Congratulations to our U-12 team who won the North Final last Monday week in Toomevara. Well done to all involved and Good Luck to them in the County Semi Final.
We wish Brendan, Dan and the Tipperary Hurling Team the very best of luck in the All Ireland Hurling Final which takes place this week-end.
---
New Yoga Class in Borrisoleigh
Easy Flow Yoga Classes starting on 16th September in Borrisoleigh Community Hall for 5 week introductory course.
For more information please click on the following link http://www.yogaherbalist.ie/yoga
---
Glenkeen Graveyard Guided Tour
Heritage Week
On Thursday 22nd next at 6.45 pm, a guided tour of famous Glenkeen graveyard will take place. This venture is being undertaken by Ormond Historical Society in conjunction with TiDR (Tipperary in the Decade of Revolution).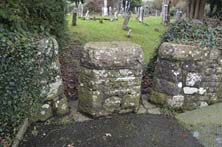 Glenkeen is one of the oldest and most historic graveyards, not only in Tipperary but throughout the entire country. The oldest memorial to be found there, dates from 1632. The history of Ireland, from the assimilation of the Norman ascendency, right up to the foundation of our State can be traced through the inscriptions on the monuments.
The priest of days of Penal Laws, the Great Famine, the Fenians of 1867, the dead and survivors of World War 1, the history of four different Irish police forces, the expulsions of the white Russians during the Revolution, links to 1916, the first woman to chair a municipal authority, the decimation of families caused by the curse of TB, the link to Winston Churchill's wartime cabinet, the government minister of the early days of our independence.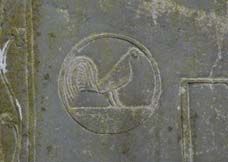 The stories are many and varied. Why did every shop and business in Thurles, Templemore and Borrisoleigh close on the day that a certain gentleman was buried in Glankeen? Who was the man that had one hundred soldiers march behind the hearse from Thurles to the graveyard on the day of his funeral? What is the connection between one man buried there and the soldiers at Dublin's Linen Hall barracks dissatisfied with the strength of the porter in the barrack's canteen?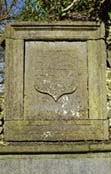 All of these and much more beside are documented in stone within the walls of this historic resting place. Also to be found, is some rare and unusual iconography and an association with Patrick Kerrin, the "Michael Angelo" of Ireland in the mid 1600's.
This tour is one of many similar events that are taking place nationwide as part of Heritage Week. There is no charge or admission fee and John Flannery of Nenagh and Ormond Historical Society, will act as guide for the evening.
---
TippWOI Killarney
The Trial of Fr Thomas O'Donnell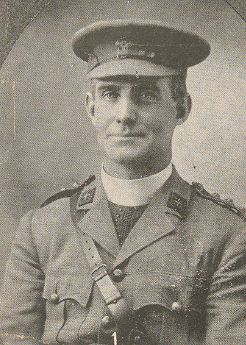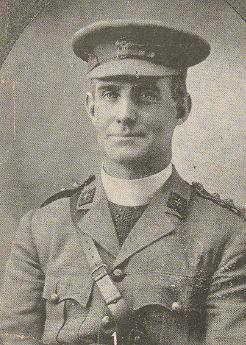 On the 10th October 1919 an incident occurred in the dining room of the International Hotel in Killarney, that threatened to cause a huge diplomatic fall out between Great Britain and Australia. Army Captain and Chaplain, Rev. Fr. Thomas O'Donnell of the Australian Imperial Forces, was engaged in aminated conversation with a certain Wm Marsh from Bangor in Co Down, when they were interrupted by an off duty British Lieutenant. The officer, Stewart Chambers, accused the priest of speaking sedition and using treasonous language in relation to the King and Empire.
The seemingly minor affair was to escalate out of all proportion and Fr. O'Donnell was to find himself arrested and placed on trial by courtmartial in the Guildhall at Westminster. An array of impressive witnesses was assembled by the prosecution and the priest's conviction would have seemed but a formality.
But they had not counted on the one formidable witness that testified on behalf of the defence. That woman, Georgina Bennett had strong ties with Borrisoleigh and most of her family are buried in Glenkeen. It was chiefly down to Miss Bennetts performance in the witness box, that Fr. O'Donnell was acquitted.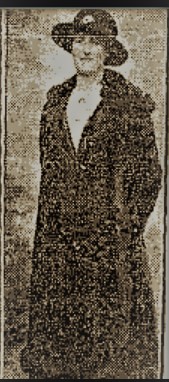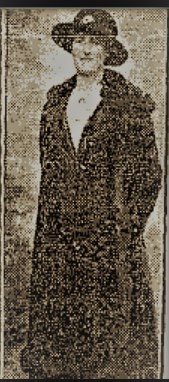 To mark the centenary of the event, TiDR [Tipperary in a Decade of Revolution] are organising a commemorative event in the exact room in the hotel where that incident took place, – and are doing so on the exact centenary [8.10 pm on 10 October next]. This commemoration will be delivered by way of historic lecture, narration and re-enactment. Local dramatists have kindly come on board to lend their support.
We will be running a bus to Killarney for this event and we hope that people will come along to share in what should be a memorable occasion. The international Hotel are working on a special deal that will include a meal. More details about that later. We will be posting regular updates and when we have an idea of numbers, we will give more definite information.
---
Borrisoleigh After School Club



---
Pic of the Past
---
Committee: Enda Ryan, Noreen Fahy, Marie McGrath, Derry O'Donnell and Fiona Max
Many thanks to all those who contributed photographs and news items
Remember, we need you to continue to send us material so that we can keep our website current and interesting.
While we make every effort possible to ensure that the information contained in this Website is accurate and complete, we cannot accept any legal liability as a result of the inaccuracy or incompleteness of the information presented to users of this site. We also reserve the right to edit material for suitability to a website format.
Also, if you like what you see and want to leave a comment, remember to use the Guestbook