13 December 2017
13 Dec 2017
Fundraising Walks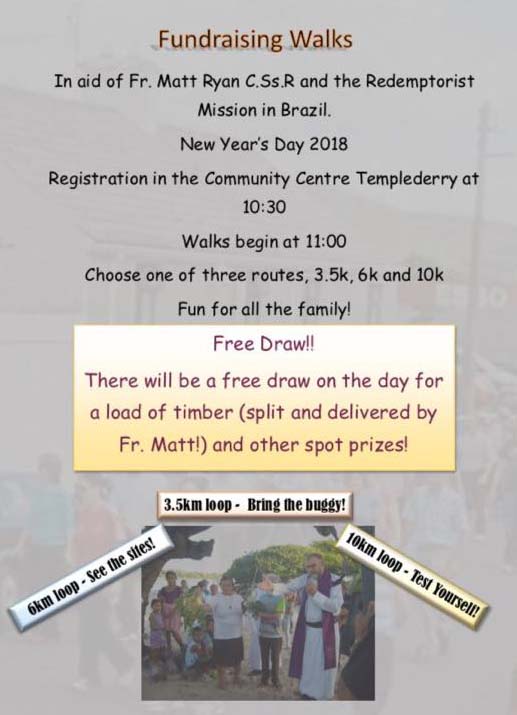 Walks are being held to raise funds for the work of Fr Matt and the redemptorist mission in Brazil
All donations gratefully accepted.
Contact – Helen Slattery 087 6748147 or Christy Kinane 087 6198362 or Tom Leahy 0504 52885.
---
St. Stephen's Day 5km Run and Walk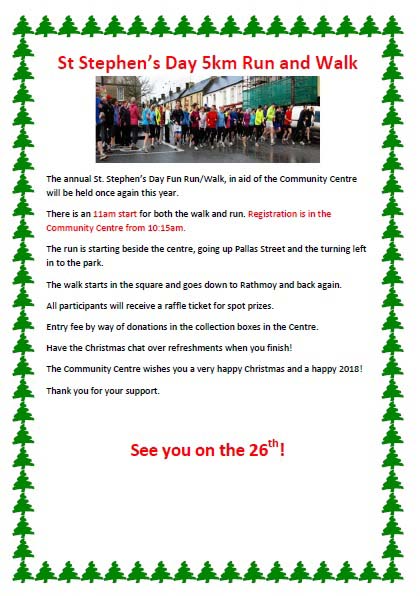 ---
Borrisoleigh Annual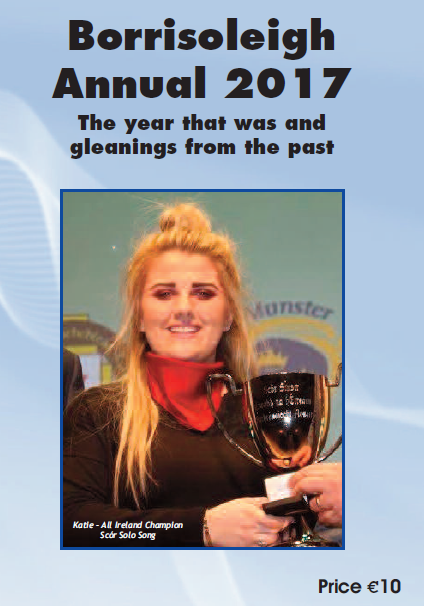 Borrsioleigh Community and Development Association is delighted to be able to announce that our Annual will once again be launched and available to buy at the turning on of the Christmas lights in the square on the 3rd December from 6.30 pm onwards.
We would also like to sincerely thank all the individuals and groups who submitted articles and/or photos for this years annual, the local shops for selling the annuals and those who purchase it every year. We hope you all enjoy this year's publication.
---
Scoil Naomh Cualán
Preparations are in full swing for our Christmas Concerts as we all eagerly anticipate two marvellous nights of fun and entertainment courtesy of our talented children. Due to the high demand for tickets we have been obliged to change our arrangements for the concerts. All classes will now perform on each of the two nights which means that patrons will enjoy the full line up of 'Snowman at Sunset by Junior and Senior Infants, 'Baboushka' by First and Second Classes and 'Aladdin' by Third, Fourth, Fifth and Sixth Classes on each of the two nights, Wednesday and Thursday, December 13th and 14th.
Tickets are currently available to families through the school but will be available to the general public from Monday, December 11th onwards on a first come, first served basis. We hope to have a limited number of tickets available at the door on Wednesday and Thursday nights but, as demand is very high, we advise patrons to contact the school from Monday onwards should you wish to be sure of a place. We are very grateful for the support of so many and guarantee two great nights in the Marian Hall on December 13th and 14th.
Nollaig Shona do chách.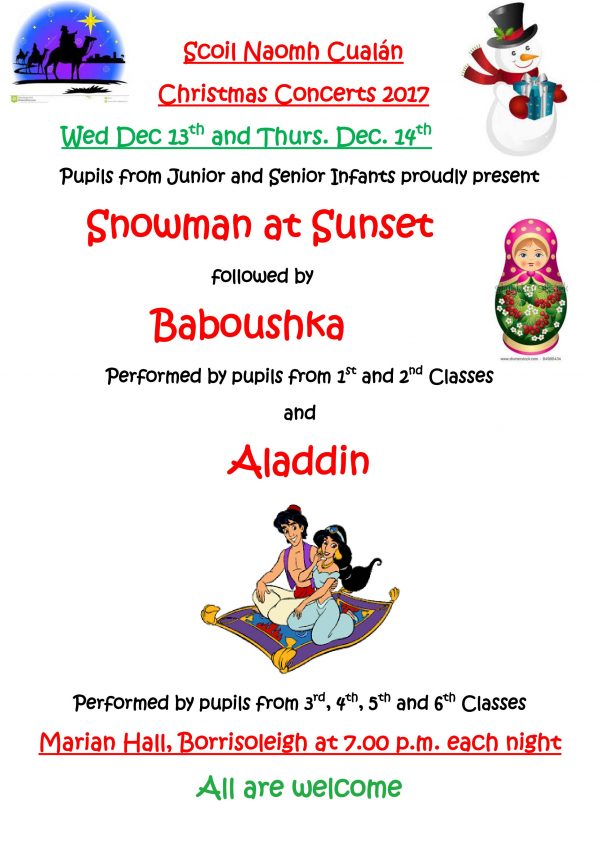 ---
ETB Courses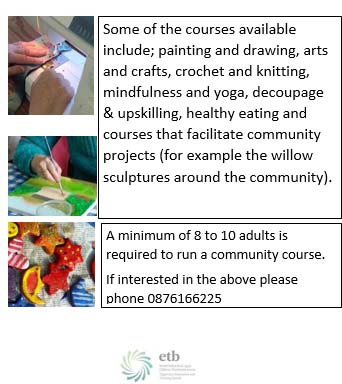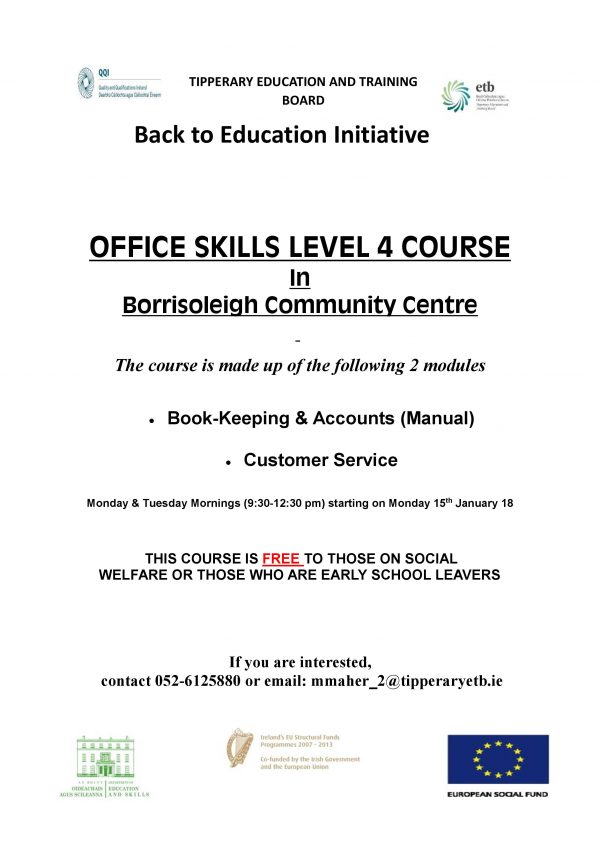 ---
Celebrations!!

---
Borrisoleigh Community Centre
Wanted: High-chairs
Borrisoleigh Community Centre is asking for donations of High-chairs that are in good condition.
We've been asked on a number of occasions at functions if we had chairs for babies and its a service we would love to provide to people with young families. Any chairs would be gratefully received.
Remembrance Bows
Remembrance bows are still available from O'Connells Pharmacy, the Post Office & Janes flower cabin. Mass for those included in the books is on Dec 22nd. Cost is €5 for a bow for the tree & inclusion of your deceased loved on in our remembrance book.
---
Marian Hall Bingo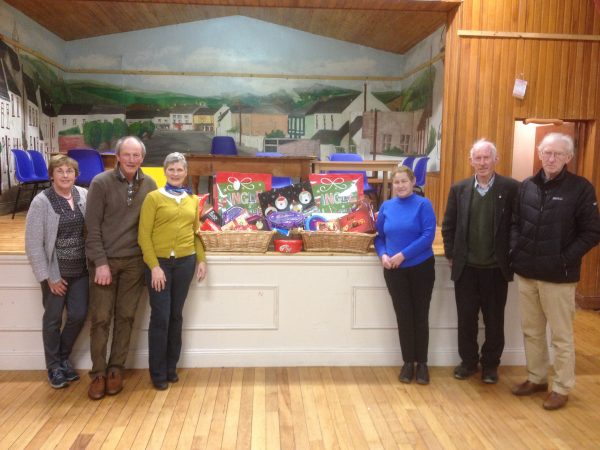 During the month of December, there will be four hampers and lots of spot prizes each night, along with the usual bingo prize money. All are welcome Tuesday nights at 8.30pm.
---
Parent, Toddler and Baby Group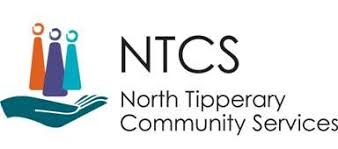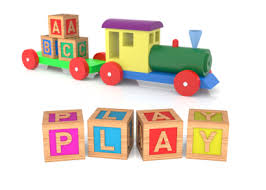 Parent, Toddler and Baby Group are back every Wednesday Morning from 9.30am to 11am in the Community Centre, Borrisoleigh.
Further information Please ring Bridget at 087 2780029
---
Pic of the Past ………..down memory lane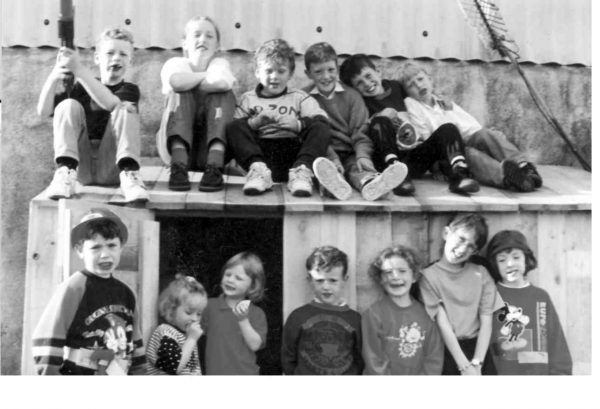 On roof: Richard Tynan, Elma Higgins, Micheál Morley, Elwin Peters, Kieran Younge and Liam Tynan
In front: Donnacha Tynan, Marie Tynan, Aisling Stapleton, Robert Peters, Gráinne Tynan, Aoife Tynan and Caoimhe Tynan
---
Committee: Enda Ryan, Noreen Fahy, Marie McGrath and Derry O'Donnell
Many thanks to all those who contributed photographs and news items
Remember, we need you to continue to send us material so that we can keep our website current and interesting.
While we make every effort possible to ensure that the information contained in this Website is accurate and complete, we cannot accept any legal liability as a result of the inaccuracy or incompleteness of the information presented to users of this site.
Also, if you like what you see and want to leave a comment, remember to use the Guestbook