12 October 2016
12 Oct 2016
Tie the knot….or not
Borrisoleigh playground development group was set up by a group of parents who wanted to refurbish our current playground. The playground was established in 2001 and very little has been done to it since. Having consulted with playground equipment providers we have learned just how expensive an undertaking we have ahead of us.
In September, in conjunction with Borrisoleigh cycling clubs 80K cycle, we organised a sponsored 40K cycle. The proceeds of both cycles went towards the playground refurbishment. This brought in a total of €4,000. We are also hoping to get funding from the Leader Programme because a total of €35,000 is needed to fully equip the playground.
So, in a final fundraising event, we are putting on a one act comedy called "Tie the knot…or not" which has been written by Paula Stapleton. This will be held in Younges, The Ragg, on Sunday October 30th commencing at 8.30pm sharp. Then after laughing yourselves silly you can dance the night away with music from Silver Dollar and later a disco with DJ Lorcan Ryan. Tickets are on sale locally or at the door on the night for €20 for adults, €10 for students. A great night of entertainment is promised.
---
Borrisoleigh Annual 2016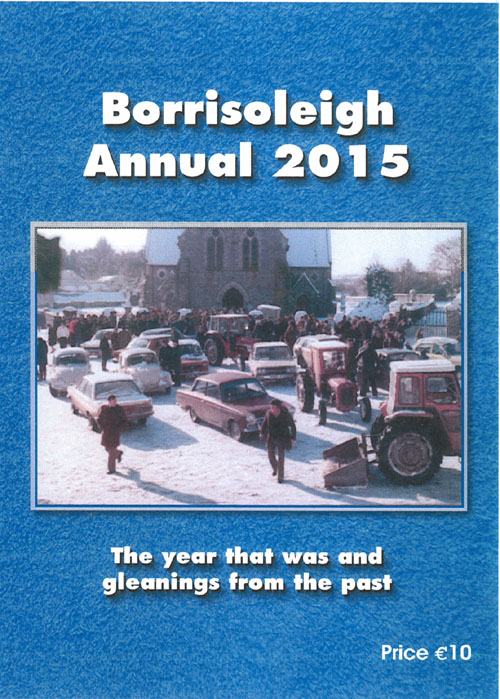 It is that time of the year again and this year the Borrisoleigh Community Development Association plan to produce another annual. We would be very grateful if the clubs/organisations/schools of the community could once again forward us an article and pictures of the activity of your clubs/organisations/schools during the year of 2016. We are also seeking interesting articles that relate to Borrisoleigh. They can be present day or relate to the past. It would be great if some photos accompanied the articles but we will accept articles without photos. Plus we would like to get articles from people who have left the area, of their memories about Borrisoleigh, or from people who have moved into the area of their experiences in the locality. We would also welcome suggestions that may help us to improve the annual.
To enable us to do this we will need all articles and photos by Friday the 28th October 2016. Can all articles be sent in word if possible with photos as separate attachments to this email address borrisoleighannual@gmail.com. Once again your assistance in the production of the 2016 annual will be appreciated.
---
Borrisoleigh Track-Attack Notes
Record Entry to Track-Attack Champions League
Borrisoleigh is certainly the place to be on a Monday night. For the opening night of the new Track-Attack Champions League, a record entry of 198 people were in attendance on a perfect night for a run or walk.
It was a fantastic sight to see such an impressive array of athletes' wind their way through the 1.3km long track with each one of them partaking in their own personal battles. The array of ages and standards was brilliant to see with participants from the very young to the experienced all participating together in a brilliant sporting and friendly atmosphere.
Participants have now been broken into 16 different teams all bearing the name of a current Champions League team. Teams are divided into 4 groups and will be competing against each other where results are determined by a team's overall improvement rate on each given night.
The real beauty of Track-Attack is just how family friendly it is. Not many if any sporting events offer all members of a family irrelevant of their age the chance to participate and compete in the same event. On the opening night, we had a huge amount of families competing with 3 generations of one family out battling against each other.
Is it too late to join up? Absolutely not. We welcome all comers. Registration each night begins at 7:30pm with the start whistle echoing at 8pm sharp.
For all information including the teams, fixtures etc, just log onto Borrisoleigh Track Attack on Facebook.
---
St Joseph's College
Our Transition Year students visited Curraquill Gardens, Nenagh last week. This garden opens to the public during the Summer and is listed by both Discover Ireland and Lough Derg Gardens on their websites. It is located on the Lough Derg Garden Trail. We were welcomed by Lulu Bergin who gave us a very interesting and informative guided tour and talk on garden layout and design; showing us plants for borders and colour for various times of the year. We also learned about composting at home and saw some unusual breeds of hens and geese. This information is being put to great use currently in designing our own school garden and will provide us with a good guide over the course of the school year. We would like to thank Lulu for her good advice and for making us feel so welcome.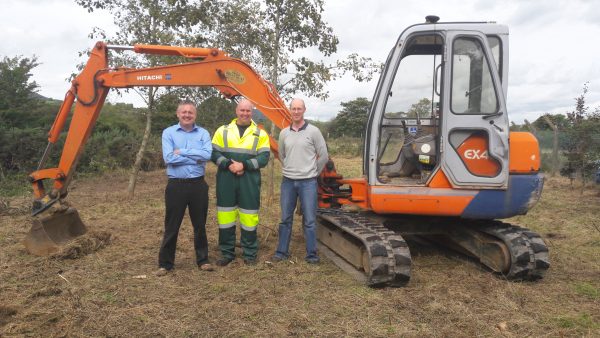 Kevin McCarthy (Principal), Kevin Murray and Cathal O'Shea – clearing of site for TY garden project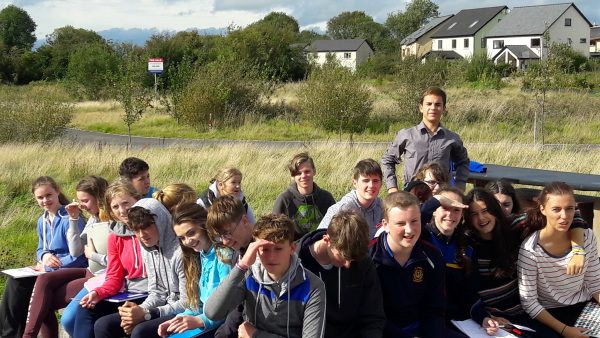 TY Students at the Eco Village
Having eaten lunch by the lake shore in Dromineer we travelled to the Eco Village in Cloughjordan. There we received a guided tour and talk on Sustainable Living in the village. Our guides walked us around the village in small groups and answered our questions relating to the techniques employed there relating to building materials, way of life, allotment gardening, raising livestock, and heating and hot water provision. We found this information very interesting and we will carry out projects on related topics in class during the year.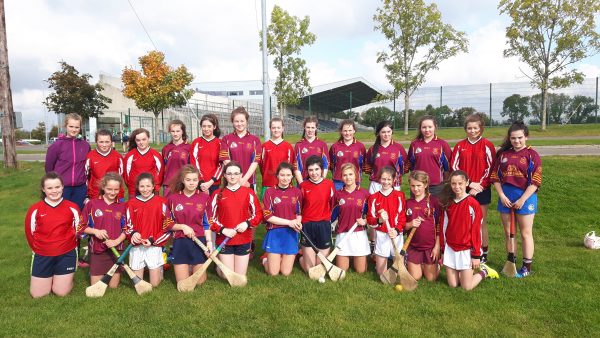 On Wednesday, 5th October our Junior camogie team took part in a Munster 7's blitz in Mallow. We were able to enter two teams into the blitz with one team entering the Cup competition and the other entering into the Plate.
Our Plate team competed in two matches, the first against Castletroy. Although the girls fought hard and managed to score 1-2, Castletroy came out on top. Their second match, against Clonakilty, was a much tougher battle and unfortunately, the girls were defeated.
Our Cup team also showed great skill in their three matches. Borrisokane proved to be a stronger team in the first match and the girls were narrowly beaten by Killaloe in their second game. In their final match, the girls gave a super performance against St. Angela's but were very unlucky to be beaten in the end.
Despite the match results, the girls gave a great display on the pitch and we thoroughly enjoyed the day. We our also looking forward to the start of the Junior Camogie Championship.
---
Bothy Knitting Group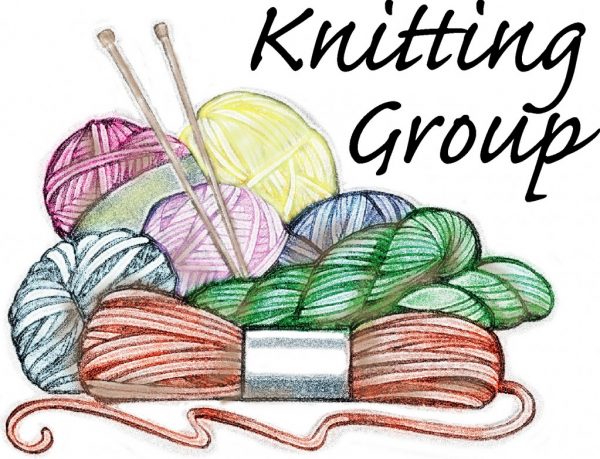 Knitting group every wednesday morning in The Bothy from 10.30-12.00. Catering for beginners, improvers & experienced. Contact Joan on 0504-50932 or 087-9413407 for more details.
---
Rosary Rally
Rosary Rally will take place in Templederry church yard on October 15th @ 4pm.  Please join us to pray for the Protection of Ireland. God's commandments are being ignored and challenged, and constantly attacked by the media. Our Blessed Mother will reward you for giving her your time and prayers.
For further information, contact 087 2736142 or 086 3151508
---
Borris-Ileigh Camogie Club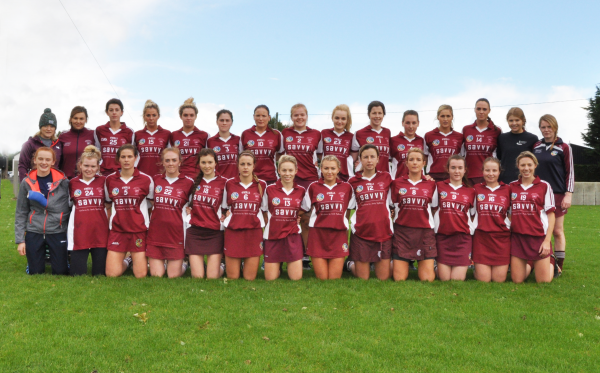 SENIORS:
Next Sunday October 16th sees the replay of the Camogie Senior County Final at the Camogie Grounds, The Ragg at 12 noon v Burgess/Duharra.
Last Sunday's performance was outstanding by this team, and put doubts in the minds of Burgess/Duharra who are hoping to win five in a row. A closely held contest throughout, saw a draw game at half time with each team on seven points a piece. Burgess/Duharra started to creep away early in the second half, but a slammer of a goal from Alice Fogarty, levelled the teams. Borris and the opposition taking a further two points a piece, to remain level and leave the final score at: Borris-Ileigh 1-10 Burgess-Duharra 0-13
Scores from: Nicole Walsh 0-08, Deirdre Corcoran 0-01, Aedín Hogan 0-01 & Alice Fogarty 1-00.
Panel: Emma O'Meara, Avril Ryan, Julieanne Burke, Niamh McGrath, Maria Curley, Teresa Ryan, Noirín Stapleton, Julie Kelly, Aedín Hogan, Deirdre Corcoran, Moira Maher, Nicole Walsh, Ailish O'Connell, Mary Bradshaw, Alice Fogarty, Carmel Stapleton, Nora O'Brien, Tara Mockler, Marese O'Connell, Aoife DeLargy, Sarah Kinane, Chrissy Kenny, Eimear Lyons, Jane McCormack, Katie O'Meara, Kate Delaney, Caitriona Maher, Clóda Scanlon & Louise Fahy
Manager: David O'Connor. Selectors: Ciaraín Hackett, Diarmuid Kinnane, Siobhan Stapleton, Toby Kavanagh. Physio: Declan Marker. First Aid: Paula Ryan.
The committee, management and team are overwhelmed with local support in the form of sponsorship and donations. Also, following a very successful Church Gate Collection last weekend the parish support is really appreciated. See you all in The Ragg again next Sunday, when hopefully, we will come home county champions.
---
Borris-Ileigh GAA Club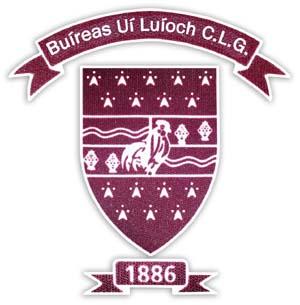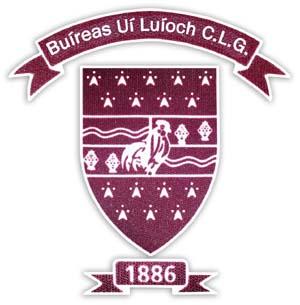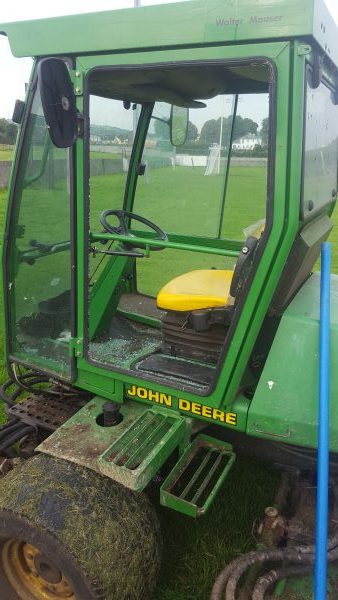 Vandalism: A recent spate of vandalism has been taking place in the Town Park. Many people take a lot of time out of their lives to make the Park a happy and vibrant place for our people to enjoy. What has been going on lately is completely mindless and downright disgraceful. We encourage people to be vigilant of any anti social behaviour and also to have a chat with their kids to ensure they have not been involved in it or perhaps they would have information on those responsible.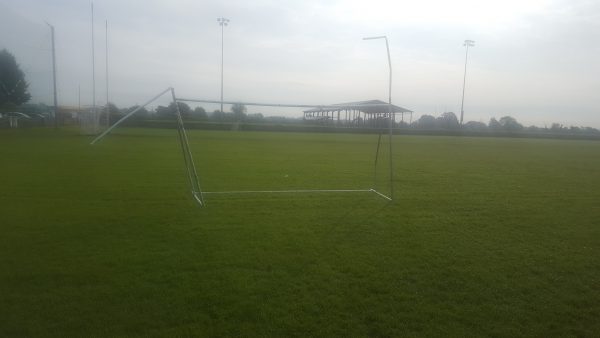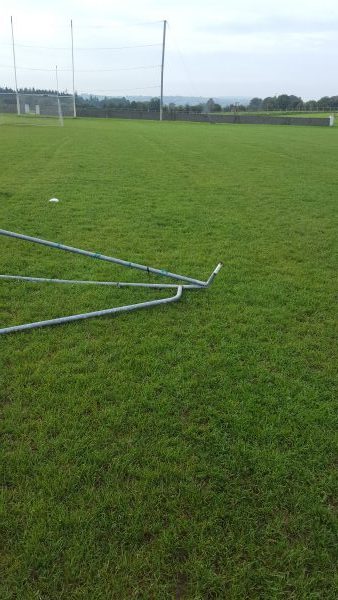 U21: Hard luck to our u21s who were defeated by Toomevara on Saturday afternoon. Despite being missing some of our main players we put in a fine display which was made all the more impressive after having to play with 14 men for 40 minutes. We face Nenagh this Saturday afternoon in a must win game. The game throws in at 4.30 in Dolla
---
Pic of the Past ………..down memory lane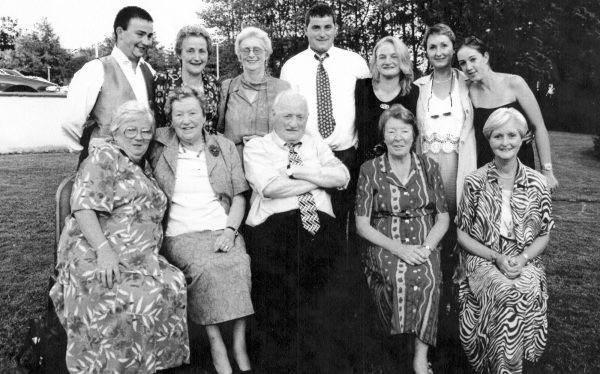 Shanahans, The Bridge, Chapel Street
Back: Tim Shanahan, Kit Quinlan, Judy Nugent, Tim Quinlan, Margaret Quinlan, Frances and Gillian Doherty Front: Ann Ryan, Una Culbert, Tom Shanahan, Teasie Bourke and Pat Shanahan
---
Committee: Enda Ryan, Noreen Fahy, Margaret Cowan, Marie McGrath, Aileen Óg Groome and Derry O'Donnell
Many thanks to all those who contributed photographs and news items. Remember, we need you to continue to send us material so that we can keep our website current and interesting.
Send your email to:info@borrisoleigh.ie

While we make every effort possible to ensure that the information contained in this Website is accurate and complete, we cannot accept any legal liability as a result of the inaccuracy or incompleteness of the information presented to users of this site
Also, if you like what you see and want to leave a comment, remember to use the Guestbook