11 September 2019
10 Sep 2019
Borris-Ileigh Juvenile GAA Club
U16B North Champions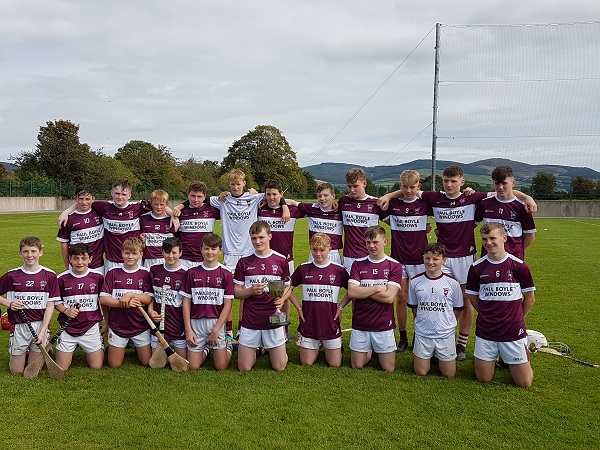 A huge congrats to all our U16 Boys and their mentors. A truly deserving win today, everyone of the boys gave it everything and done the maroon and white jersey proud. Behind this group of boys are a fantastic group of mentors who deserve a big thank you for all the time and effort put in, so to Mick, James, Paul, Anthony, Denis, David and Fr Hennessy thank you so much. The boys were looking very well today in a new set of Jerseys which were so generously sponsered to them by Paul Boyle windows so a big thank you to Paul for the lovely jerseys.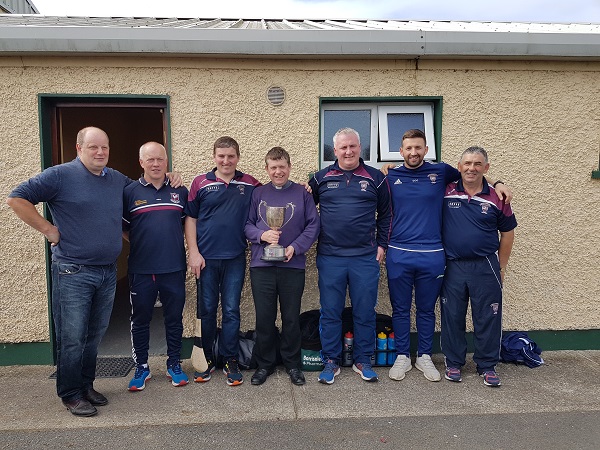 After the game the boys were treated to a meal in Lings Garden Chinese, so a big thank you to the Owners of Lings Garden who generously sponsored the food for all the team.
We now go forward to a County Semi Final, details of which to follow.
Borris Abu!
Mick Prior Tournament
The annual Mick Prior Tournament took place last Saturday 7th September. 9 teams took part in the competition, Borris-Ileigh, Holycross, Moneygall, Upperchurch, Toomevara, Moycarkey, JK Brackens, Loughmore and Drom.
JK Brackens emerged victorious against Holycross in the Cup Final, Borris-Ileigh defeated Moycarkey in the Shield Final and Toomevara won against Loughmore in the Plate Final. Big thanks to everyone who helped out and took part on the day.
---
AXA Community Cycle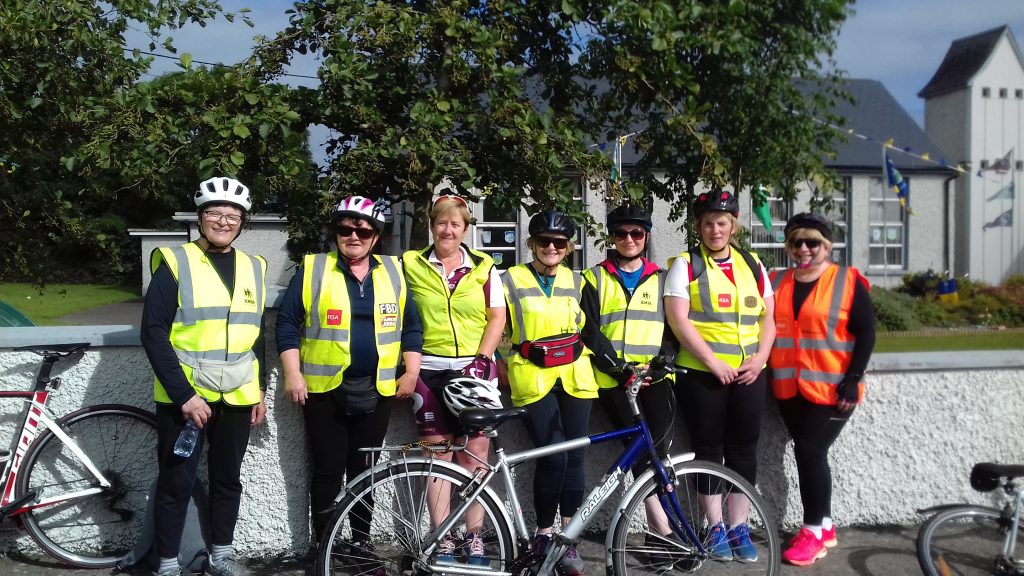 We had another lovely cycle Sunday morning in the beautiful countryside with the sun shining down on us as we chatted our way through the Ragg and across to Drom village with gorgeous views of the Devils Bit in front of us. Anyone interested check out the cycling Ireland website and register for next Sunday. Thanks to all cyclists who turned up last Sunday really enjoyed it.
---
Introduction to Ceramics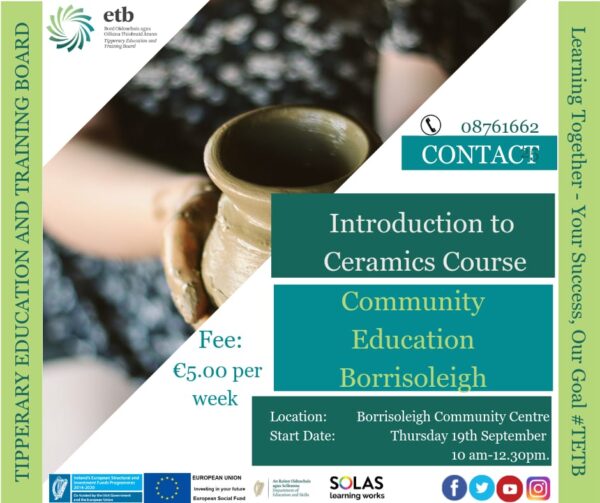 ---
Borrisoleigh Active Social Club
Borrisoleigh Active Social Club held their September meeting last Wednesday night. After the summer break there was alot of ideas being discussed for the coming season.
Pilates class for our members returns on Tues Sept 17th at 6.45pm.
Among the ideas are our annual Christmas shopping trip which this year will be to Cork on Dec 10. Panto in Limerick which is Aladdin on Dec 28.
It is hoped to have a Halloween party on Oct 25. We are also aiming to have a First Aid Course and a weekly exercise class. Day trips and music concerts. More details to follow on all the above.
We have a group of our members heading off to Galway next Sunday. They are being joined by a group from the Drom/Inch club. They will be having a cruise on Lough Corrib and also heading to Kylemore Abbey. No doubt there will be time for a bit of retail therapy. Hopefully everybody will enjoy the trip.
If anyone is interested in going to any of the above please contact Lucia on 0863961211
---
New Yoga Class in Borrisoleigh
Easy Flow Yoga Classes starting on 16th September in Borrisoleigh Community Hall for 5 week introductory course.
To book your spot ring 087-7714938
For more information please click on the following link http://www.yogaherbalist.ie/yoga
---
Community Mothers Programme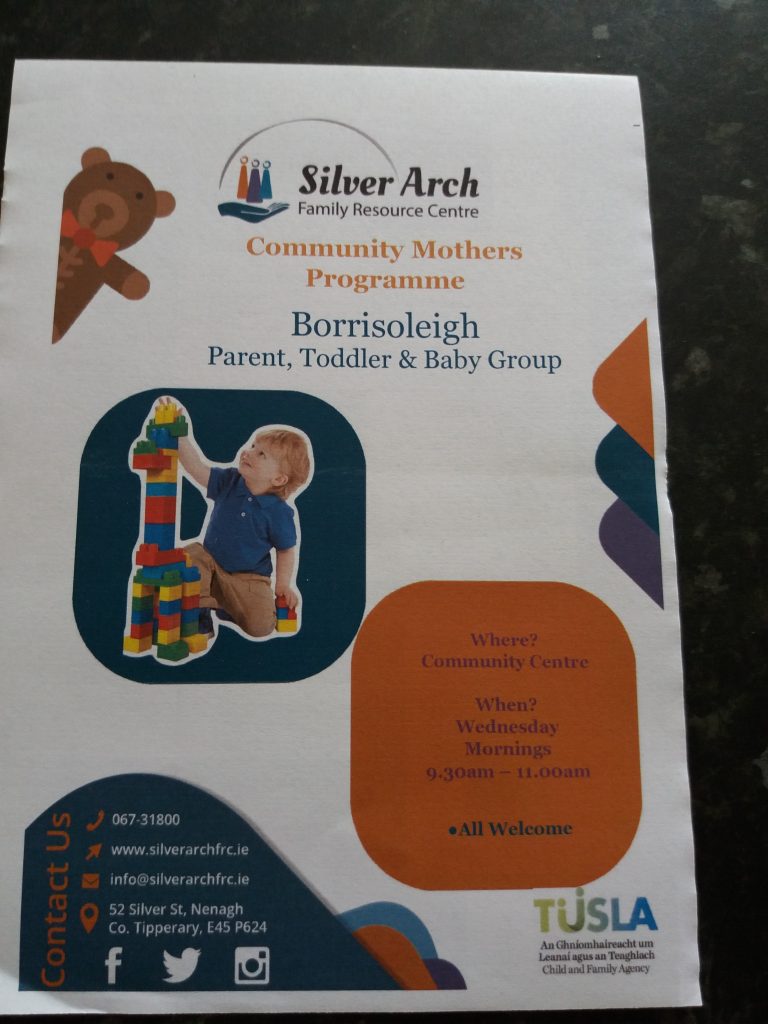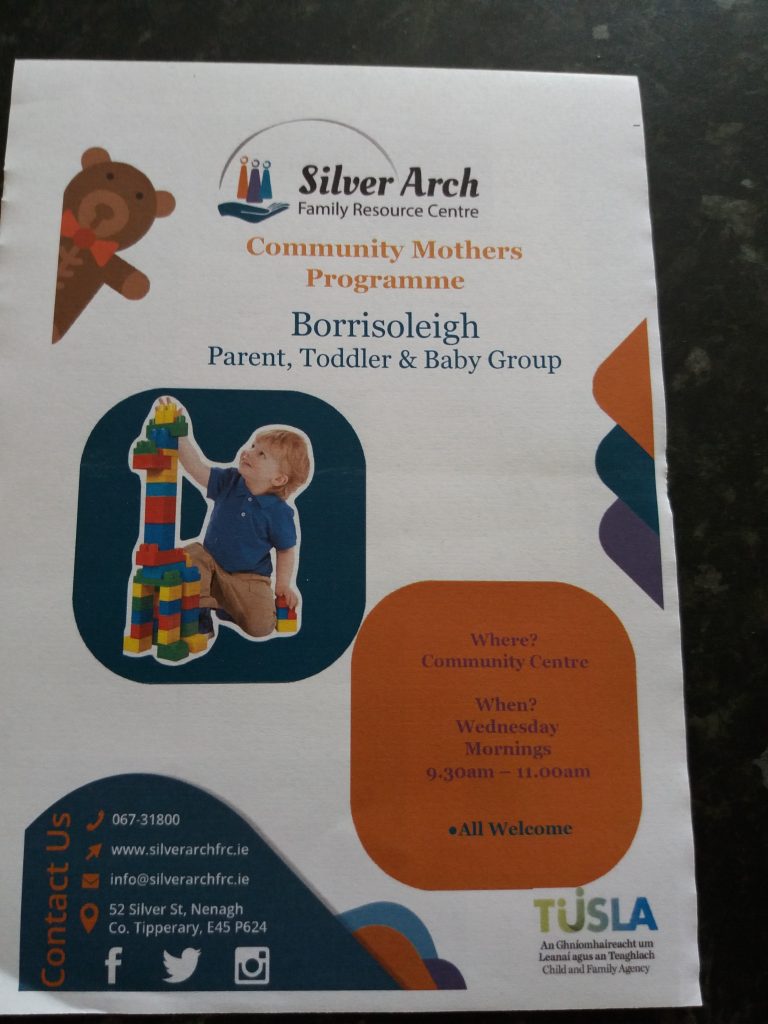 ---
Knitting & Crochet Group
Every Wednesday from 10.00 to 11.30am in the Community Centre Borrisoleigh. All welcome.
For details contact Mary at 0863098982
---
Parish News

Anniversary Masses next weekend:
We pray for all whose anniversaries occur, and for whom the following Masses will be offered.
8pm Saturday 14th September Corah Murray. Rathmoy.
11am Mass Sunday 15th September Tom & Mary Ryan, Mountkinnane.
Paddy & Mary Walsh, Chapel Street, Borrisoleigh. and also for Paddy Ryan, Templemore who was interred recently.
Ileigh Church:
The Bell Tower is leaking in water to the side-aisle. Work has begun to repair the Bell Tower. The jints between the stone block and stones will be cleaned out and lightly hosed and sealed with a lime based filling. Lead flashing will be placed on back of belfry. Also lead flashing will be placed on top of one of the caps that is cracked. Pinions will be made to secure the bell.
Wandering in the Wilderness-Finding Inspiration in the Book of Exodus
This four week course, presented by Sr. Therese Fitzgerald, Sister of Sion, explores biblical background, interpretation and application to life today. Participants will discover in the book of Exodus learnings to support them in their personal and spiritual development.
Date: Four Monday evenings, 30 Sep to 21 Oct 2019.
Time: 7.30 – 9pm.
---
Set & Sean Nós Dancing Classes

Starting Tuesday 10th September
Venue: Marian Hall, Borrisoleigh
Teacher: Michael Cooney
Time: 4pm to 6pm
Cost: €5 per child, €8 for 2 & €10 for 3 (primary school upwards)
---
Borrisoleigh After School Club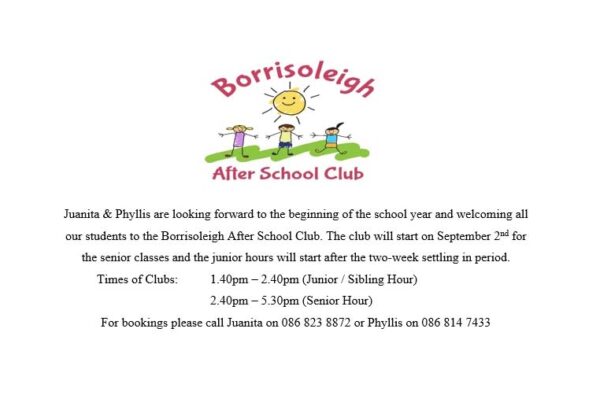 ---
Community Wellbeing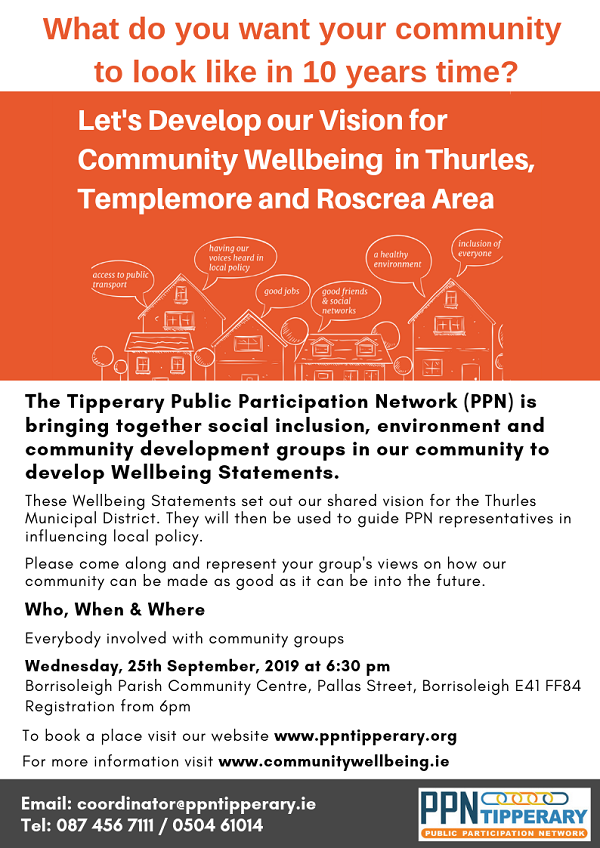 The Tipperary PPN (Public Participation Network) is a collective of all the community, voluntary, social inclusion and environmental groups in Tipperary. Established in 2014, the PPN provides the community voice on Tipperary County council committees. It also runs training courses for member groups and shares information about funding and activities. Tipperary PPN is very excited to be part of the pilot community wellbeing project.
We are currently running community meetings in each Municipal district. What do we need for the wellbeing of the community of Thurles, Templemore and Roscrea area that is the question being posed by Tipperary PPN, and they want to hear from all the groups and organisations in in this area. Developing a Vision for Community Wellbeing means thinking about what we have and what we need to help Thurles, Templemore and Roscrea area to be as great as it can be for us and for the many generations that follow on from ours.
One thing everyone can agree on is that we would like our community to be the very best it can be. Tipperary PPN are delighted to be rolling out a new National Initiative on Community wellbeing. "Our wellbeing is affected by many things; the economy, the environment, services etc" explained Avril Wilson PPN Co-ordinator "and the wellbeing of the community affects everyone within it. We really want to hear from the groups and organisations on the ground and what is important to them". Groups will also be able to feed in online. All this information will be brought together and be used to influence policy and guide the work of the PPN and its representatives in influencing policy and working towards achieving the community's goals.
Getting involved
The community consultation meeting for this area will take place on Wednesday, 25th of September 2019 in Borrisoleigh Parish Community Centre, Pallas Street, Borrisoleigh, Co. Tipperary E41 FF84 from 6pm.
If you would like to find out more, or your community organisation would like to participate in the consultation on community wellbeing, please contact the PPN office on 0504 61014 or email at coordinator@ppntipperary.ie
To register for the event visit:
www.eventbrite.ie/e/lets-develop-our-vision-for-community-wellbeing-in-thurles-templemore-and-roscrea-area-tickets-65168695322
or
---
Pic of the Past
---
Committee: Enda Ryan, Noreen Fahy, Marie McGrath, Derry O'Donnell and Fiona Max
Many thanks to all those who contributed photographs and news items
Remember, we need you to continue to send us material so that we can keep our website current and interesting.
While we make every effort possible to ensure that the information contained in this Website is accurate and complete, we cannot accept any legal liability as a result of the inaccuracy or incompleteness of the information presented to users of this site. We also reserve the right to edit material for suitability to a website format.
Also, if you like what you see and want to leave a comment, remember to use the Guestbook