11 April 2018
11 Apr 2018
Borrisoleigh Active Social Club
We held a successful Trad session last Wed night in the Community Centre Borrisoleigh. There was a great variety of musical instruments and songs provided by a large group of young adults. Everybody that attended were given tickets for a free raffle for which there were many prizes. We would like to thank everyone that supported the night. There was a donation bucket on the night and the proceeds will be presented to the Tomás Kelly Trust Fund.
We would like to thank all those who provided the entertainment, those who contributed to the donation bucket and those who provided goodies for the cuppa to finish off a great night. Thanks also to our MC Phil Maher and also Eddie for the photos.
We have a group heading to Killarney today Wednsday for an overnight trip. No doubt they will enjoy themselves.
Our next meeting will be on Wednesday May 2nd at 8pm in the Community Centre Borrisoleigh
---
St. Cualán's Social Club
A Big thank you to everyone who supported our Trad session last Wednesday night in the Community Centre Borrisoleigh. It was a great night with a wonderful variety of musical instruments and songs provided by a host of local young adults. The committee provided refreshments afterwards and had a great variety of confectionery. Proceeds from the night will be presented to the Tomás Kelly Trust Fund.
---
Borrisoleigh Track Attack Notes
A Mile with a Smile
How long does it take you to complete a Mile? Borrisoleigh is the place to be on Monday 23rd of April next when Track-Attack join up with St. Joseph's College to host the annual Borrisoleigh Mile. In the inaugural event, Liam Harty became the first name etched on the Gerard Ryan Perpetual Cups when he broke the tape in 4 minutes and 40 seconds. Carmel Fitzgibbon had the honour of becoming the first winner of the Paddy Nolan Perpetual Cup when she crossed the finish line in 5 minutes and 32 seconds.
Interest is certainly growing locally with major bragging rights up for grabs!! The battle of Track-Attacker will be keenly contested. Will Mike Gleeson get the better of John "Zenga" Vahey and will the two of them be upstaged by Ailbe Cummins, Austin Ryan or Ger Bourke!! Fresh from her superb performance in the Manchester Marathon, Sinead O'Meara will be the favourite for the women's title.
The prizes for the first St. Joseph's College students will also be hotly contested as will be the battle of the teachers. All the various grades are up for grabs. There are prizes for the first 3 men and women to cross the line, prises also for the first male and female in the following grades; Under 18, Over 40, 50 & 60.
The beauty of the Mile distance is that everyone can do it. Sprint, run, jog or walk, there's a place for you. The course starts one mile out from the Borrisoleigh village on the Thurles side and its straight back into the square then. Walkers are more than welcome but will have to use the footpath which runs the entire length of the mile.
The event will be chip timed and the entry fee is €10 for adults and €5 for Under 18's. There is a maximum of €20 for families. All profits on the night will go to St. Joseph's College. This year's entries and post event presentation will be held at St. Josephs. The start time is 8pm and entries will close at 7:40pm as all athletes will have to make the way to the start.
A huge thanks to the Parents Association of St. Josephs who are organising the post event catering. There's an open invitation to everyone to come to Borrisoleigh on the night and complete the classic distance….
---
Lourdes Raffle Results
A big thank you to everyone who bought & sold lines and sponsored prizes for Aoife's youth helper in Lourdes fundraiser event. Thanks to Joe in Finns Bar for facilitating the draw last Saturday evening. The following are the lucky winners:
Moira Maher, Razuk Atik, Seán Treacy, Micheál O'Hagan, Julia Young, Pepsi c/o Sheila O'Brien, Ben Ahern, Joe Loughnane, Andrew Tuson, Samantha Curtis, Mairead O'Meara, Joan Curry, Peggy Max, Cora Stapleton (pres), Jim Ryan (pres), Fiona Coady (pres), Lynn Butler, Dickie Quigley. Congrats everyone.
---
Network North Tipperary Press Release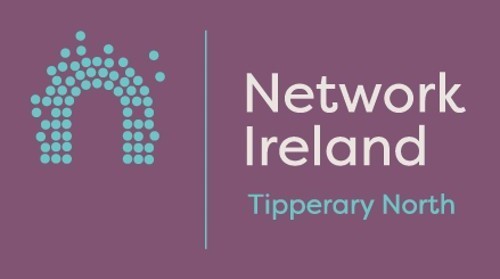 Air Corps Commandant To Speak At Network Ireland North Tipperary Event
As one of a family of nine, Caitriona Nic Caba grew up in the West of Ireland. It was in these formative years that she built an appreciation of the arts, a love of physical demand and began to understand the power of intrinsic reward. Having worked her way through a music and physical education degree in Canterbury, England, Catriona was faced with a decision; which to pursue, a career in the arts or sport? She chose sport, in a way – or so it seemed at the time.
Twenty-one months after joining the Irish Defence Forces, Caitriona was commissioned as an Army Officer. This allowed her to develop technical and tactical military skills and she excelled as a leader in the Army environment. She also served peacekeeping missions in both Kosovo and Lebanon. Away from the Army, an All-Ireland football medal and being chosen for the Irish Six Nations rugby squad demonstrates her ability in mainstream team sports, but it was in lesser known pursuits, such as adventure racing, mountain running, sky-diving and orienteering, that Caitriona would discover her true grit. Her reputation as an endurance athlete grew but, more importantly, her immense depth of mental strength became evident.
Following the birth of her daughter, Caitriona turned to Crossfit as a means of recovering post C-Section surgery. She found that not only did Crossfit reward her with strength gains she had never believed were possible, but it also set her on the path to undertaking the greatest physical and mentally-demanding journey of her military career. In 2017, at the age of 36, and just three years after the birth of her daughter, Caitriona took a shot at the Army Ranger Wing Elite Special Forces' selection course which is the army's most gruelling course that only one woman had applied for in almost 35 years. Her aim – to challenge perceived boundaries for women in the Defence Forces and pave the way for future women to come.
Caitriona will share details of how she balances motherhood with a rigorous fitness programme and how she uses Sports Psychology, Goal-Setting, Motivation, Mindset Training, Mental Toughness, Daily Discipline and Visualisation as tools in her development. Inspired by her belief in the strength of women and mothers in particular, Caitriona maintains we are limited only by the boundaries we set for ourselves. Motherhood gave her the strength and courage to relentlessly pursue her dream. Her mission now is to effect positive change on women in Ireland, particulary in the Defence Forces.
Event Details: 17th April @ 7.30pm in The Abbey Court Nenagh Booking is essential though Eventbrite/ Network North Tipperary Facebook page.
Admission is €5, all proceeds to Network North Tipperary Charity Parachute Jump.
Network North Tipperary is kindly sponsored by Local Enterprise Office /AIB /Vodafone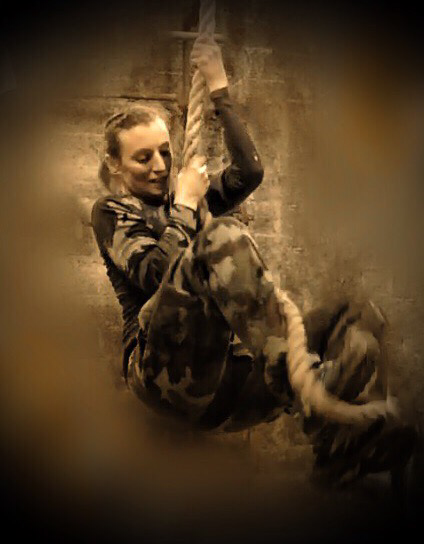 ---
Borris-ileigh GAA Club Notes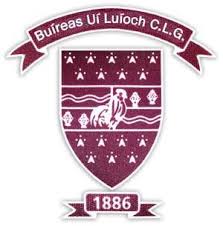 North Junior 'A' Hurling League:
Commiserations to our Junior 'A's who suffered an agonising 1 point defeat at the hands on Roscrea this evening on a score line of 1-15 to 1-14 in the Park.
We got off to the worst possible start with Roscrea racing into a 1-03 to 0-00 lead inside the first 10 minutes. But thanks to some expert free taking from Ryan Murphy and a great individual score from Micheal Carey brought us back to within 3 half way through the first half.
We drew level heading into injury time thanks to a couple of Ryan Murphy frees along with a great long range point from Matt Stapleton but with the last puck of the half a Roscrea free put them 1 point up at half time on a score line of 1-05 to 0-07.
It was point for point all the way through the second half with Micheal Carey, Ryan Murphy and Tomas Ryan tagging on some nice scores from play. We found ourselves 4 points down deep into injury time before a spectacular Goal bound shot from Matt Stapleton cannoned off the inside of the post rolling right across the goal before being flicked into the net to by the on rushing Micheal Carey to leave just one point between the teams but unfortunately it was too little too late as the game ended in a heart breaking defeat.
A disappointing result but A good performance overall from the lads who fought well to comeback after a poor start. Definitely something they can take into the Championship going forward.
The team and scorers are listed below:

James McCormack
Aaron Reid, Cathal O'Connell, Declan Ryan
Keith Ryan, Michael Ryan, Maurice Ryan
Kieran Maher, Patrick O'Connell
Ryan Murphy 0-10 (0-09f), Matt Stapleton 0-01, Shane McCormack
Micheal Carey 1-02, Diarmuid Kinnane, Tomas Ryan 0-01
Subs Used: Oran Bergin, Aaron Rabbitte, Conor Keane, John Ryan.
"Tipperary Water" County Senior Hurling Championship:
Our Senior hurlers will begin there long awaited 2018 Championship campaign this weekend as they play their opening game in Group 4 of the "Tipperary Water" County Senior Hurling Championship against Portrue. The game will take place on Sunday the 15th of April in MacDonagh Park in Nenagh at 6.45pm. This game will be a double header along with the meeting of Templederry Kenyons and Silvermines in the Seamus O'Riain Cup which takes place at the earlier time of 5.15pm. We as a Club would like to wish all the players and management the best of luck on Sunday and for the year ahead. Let's hope we can kick on from our outstanding 2017 campaign. All support greatly appreciated. If you can't make the match live score updates will posted on our Twitter page, find us @Borris_GAA. Borris Abu!
North Minor 'A' Hurling Championship:
Our Minors will start their 2018 campaign in the North Minor 'A' Hurling Championship on Thursday evening the 12th of April against Roscrea in Toomevara at 6.30pm. We would like to wish all involved the very best of luck on Thursday and for the year ahead. Each game will be played at a neutral venue. The full draw for Round 1 is as follows:
Borris-Ileigh V Roscrea, in Toomevara
Lorrha Rvrs V Ballina, in Nenagh
Nenagh Éire Óg V Toomevara, in Cloughjordan
Borris-Ileigh GAA Golf Classic 2018:
The 2018 Borris-Ileigh GAA Annual Golf Classic will take place this year across the weekend of 11th and 12th of May in Rathdowney Golf Club. We encourage all from near and far to come along for a Round in what is guaranteed to be a great day out for all with food and refreshments provided for all on the day. Entry for a team of 4 is €140 and sponsorship of a tee box is €50. The Tee Times are open for bookings as of now, so to get your bookings in contact Martin Fahy (087) 2608780 for all of the details. Don't hesitate to spread the word, we look forward to seeing you all on the 11th and 12th of May.
Lotto:
This Results of our weekly Borris-Ileigh GAA Club Lotto draw are as follows:
The numbers played were 3, 13, 18 and 27. This weeks Lucky Dip winners were:
Billy Ryan(Adler), Fantane
Cathal Ryan, c/o Edel Groome
Paudie Murray, Rathcarden
Darragh Kennedy, Castlecourt
Well done to all of this weeks lucky dip winners. Next Weeks Jackpot is up to a nice €6,600.
If you wish to play online in time for next weeks draw you can do so here: https://t.co/dgS65gWjRk
Best of luck all entries and thank you for your continued support.
Borris Abu!
Vandalism:
Unfortunately there has been a spate of Vandalism on some of our facilities in the Park recently much to the dismay of the GAA Club, other associated clubs and the local community who work very hard to keep these wonderful facilities we are lucky to have in the Park as well as we possibly can.
The Toilet beside the Tennis Court is used by everyone and we express great disappointment at the state it has been left in.
In future we would ask anybody who witnesses any anti-social behaviour in the Park to report it to the Club committee to ensure such conduct does not happen again.
---
Book Launch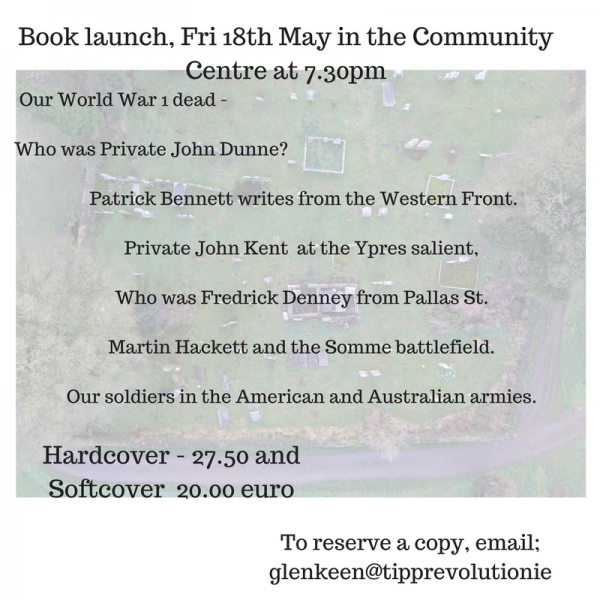 Please note: Email address should read glankeen@tipprevolution.ie
---
Wood Carving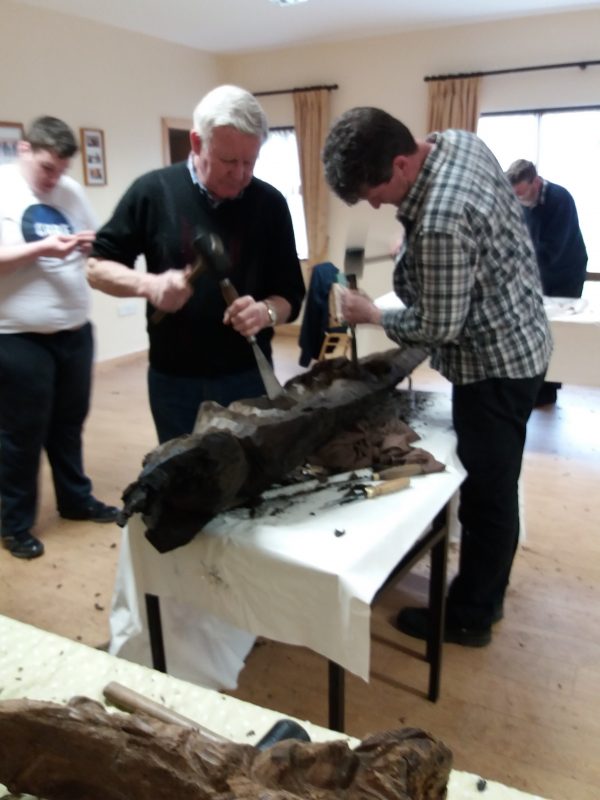 ETB have kindly facilitated Wood Carving classes been extended for 4 weeks commencing on the 24th of April. This will run for 4 weeks on Tuesday's from 10a.m to 12.30pm. This 4 weeks is to work on a community project piece that will be part of the community garden. Anyone wishing to join in and get involved are welcome.
Cost €5 to cover cost of hall. Tea, Coffee included. Hope to see you there.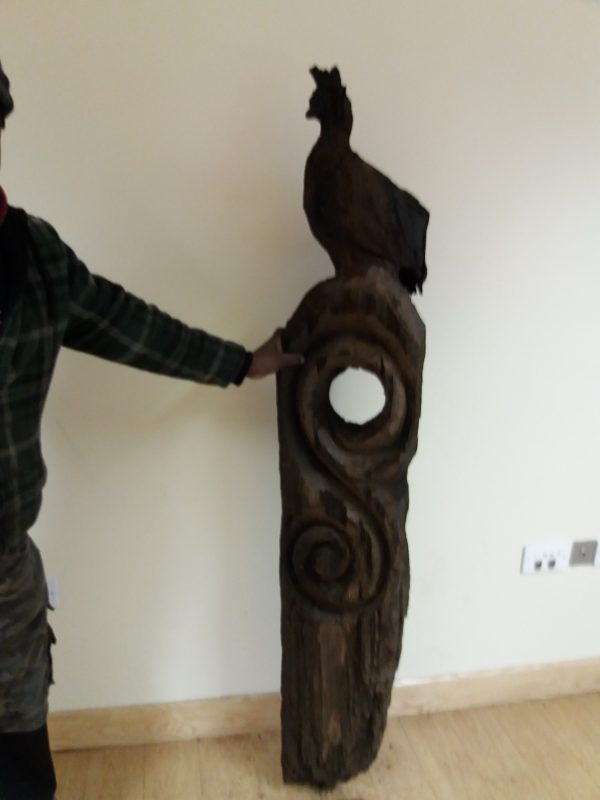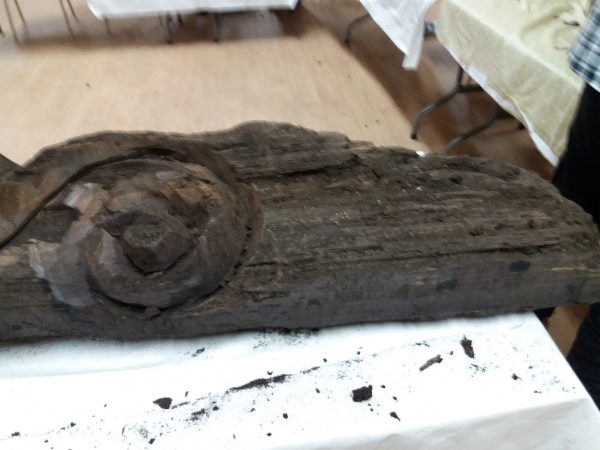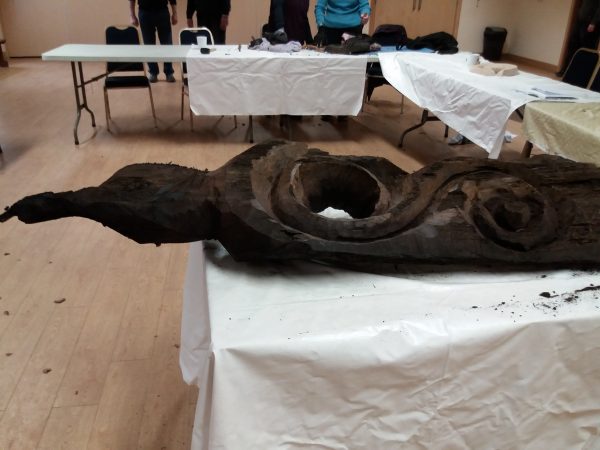 ---
Borris-Ileigh Camogie Club Notes

REGISTRATION: If you have missed our registration dates and wish to join the club this year, please contact 087 4380801, or hand in completed form and fee at training. Many thanks. All new members welcome. Adult player €50, Juvenile €30, Committee/Trainers/Social members €20
CLOTHES COLLECTION: Time to do the spring clean!Clothes collections will take place on Saturday April 21st at the pavilion from 10.00 am to 12 midday and on Monday and Tuesday evening (April 23rd & 24th) from 7 to 8pm. Paired shoes and belts also accepted. Your support would be appreciated.
​​​​​U16's game against Moycarkey was postponed last Saturday. Game to be decided.
U12's played Cahir on Tuesday last with a fantastic result of Borris: 6-04 to Cahir 0-04. Scores from: Ava Bevans 5-03, Emma Quigley 1-00 & Aoife Fitzgerald 0-01. Well done girls. Next game vs Drom (away) on Thursday April 12th at 7pm.
U10 training starts back on this Wednesday April 11th at 6.30p.m.
U8 and U6 training will re-commence shortly.
---
Marian Hall Lotto Results
Lotto numbers 1 3 5 23
No winner
3 match 3's
Pat Hennessy, Kilnafinch.
Grandchildren of Joan O Dwyer
Marie De Boer Castle View
Next weeks lotto €6,650
---
Borrisoleigh Drama Group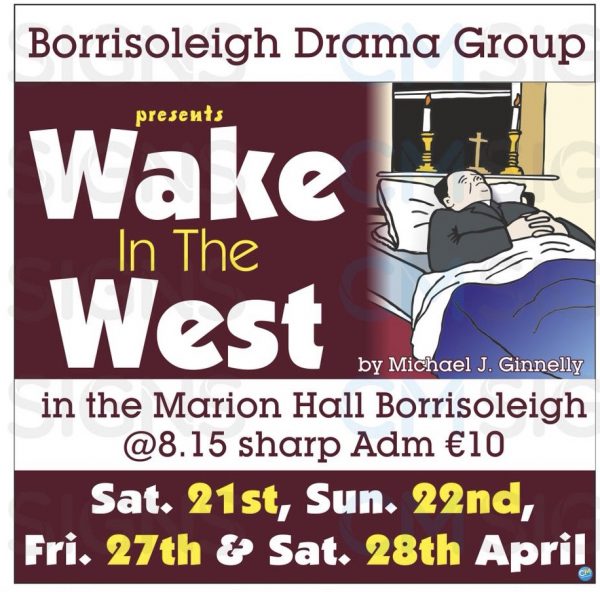 Borrisoleigh Drama Group will stage the very popular comedy ' A Wake in the West' by M.J.Ginnelly on Saturday 21 April, Sunday 22 April, Friday 27 April and Saturday 28 April in the Marion hall , Borrisoleigh at 8.15 pm nightly.We look forward to your support once again this year. Donations will be made to the new Autism unit at St Cualan's Primary School and to local clubs.
Borrisoleigh Drama Group in rehearsal for the popular comedy 'A Wake in the West'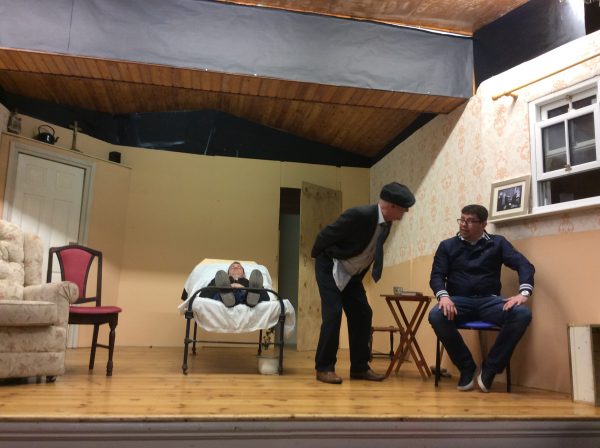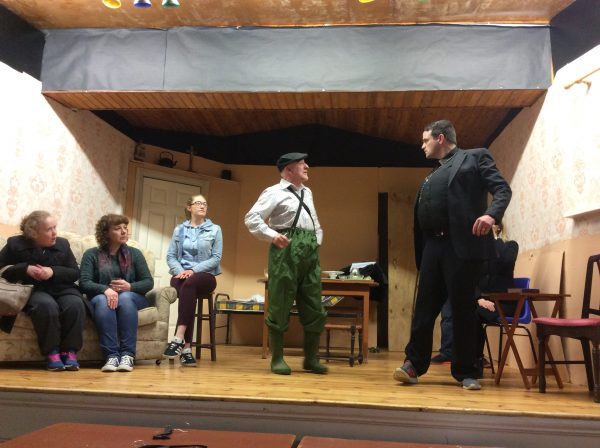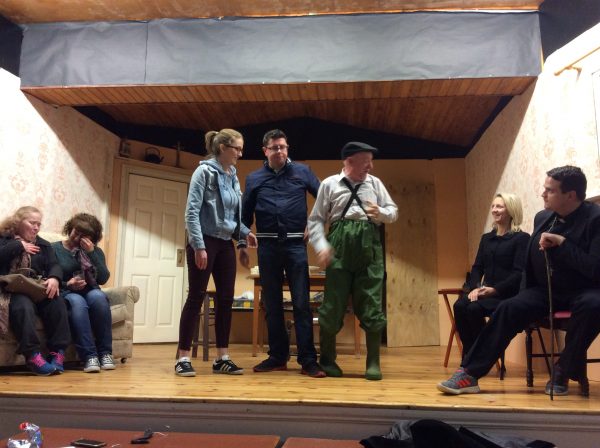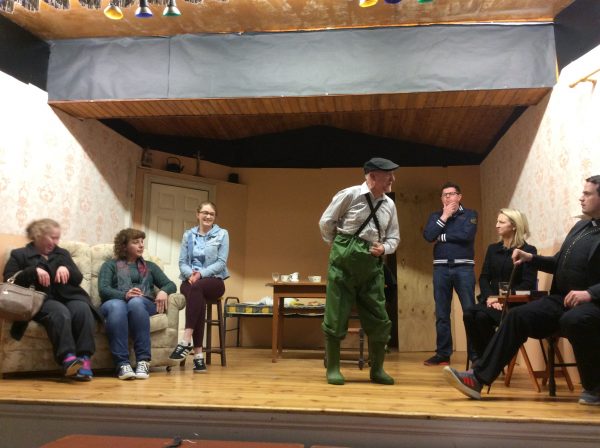 ---
May Masses and Devotions in Our Lady of Clonfert Church
Our programme for May Masses and Devotions at the Shrine in Our Lady of Clonfert Church, Clonfert, Ballinasloe, Co. Galway. We have welcomed to date, many Tipperary people each May but it would be great to see some more friendly Tipperary faces this side of the River Shannon.
Fr. Declan McInerney. P.P.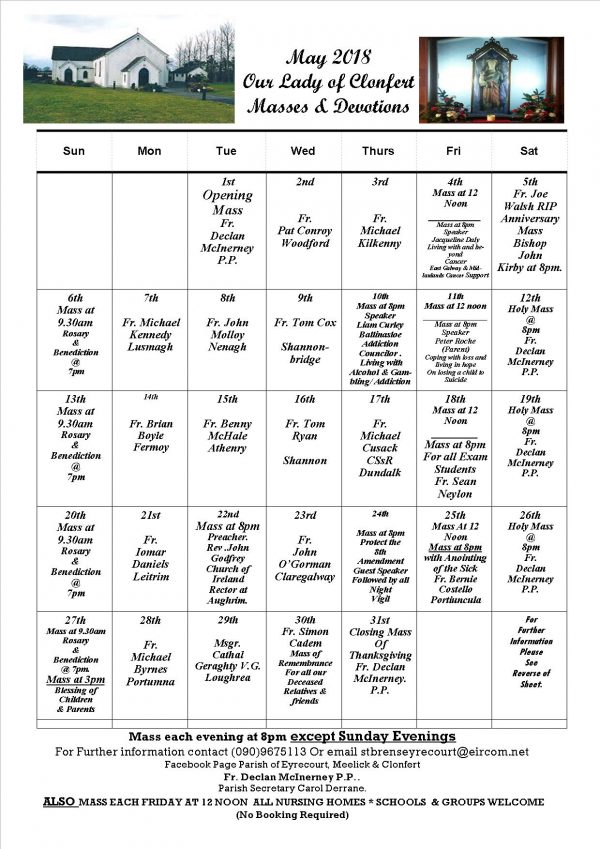 History of the Statue of Our Lady of Clonfert
This Madonna and Child is a 14th Century hand-carved wooden figure. It is of native craftsmanship, one of a number of examples from a school of woodcarving, which apparently flourished in the Shannon area from the 13th to the 17th Century.
The Statue highlights Mary as the Mother of the Human Race, standing within reach of all. Undoubtedly this statue originated in one of the two religious houses nearby at that time; St. Brendan's Monastery or the famous Clonfert Cathedral.
It was hidden in a hollow oak tree during the Cromwellian Persecution of the Catholics in the 17th Century. Tradition has it that in the 19th Century it was found by woodcutters, who accidently cut off the left arm.
It was at one stage in view in the National Museum in Dublin and was carried in procession in the Eucharistic Congress in Dublin in 1932. Instrumental in the granting of many petitions through the intercession of the Blessed Virgin, Mary.
Brief Summary
2nd May 1st Anniversary Mass for Fr. Dan O'Donovan CC Ballinasloe All welcome
4th May Jacqueline Daly is a director of the East Galway and Midlands Cancer Support Centre (Le Cheile) Ballinasloe . She will talk on living with and beyond Cancer.
5th May Anniversary Mass for Fr. Joe Walsh RIP . Bishop John Kirby
10th May Liam Curley, Creagh , Ballinasloe, is an addiction councillor with many years of experience dealing with various forms of addiction. Liam will speak of Alcohol and Gambling addiction and living with someone who carries the burden of addiction.
11th May Peter Roche sadly lost his son to suicide in 2010, he will tell his story and offer support in relation to coping with loss and moving forward in Hope
17th May Fr. Michael Cusack is a Redemptorist Priest and will be well known to those who attend Galway and Esker Novena. A gifted preacher and will have plenty of food for thought
18th May Mass for Exam Students for everyone taking exams at all levels with special Exam prayer Card.
24th May Mass on Eve of the Referendum . ( for the protection of the 8th Amendment )Guest speaker followed by all night prayer vigil at the Shrine . All welcome.
25th May Mass with Fr. Bernie Costello Portiuncula, with Anointing of the Sick (Hall across from Church also available on the night)
27th May Mass at 3pm and Blessing of Parents and Children (bring ear plugs)
30th May Mass for all our deceased relatives and friends. Fr. Simon Cadem.
MASS WILL BE BROADCAST ON A LARGE TV SCREEN IN THE HALL ACROSS FROM THE CHURCH EACH NIGHT.
Practical advice Arrive on time and bring a bottle of Water & a cushion if needed !!!!!!!!!!!!!!!!!!!!!!!!!!!
Fr. Declan McInerney P.P.
---
Pic of the Past ………..down memory lane
---
Committee: Enda Ryan, Noreen Fahy, Marie McGrath and Derry O'Donnell
Many thanks to all those who contributed photographs and news items
Remember, we need you to continue to send us material so that we can keep our website current and interesting.
While we make every effort possible to ensure that the information contained in this Website is accurate and complete, we cannot accept any legal liability as a result of the inaccuracy or incompleteness of the information presented to users of this site.
Also, if you like what you see and want to leave a comment, remember to use the Guestbook
---