10 October 2018
10 Oct 2018
Borris-Ileigh Camogie Club

U12's had a great over Burgess last weekend in the county semi-final. Although down by two points at half time, an early goal in the second half by Ava Bevans brought this team back into form. A second goal from Aoife Fitzgerald concreted the lead. Burgess subsequently scored a goal in the second half bringing the teams neck and neck to the finish.
Final Score Borris-Ileigh 3-02, Burgess 3-01.
Scores from: Ava Bevan 1-02 & Aoife Fitzgerald 2-00. Well done girls.
County final fixture vs. Thurles Sarsfields on this Sunday October 14th at 10 am at the Camogie Grounds, the Ragg. Fantastic result and well done girls.
PANEL: Lisa Carr, Niamh Ryan, Eve Maher, Emma Maher, Gabriel Hodgins, Alesha Fanning, Tara Kennedy, Therese Groome, Hannah Clare, Aoife Fitzgerald, Ava Bevans, Emma Quigley, Anna Fitzgerald, Ella Ryan & Nicole Colgan.
U14's also contest a County final against Moycarkey this Saturday October 13th at 11am at the Camogie Grounds, The Ragg.
PANEL: Lisa Carr, Emma Galvin, Katie Fitzgerald, Anna McGrath, Emma Maher, Jane Delaney, Chloe Carroll, Aoife Fitzgerald, Ava Bevans, Emma Kelly, Shannon D'arcy, Dani Ryan, Rhona Lyons, Hope Bergin, Niamh Ryan & Tara Kennedy
Overall this has been a great year for both these teams and huge congratulations to due to them and their coaches on each reached county final stages.
Minor's play Nenagh at home on Sunday October 14th at noon.
The very best of luck. Keep an eye on Borris-Ileigh camogie Facebook page for updates and fixtures.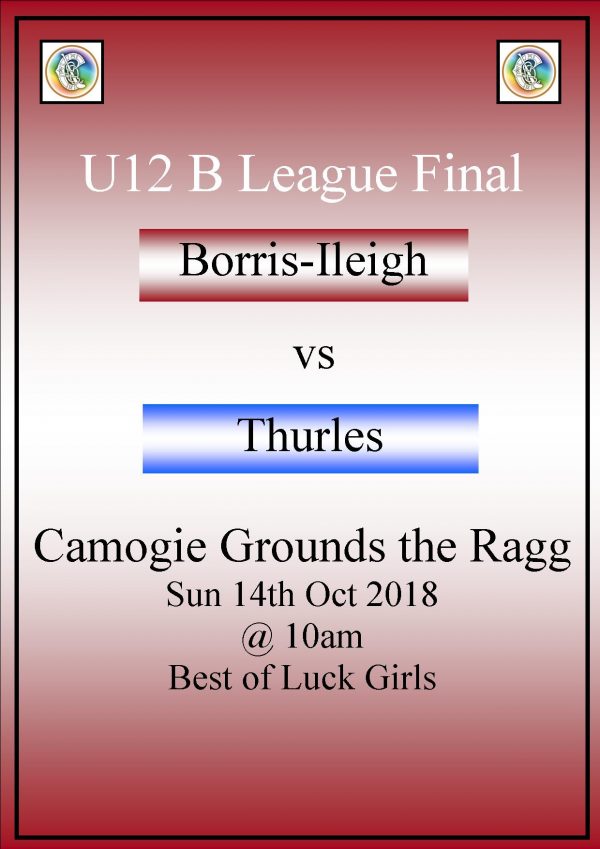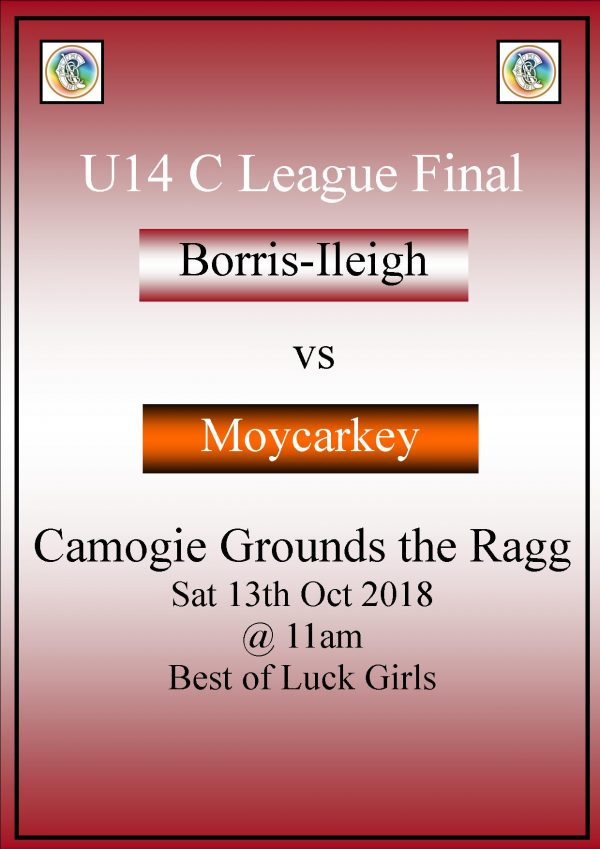 ---
Retirement Night
After many years of outstanding service as both teachers and principals in the primary schools of Borrisoleigh, Mrs Kay Ryan and Mrs Mary Butler are now retiring. To mark their retirements and to celebrate and give thanks for their dedication and the great contribution they made to education in Borrisoleigh, the B.O.M. are organising a Mass of Thanksgiving in the Church of the Sacred Heart, Borrisoleigh, at 7pm on the 9th of November, followed by a retirement function in Borrisoleigh Community Centre.
The Board of Management would like to extend a warm invitation to the families of current and past pupils, former teachers and school staff and the wider community to attend the event.
If you would like to be associated with this event or should you wish to make a contribution towards their retirement gift, please call to Clare our school secretary or contact her on, 0872820497. You may also contact Helen Keane on 0874140287 or call in to Frances Kennedy in the Parish Office.
Thanking you.
---
Creative Minds
Creative Minds, Art, Crafts and Games is on in the Community Centre this Sunday 14th of October from
2 to 4pm. Cost €10
Age 7 to 11years
Contact Olive at 086 3764479
---
Chiropody Service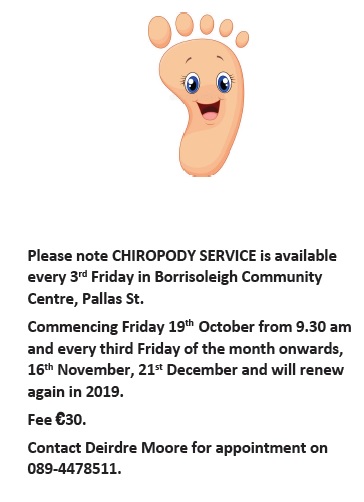 ---
St. Joseph's College
St. Joseph's College is holding its Open Night on Wednesday 24th October 2018 at 6.30pm.
We invite all 5th and 6th class Primary school students and their parents to our school. Meet the students, teachers and Principal to find our what our wonderful school has to offer.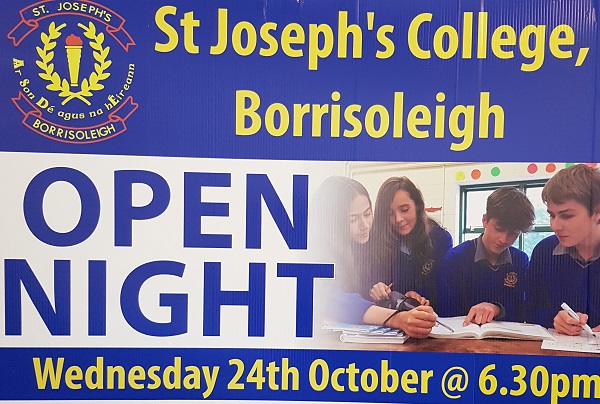 Camogie Blitz
St. Joseph's College hosted a hugely successful Camogie blitz on Wednesday last 3rd October, which saw both teams from St. Joseph's College contest the semi final. Unfortunately, there could only be one winner and St. Joseph's A team went on to win. Sincere thanks to all who took part.
---
ShoeBox Appeal
Filled shoe boxes can again this year be dropped to Fiona Max.
Phone 0872169150 for leaflets, to arrange drop off, collection or if you've any questions.
Leaflets will be distributed to local schools this week.
---
Wedding
The wedding took place in St. Patrick's Church, Rome on 17th August last of Edel Ryan, daughter of PJ & Nuala Ryan Knockdonee, to Cathal Connolly, Kinvara, Co Galway.
---
Track Attack
Record Numbers in Borrisoleigh
The new Track-Attack Alphabet Series is attracting record numbers to the track in Borrisoleigh on Monday nights where the sight of all generations integrated as one is a joy to behold. In round 2 of the Series, proceedings started at 8pm on the button and then 270 participants ran, jogged or walked around their distance of choice with ones of 3km, 4km and 6km available.
Participants have been put into 26 groups for the 11 weeks series and they can gain points by improving their times each week. In group A, Bobby Gilmartin leads the way with his brother Jack in a very close second. Helen Kiely Hayes is the early leader in Group B with Denis O'Connell and Paddy McLoughney in second and third places respectively.
Baiba Vilande is highest placed in Group E, two points ahead of Newtown's Aoife Griffin and Jack Meehan a further two points behind. Not to be outdone by her mother, Elizabete Vilande table tops Group F, Anna Meehan is in second place while Chantel Feighery is third in line.
The early Group G leader is Norita Ryan on 15 points. Jack Groome and Deirdre Wall are in joint second on 14 points. We have joint leaders in Group H in Paula Stapleton and Helena Kennedy Doyle with Aine Lavery next in line. Vera Delaney and Michelle Meehan lead the way in Group I with the quartet of Ava Ryan, Johnny Ryan, Holly Preston and Patricia Brett a single point behind them.
Cian Campion has a single point lead in Group J over Ella Slattery with Grace Doyle and Caoimhe Keane tied for third. Kevin Delargy heads up Group K, a single point ahead of Margaret Butler and three ahead of Aine Cosgrave. Jack Galvin and Helen Keane lead the way in Group L where Michael Ryan (Cummer) is next in line.
Mick Ryan have opened an early lead in Group M over Gerry Treacy in second place with the trio of Patrice Cooney, Megan Ryan and John Ryan tied for third place. Group N is led by Michelle Ryan, four points ahead of Avril Bourke and six points ahead of Therese Glendon, Ava Stapleton and Martin Cosgrave.
Eileen Looby is the one to catch in Group O where the closest in the chasing pack are Aisling Prout and John Joe Maher. Loughmore's Tom McGrath leads Group P closely followed by Jacqueline Minogue and Eimear Griffin. Sean Max heads proceedings in Group Q, Aodhamair O'Hagan is in second place while Mark Rabbitte and Rhona Carroll tie for third.
---
Sr. Áine Historical Society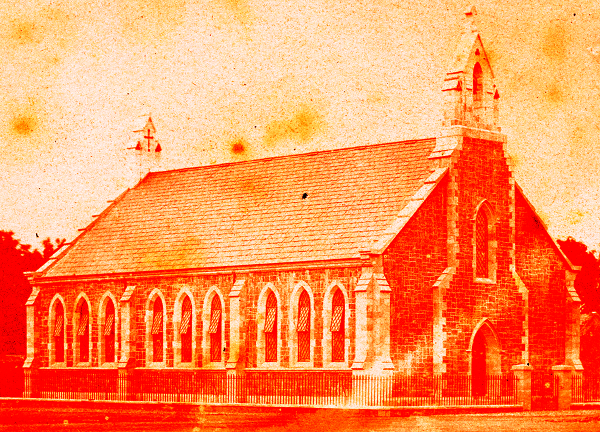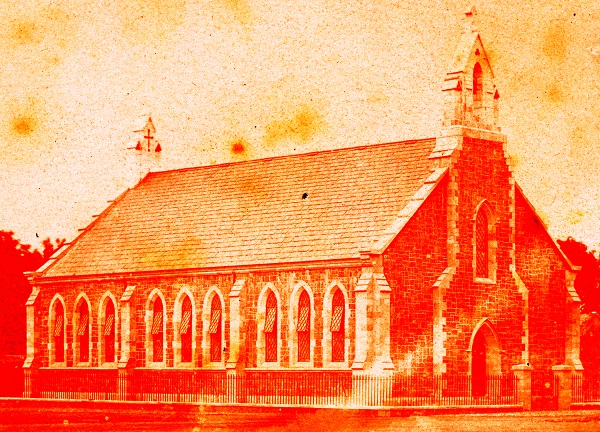 The first photograph taken anywhere in the world was in France in 1826. 25 years later Alfred Capel-Cure was stationed at Richmond Barracks, Templemore with the 55th Foot Regiment and had a keen interest in photography. He took many photos of Richmond Barracks and thanks to the research of John Reynolds we can now view these as part of a lecture given by John in the Garda College, Templemore on Friday October 19th at 8pm. All are welcome. Admission is free.
---
War of Independence Commemorative Tour
Organised by TiDR (Tipperary in a Decade of Revolution)
---
Craft Class/Community Project
The Craft class in Borrisoleigh will be commencing their community project in the park in the coming weeks.
This will be a mural that will be painted on a sheet of mdf and secured to a section of the wall dividing the park and the parochial property.
It is hoped that it would be a mural of houses, local attractions and maybe some business premises. If any businesses would be interested in making a contribution/ supporting this project it would be greatly appreciated. Materials such as paint and mdf will need to be purchased. Any businesses that support this community project will have their premises represented on the mural.
This is a project being done by the craft class. Anyone that would like to get involved is more than welcome to join us. It is a great opportunity to continue to enhance the great work that is being done by all in the park.
Any enquiries please phone 0876166225.
Being done by the community for the community
---
Pic of the Past ………..down memory lane
---
Committee: Enda Ryan, Noreen Fahy, Marie McGrath, Derry O'Donnell and Fiona Max
Many thanks to all those who contributed photographs and news items
Remember, we need you to continue to send us material so that we can keep our website current and interesting.
While we make every effort possible to ensure that the information contained in this Website is accurate and complete, we cannot accept any legal liability as a result of the inaccuracy or incompleteness of the information presented to users of this site. We also reserve the right to edit material for suitability to a website format.
Also, if you like what you see and want to leave a comment, remember to use the Guestbook