Scór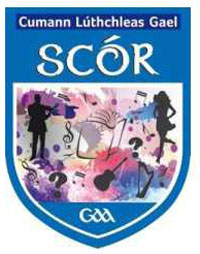 Loud cheers were heard in Belfast last Saturday night when our girl, Katie Shanahan was named as solo song winner in the All Ireland final.  We are all so very proud of Katie in Borrisoleigh.  Hundreds of well wishers gathered in McDonough Square on Sunday evening to welcome Katie home.  Scór then held a reception for Katie in the community centre.  The crowd were entertained by local singers and musicians.  Katie is the first Borrisoleigh representative to win an All Ireland medal in Senior Scór.  We also send congratulations to JK Brackens and to Newport on their victories.
Our AGM will take place on Wednesday 17th May in the Marian hall at 8.30.  All are welcome.
---
Borrisoleigh Community Development Association AGM
The Borrisoleigh Community Development Association will hold their AGM on Wednesday 10th May at 8pm in The Parish Centre. All are welcome.
---
St. Joseph's College
Scifest Regional Finals 2017
The regional finals of SciFest @ LIT Thurles took place last Wednesday. With 12 schools and over 150 students exhibiting from various counties, excitement was mounting at the prize giving.
After a morning of adjudicating by the judges from LIT Thurles, the overall winners were announced. The Best Project runner-up award was won by Joseph O'Donoghue for his project – Solar Sleeve.
Next, the Best Project award was announced and Christine Delaney, Kate Madden and Seamus Ryan were delighted to accept it for their golfing project – When in doubt, Swing it out!. After 8 months of hard work and dedication the group proved deserving winners.
The group now have the opportunity to compete at the National SciFest finals in November. The group will continue to develop their project. Judge Michael Fennelly offered them some great advice on improving different aspects.
Paddy Carey, Sean Hogan and Luke O'Gorman, who won the Boston Scientific Medical Devices Award for their project – A Place-mat for the Partially Blind will also now compete for a chance to present their project in the National Finals along with Joseph O'Donoghue who also won the Sustainable Energy Authority of Ireland award.
Congratulations also goes to Ciara Kennedy, James Ryan and Laura Slattery who were awarded the Department of Applied Social Sciences award from LIT for their project – The use and effects of alcohol abuse. In the junior technology category Joseph Bourke, David Madden and Jack O'Brien took away a prize. Simon Humphries won the Irish Science Teachers Association award for his project – The carcinogens in 3G astro turf pitches.
Congratulations to all the students from St. Joseph's College, Borrisoleigh who presented projects so well and put in so much work. Well done all!
---
Fairy Trail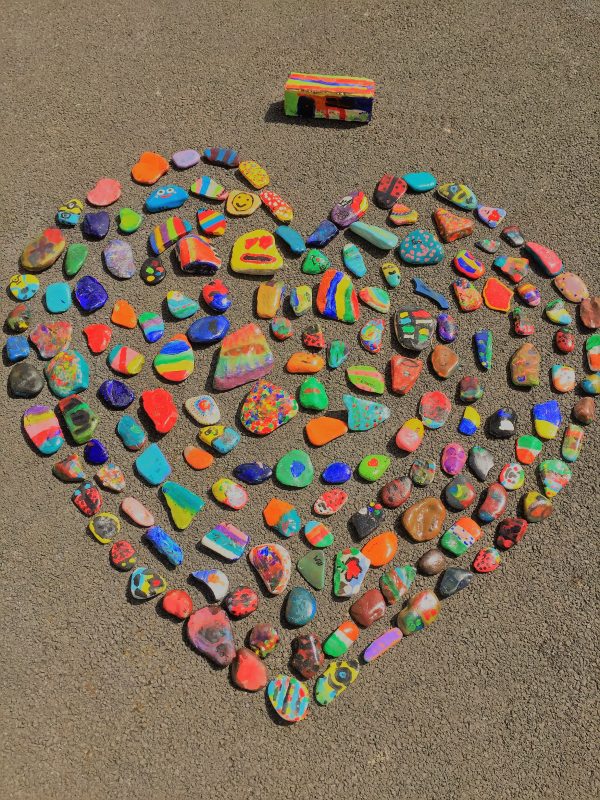 The fairies are in awe of all the talent and creativity that the children of Scoil Naomh Cualan have.They simply love the stones that the children painted for them. A big thank you for all your lovely work and taking the time to make the Borrisoleigh fairies even more at home. We hope to have the stones in the park over the next few days so keep an eye out for yours!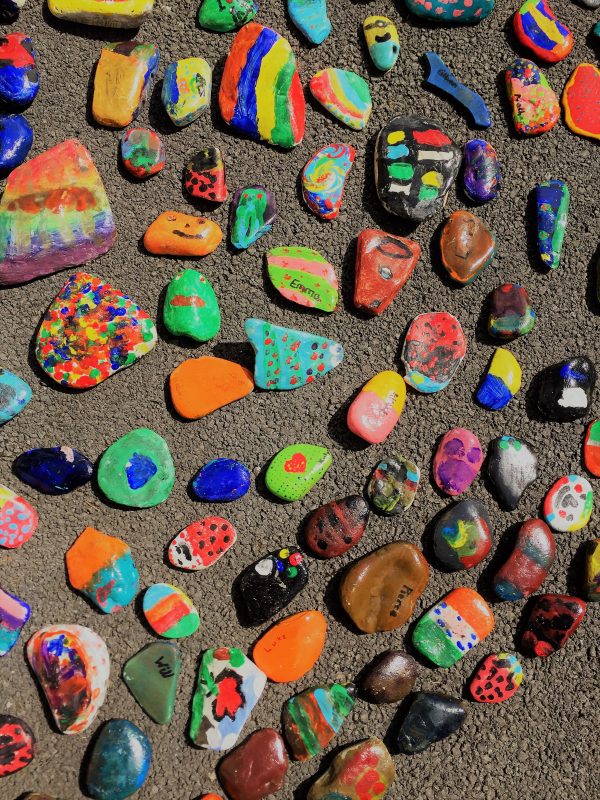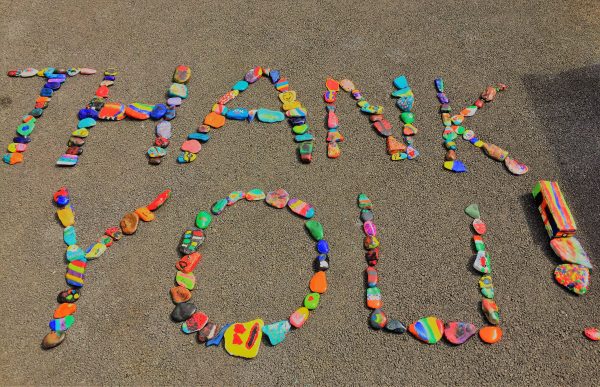 ---
Tipperary War of Independence Tours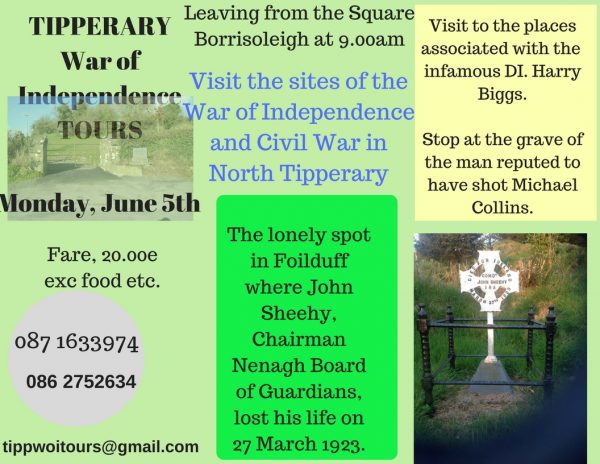 ---
Templemore Miscellany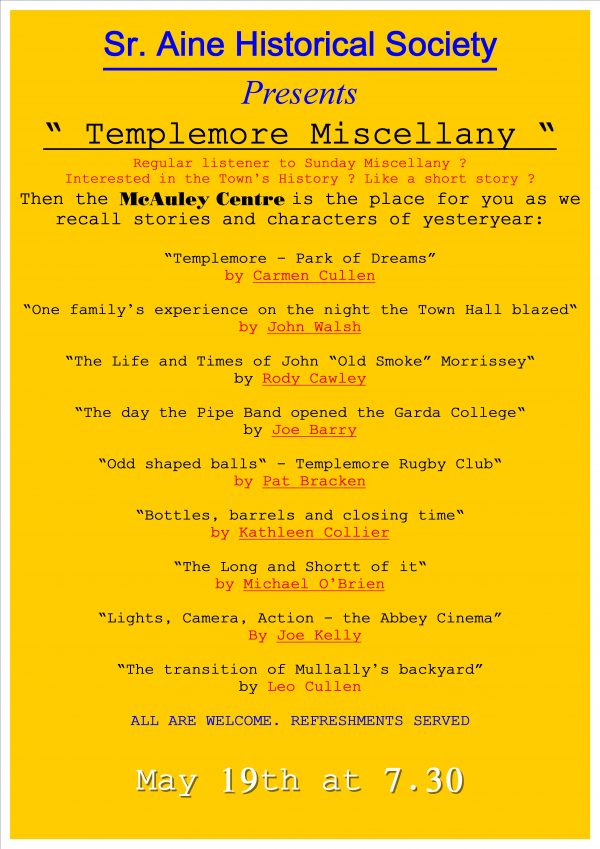 ---
Borrisoleigh Track Attack Notes
Harty & Fitzgibbon Win Borrisoleigh Mile
The resurrected Borrisoleigh Mile which was sponsored by Declan Maher Financial Services proved to be a huge success and a fitting tribute to two great stalwarts of the Tipperary Athletics scene. The event was organised in the name of both Ger Ryan and Paddy Dolan who for numerous years gave a tremendous service to the promotion of athletics in the Premier County.
The healthy entry of 159 participants were led home by Templemore's Liam Harty who ducked under the finish gantry in an impressive time of 4:40. Four seconds later he was followed home by his club mate James Maher in while the third podium place was occupied by John Fitzgibbon of Thurles Crokes.
Following an outstanding performance from another Crokes athlete, the youthful Fred Crowley broke the tape in 4:45 to claim the Junior Boys grade. Larry Arthur of Derg A/C ruled supreme in the Over 40 grade in a time of 4:47 while local Track-Attacker John Slattery was the popular winner of the Over 50's grade, stopping the clock at 6:07. In the Over 60's grade, Martin Carroll of the Ballyskenach Club in Co. Offaly claimed the honours in a time of 7:19.
The in-form Thurles Crokes athlete Carmel Fitzgibbon is the first name to be etched on the Paddy Dolan Trophy by claiming the title thanks to a 5:32 winning performance. Second place went to Nenagh's Ciara Cummins in a time of 5:50 with Laura Ryan claiming third in 5:59.
The winner of the junior women grade in a hugely impressive time of 5:35 was Nenagh's Sarah Lane. Track-Attacker Eithne Kennedy scooped the Over 40 grade following a finishing time of 6:16 while the biggest cheer of the night went to Track-Attacker Teresa Murray when she claimed the Over 50's in a time of 7:20.
---
 Bush & Briar Ramblers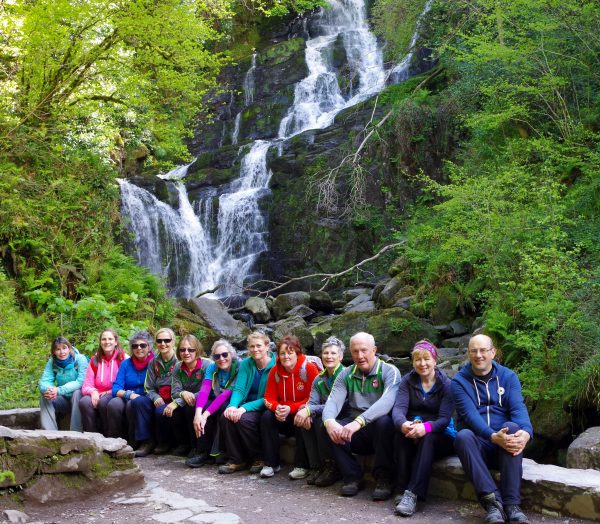 On the May Bank Holiday weekend last, Bush & Briar Ramblers ventured to Killarney for a weekend of walking.
Travelling down on Saturday morning we headed straight to Cronin's yard from where we explored the beauty of the Hags Glen in weather conditions that Tom Crean could have related to. It was very wet and extremely  windy. We were all glad to make it to dry surrounding get dinner and plan our next days adventure.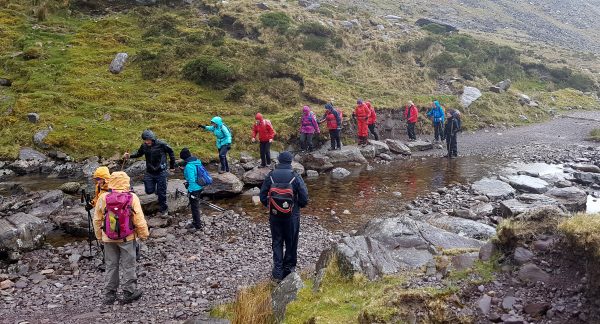 Sunday lived up to its name with the sun shining and the the wind gone. We climbed Torc mountain and were treated to the best views of Killarney and the lakes that are available. To complete the days walking we took a stroll to Torc waterfall.
After another pleasant evening dinner some of the group still had plenty of energy and showed their moves on the dance floor.
On Monday we did a 10km circuit of Muckross Lake to finish off a fantastic weekend of walking.
Well done to ALL.
Until next time , Happy Walking.
---
Borris-Ileigh Camogie Club Notes

U16's play a shield semi final this Sunday May 14th at the camogie grounds, The Ragg. Time to be confirmed.
U14's play Burgess (away) on Tuesday May 9th.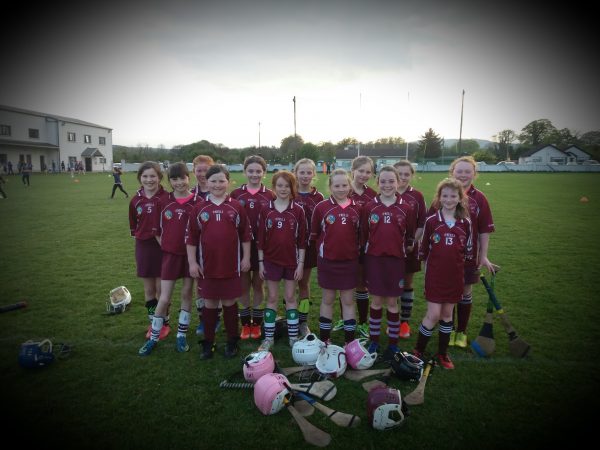 U12's are two great wins last week, the first over Sliebh Felim on Monday.  Scores from: Chloe Carroll 2-00, Ava Bevans 5-04, Aoife Fitzgerald 3-02, Emma Maher 0-02. The second a tougher game, but victory over Drom 3-02 to 0-01, scores from Ava Bevans 2-00, Emma Maher 0-01, Aoife Fitzgerald 0-01 & Chloe Carroll 1-00.
Well done girls.
Fixtures for U12 Summer League as follows:
Friday 12th May vs Gortnahoe at home.
Friday 19th May vs. Clonoulty (away)
Weds 24th May vs, Thurles at home.
Mon 29th May vs. Arravale Rovers (away)
Friday 2nd June vs. Templemore (away)
Good luck to all.
 Pic of the Past ………..down memory lane
---
Committee: Enda Ryan, Noreen Fahy, Marie McGrath and Derry O'Donnell
Many thanks to all those who contributed photographs and news items. Remember, we need you to continue to send us material so that we can keep our website current and interesting.Send your email to:info@borrisoleigh.ie
While we make every effort possible to ensure that the information contained in this Website is accurate and complete, we cannot accept any legal liability as a result of the inaccuracy or incompleteness of the information presented to users of this site.
Also, if you like what you see and want to leave a comment, remember to use the Guestbook