10 March 2021
10 Mar 2021
Appeal for News
This is an appeal to those of you who are involved in various activities (limited as they might be in the current circumstances), not to forget to send us an email with a few lines and maybe a photo or two publicising what you are doing. The regular users of this site (particularly those not on social media) would like to see them and it will help paint a fuller picture of what is taking place in and around Borrisoleigh. We rely on you, the local community, to send us your news.
Thanks,
Borrisoleigh Website Committee
---
Borris-Ileigh GAA – Club Notes
Three For A Fiver – Fundraising Initiative
This is a short video message from all our resident clubs in The Park about our new "Three for a Fiver" Lotto Fundraising Initiative.
The video outlines our collective achievements to date and what we hope to achieve in the future as we aim to build a sustainable top class facility for the whole community to enjoy for many generations to come.
If you wish to join you can do so by following this link: https://clubforce.com/clubs/gaa-borris-ileigh-gaa-club-tipperary/
If you are living abroad we can post your club membership items to you free of charge wherever you are.
If you have any further questions please do not hesitate to contact Mark Stapleton (086) 814 3486 or Philip Fahey (087) 291 6361.
Once again thank you for your continued support, we look forward to building a brighter future together for our wonderful community.
---
Borrisoleigh News Archives
This website provides a wonderful resource to the community and has captured snapshots in time covering a wide range of news and events since its beginning. Have a look at what was in the Borrisoleigh news this week 10 years ago by
clicking here
---
A footballing tradition in Borrisoleigh
With many young people working away from home, studying in distant universities and emigration, for many parishes, it is now a constant struggle to field a competitive hurling team. A time was when not only did many parishes field two teams but townlands within the parish could put a competitive team on the field of play.
Here is a report on a football game played in October 1910 between Rathmoy and Gourtalough.
On Sunday last the famous footballers of Rathmoy had a runaway victory at Toomevara tournament and secured a valuable set of medals, by Miss M Barry, who was an interested spectator of the match. A big crowd witnessed the game which was very fast but not exciting. In the first half, Rathmoy scored two goals and a point, to a point for Gourtalough. During the second half, Gourtalough did better and made a goal and point, whilst Rathmoy increased their scoring by five goals, leaving the final score –
Rathmoy – 7 goals 1 point
Gourtalough – 1 goal 2 points.
The teams were –
Rathmoy – E Touhy (Capt) J Finn, W Delaney, P Ryan, P Hoare, T Lynch, M Leary, M Searson, J Treacy, M Connolly, W Tynan, J Fanning, J Tynan, J Ryan, E Stapleton, P Gleeson and Talbert.
Gourtalough – J Fogarty (Capt) J Bradshaw, J Fipper, P Russell, W Ryan, H Ryan, B Finn, T Williams, W Delaney, M Dooley, P Dermody, P Shea, T Ryan, T Brien, M Ryan, C Ryan and M Berkery.
Mr. P Coady acted as referee.
---
Pic of the Past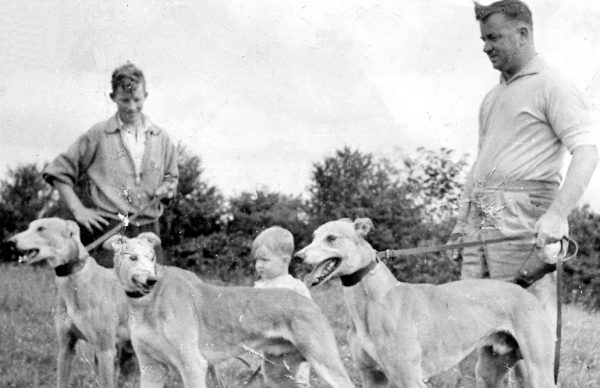 Michael Ryan, Chapel St., Tom Maher (child)
and Dan Maher, Greenlawn with Champion Prince (in centre)
winner of The Puppy Derby in the early 1950s.
---
Your Website Needs You
Committee: Enda Ryan, Noreen Fahy, Marie McGrath, Derry O'Donnell
Many thanks to all those who contributed photographs and news items.
Remember, we need you to continue to send us material so that we can keep our website current and interesting.
Send your email to: info@borrisoleigh.ie
This website is supported by Borrisoleigh Community Development Association.
While we make every effort possible to ensure that the information contained in this Website is accurate and complete, we cannot accept any legal liability as a result of the inaccuracy or incompleteness of the information presented to users of this site. We also reserve the right to edit material for suitability to a website format.
Also, if you like what you see and want to leave a comment, remember to use the Guestbook.