10 January 2018
10 Jan 2018
Victory for Borrisoleigh Jockey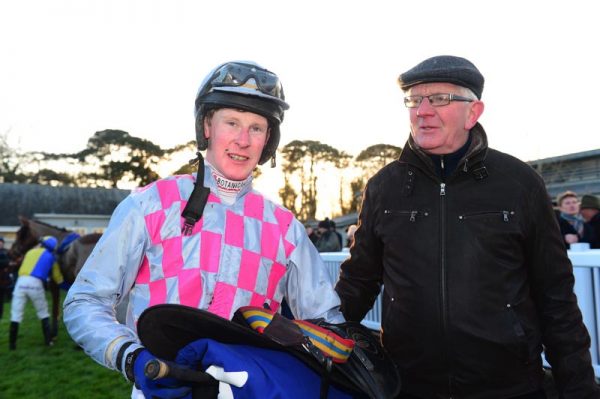 Trevor Ryan and Trainer James Grace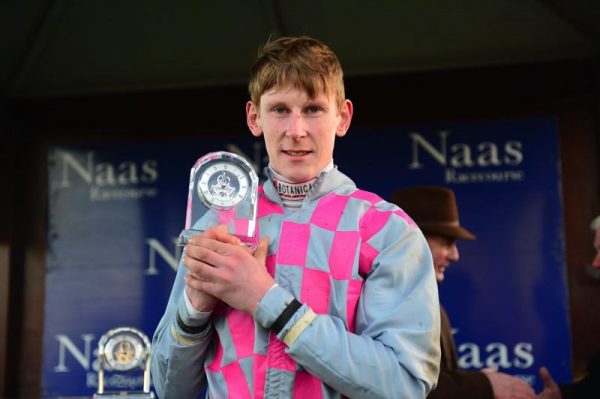 Borrisoleigh's Trevor Ryan, Professional Jockey and son of Phil Ryan and Mary Ryan (Butler) won first place on the horse 'Mick The Boyo' in the Adare Manor Opportunity Handicap Hurdle at Naas National Hunt Race meeting on Sunday 7th January. Mick the Boyo is trained by James Grace from Toomevara. Trevor has had 6 winners in the UK, but this was his first Irish win.
The race turned out to be a family affair as the 3rd horse in the race 'House Patsy' was trained by Trevor's uncle Stephen Ryan.
To add to the celebrations Trevor also got engaged to his girlfriend Hannah after the race. Congratulations on all counts!
---
Woodcarving Course
Woodcarving Course
Starting on Tuesday 23rd 2018
Provided by TETB Adult Community Education Service
Time: 10.00am to 12.30 pm every Tuesday for 8 weeks
Where: Borrisoleigh Community Centre
Open to all adults
Fees:€15 for project materials plus €5 per session for use of centre.
Tea and coffee provided
Bookings: Phone 0876166225
---
Tractor Run Fundraiser & Templederry Walk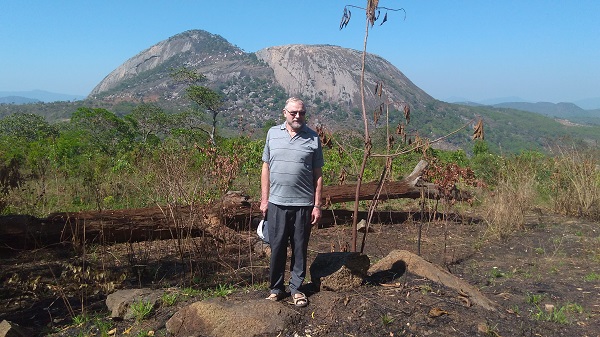 A 'Thank You' note from Fr. Matt Ryan, Cooleen, Templederry/Brazil
I would like to express my deep sense of gratitude to each one of you, who so generously supported the recent fundraising events for my mission in Brazil. To all who supported the Tractor Run, the walks in Templederry and all who made donations – because of you we will be able to build Community Centres, and fund other projects such as the drilling of public wells, which will provide critical support to improve the quality of life for so many of the poor and under-privileged people in my parish. Many of these people, who have so little hope, will now be given a better chance for the future.
I'm delighted to be able to report that at present €32,315.50 has been collected. Thank you for your continued faithful support for my work. I greatly appreciate your kindness and thoughtfulness.
Wishing you all Peace & Prosperity in 2018. Matt.
The fund will remain open for another two weeks if anyone would still like to contribute – contact Marian Harrington, Helen Slattery, Christy Kinane or the Ryan family, Cooleen.
---
Track-Attackers of the Year
The Track-Attackers of the Year were recently announced and the gongs were awarded to Donal Ryan, Teresa Murray, Adam Galvin and Therese Groome.
After a truly superb year, Donie's achievements were rightly honoured and acknowledged with his selection as the men's award winner. Donie had never participated in any sport until the night he joined Track-Attack so when you consider that in the past calendar year, he completed the full 30km of our Trip around Tipp Challenge before completing the marathon in Dublin in October. As well as this impressive achievement, he competed in many of the road races in Tipperary and surrounding counties and rarely missed any of our club nights throughout the year.
The vast amount of Teresa's achievements replicated those of Donie. As well as completing the 30km and marathon distances, she also climbed the podium in the overage categories at some road races, one of them being the inaugural Borrisoleigh Mile event in April.
The under 18 awards were presented to 2 outstanding individuals who were certainly deserving of the recognition. Adam is an athlete of tremendous ability and his displays week on week at our club nights made him the stand out performer.
Likewise Therese has athletic ability in abundance and her performances each week were a pleasure to witness. She also performed brilliantly in the Borrisoleigh Mile and 5km events. Her performances during the year justifiably saw her win this award but it's just the tip of the iceberg as to what she is capable of achieving in the future.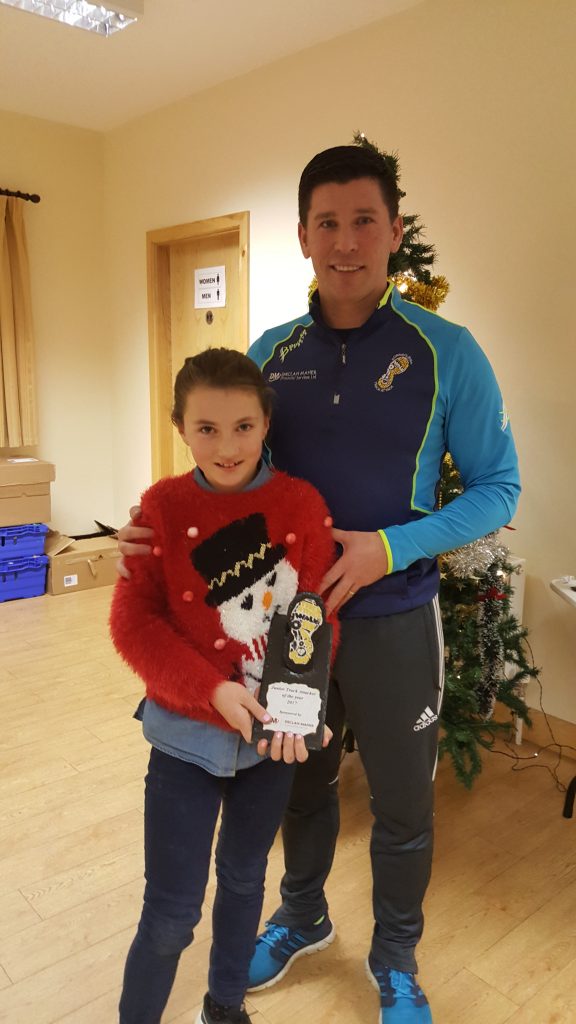 Therese Groome with Declan Maher (sponsor Declan Maher Financial Services)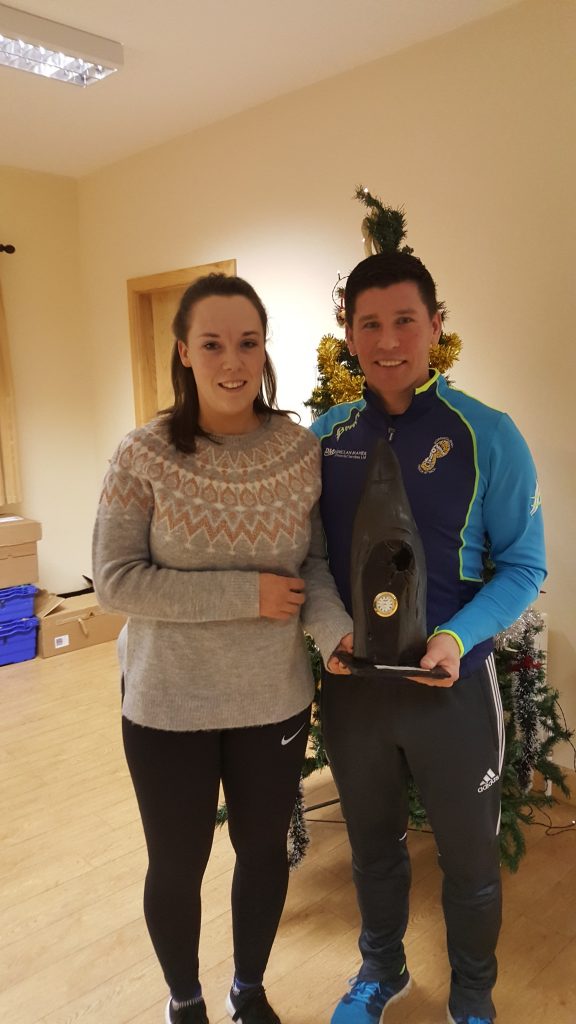 Track-Attack Achievement of the Year award been presented to Carol Hassett by Declan Maher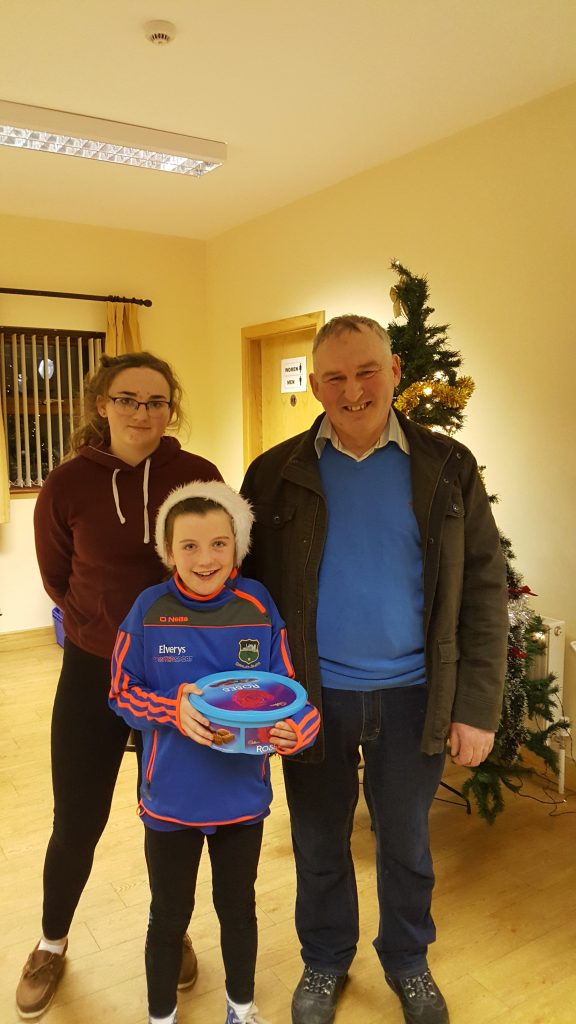 Winner of Joey's Christmas Dinner Run – Lucy Rabbitte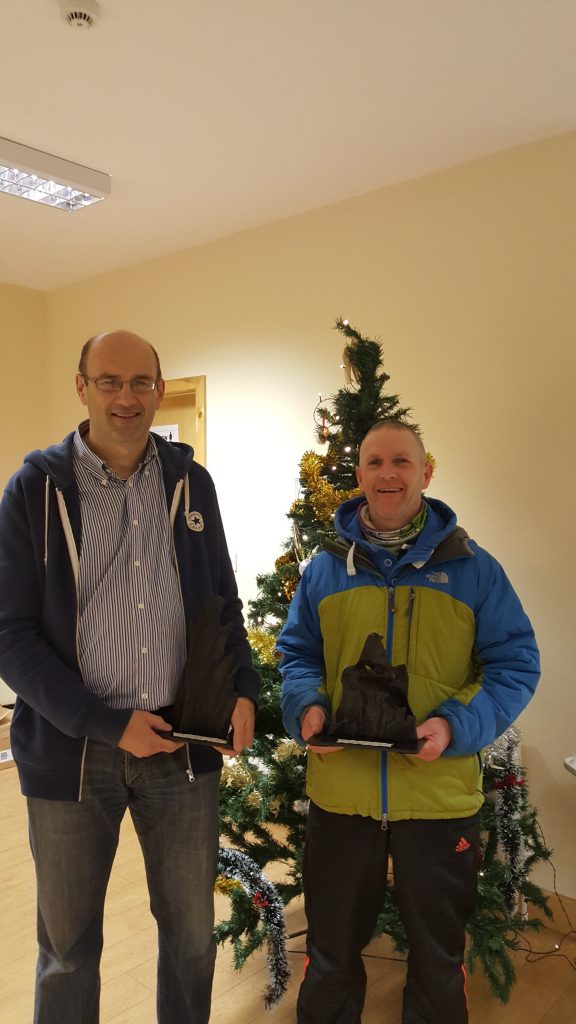 Track-Attack Recognition Award recipients Paddy Ryan and John F Kennedy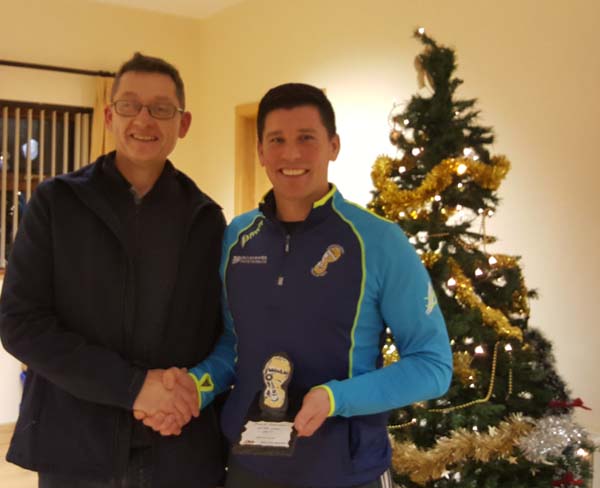 Donal Ryan with Declan Maher (sponsor Declan Maher Financial Services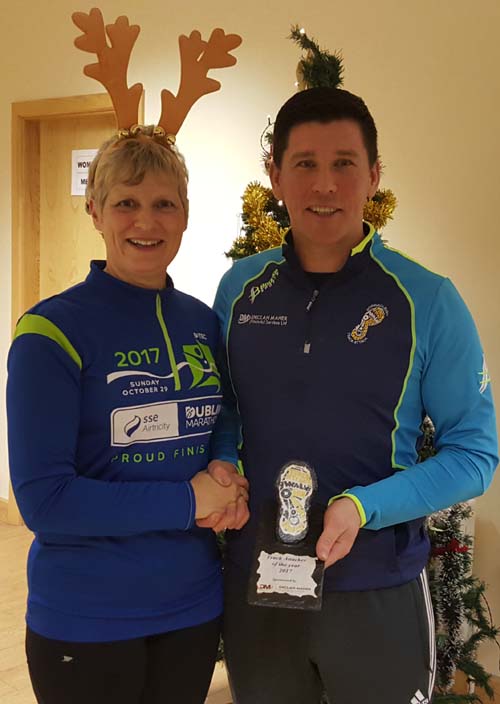 Teresa Murray with Declan Maher (sponsor Declan Maher Financial Services)
Adam Galvin with Declan Maher (sponsor Declan Maher Financial Services)
Double Trouble in Full Swing
Our new series which is entitled Double Trouble and sponsored by Declan Maher Financial Services is now in full swing and it promises to see a major change in the participant's fitness levels over the next number of weeks if they have the desire to stick with it and fight hard to achieve their individual goals.
Entry into the fun league part of the series is now closed but that doesn't stop anyone new from joining up and being part of what could be described as a brilliant fitness improvement drive that is completely suited to families and individuals alike.
It is as competitive or as non-competitive as you want to make it. You can walk, jog or run and a combination of all 3, the main thing is that you participate.
There is 5 groups from which you can choose from. Group 1 will do 3km each night for 11 weeks. Group 2 will do 4km for the 11 weeks. Group 3 will start on 3km and by week 11, they will be hitting the 6km mark. Group 4 will see participants start at 4km on week 1 and hit 8km on week 11 while group 5 will start at 6km and hope to complete 12km on week 11.
---
Borrisoleigh Annual 2017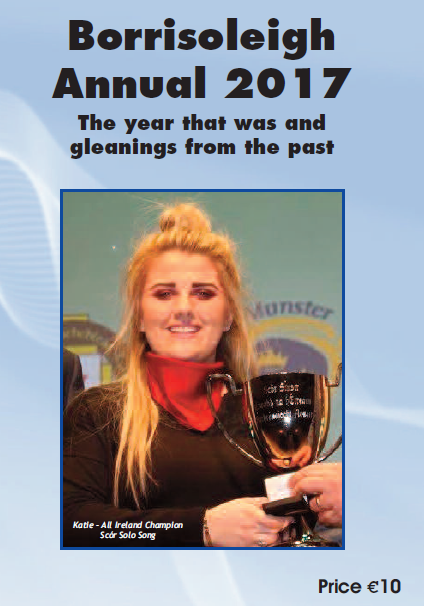 Borrisoleigh Annual 2017 now on sale in all the local shops. Price €10
---
Borris-Ileigh Camogie Club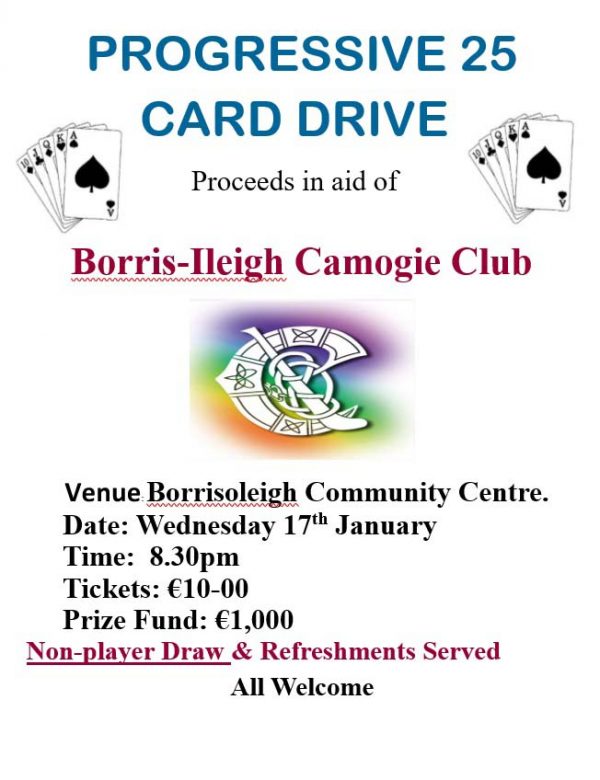 ---
Community Centre
St. Stephens Day fun Run/Walk/Cycle 2017
This was the most successful event to date, with approx 450 runners, walkers and cyclists taking part. Mother nature was a great help to us this year and this resulted in the high numbers who were greeted at the front door by our Lord Mayor and official starter Paddy Dolan. The cyclists arrived on the scene at 9:15 a.m. organised by our own version of the Stephen Roche, the one and only P.J. Delaney.
The walkers departed at 11 a.m. and the great run started at 11.05 a.m.
The runners came from everywhere with participants from New Zealand, England and all neighbouring parishes and towns. A special mention must go to our Tipperary Senior Hurling Manager and selectors who were setting the example to the County Hurling Panel for the New Year. In a much awaited duel, our own John Cummins avenged his personal battle with Conor Stakelum from 2016. Conor is already in training for 2018.
Also particapting in the race was Ireland's Fittest Family for 2016, 'The Cummins' family from Rahealty with Ciara Cummins first in the ladies race, followed by Mark K. Bourke and Marie Slattery with Marie Rogers the first back of the camogie ladies.
The men's race was won yet again by Michael Kiely who was 33 seconds ahead of Gary Scully with his brother James Scully 7 seconds further behind. The first GAA man home was John 'Zenga' Vahey who finished in 18 minutes 10 seconds. Is he the man to catch Michael Kiely in 2018?.
All of the runners, walkers and cyclists adjourned to the Community Centre for much needed refreshments and christmas chats, the most noticeable factor this year was the amount of families taking part, with babies in buggies being pushed to Rathmoy and back. This year also was Fr. Hennessy make his debut.
The community centre committee wish to thank all who took part and all who helped on the day. All funds raised go to funding the centre during the year. This was a great parish occasion and all morning, the spirit of good will and christmas cheer could be felt.
Looking forward to seeing you all next St. Stephen's Day. HAPPY NEW YEAR
RACE PLACINGS
| | |
| --- | --- |
| 1.Michael Kiely | 26. Ger Fogarty |
| 2. Gary Scully | 27. John Cummins |
| 3. James Scully | 28. Noel Kennedy |
| 4. Michael Hassett | 29. Declan Fanning |
| 5. Larry Stapleton | 30. Alex Crowley |
| 6. Andy Mcloughlin | 31. Mark Fahey |
| 7. John Vahey | 32. Pearse Stakelum |
| 8. Ciara Cummins | 33. Noel Mellor |
| 9. Cian Stapleton | 34. David Skehan |
| 10. Mike Gleeson | 35. Tom Delaney |
| 11. Emmett Fogarty | 36. Ciaran Cowan |
| 12. Sean McGrath | 37. Jody Harkin |
| 13. Mike Murray | 38. Eamon Fogarty |
| 14. Michael Kennedy | 39. Marie Slattery |
| 15. Austin Ryan | 40. Dan McCormack |
| 16. Willie Shanahan | 41. Toby Mc Lennan |
| 17. Mary Kate Bourke | 42. Joe Danagher |
| 18. John Slattery | 43. Michael Kennedy |
| 19. Ger Bourke | 44. Sinead O'Meara |
| 20. Marion Shanahan | 45. Anne-Marie Stapleton |
| 21. Niall Hackett | 46. Aisling Harrington |
| 22. Ailbe Cummins | 47. James Tynan |
| 23. LT Ryan | 48. Patricia Cummins |
| 24. Ray O Riordan | 49. Philip Mullally |
| 25. Tony Gleeson | 50. Paddy Ryan |
---
Borris-Ileigh GAA Club Notes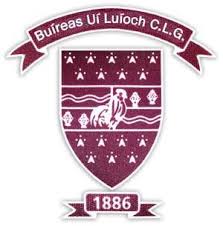 Christmas Fundraisers:
Borris-Ileigh GAA Premier League – 'Last Man Standing' 2018
Fancy yourself as a bit of a soccer expert?
We are starting a Premier League 'Last Man Standing' competition in the new year beginning on Saturday January 13th.
For all those new to this format here is quick explanation of the rules and how you can get involved:
Last Man Standing Rules:
Each week you must text your name and Premier League team you think will WIN to 0872690591
RULES
Just pick one winner from the Selected Premier League match fixtures each week until eliminated. (Fixtures will appear on the clubify and Facebook page)
To progress in the competition, you must select a winning team. Draw or loss equals elimination.
Once selection is made, it is final.
You may not pick the same team twice (unless the tournament progresses past 20 weeks). If same team is picked twice in competition you will automatically be assigned the first team alphabetically in the league.
Selections to be received no later than 7PM Friday evenings.
Enter by text ONLY to 0872690591
If you forget to make your selection by 7PM Friday evening, you will be assigned the first team alphabetically in the league.
In the event of the match being cancelled or postponed, you will go through to the next round and that team is no longer available for selection.
The decision of the Organisation Committee shall be binding on all matters. The Organisation Committee reserve the right to amend the rules for the proper conduct of the competition
In the event of all players being eliminated in any round, then all players shall be re-entered in the next round. (Whether they draw or lose)
Should two or more participants remain standing and all are eliminated in the same week, the Last Man Standing prize will be distributed equally among them. Otherwise the Last Man Standing walks away with the entire pot.
Entry is just €10 with a fine prize pot of €500 for the lucky winner. All proceeds of the fundraiser will go directly to financing of our fantastic new hurling wall. The entry can be given to Trevor Groome 087 7477132, Tommy Mockler 085 2741024 and John Vahey 086 0551519. Anybody else willing to help work away and pass on entries to one of the lads. All we need is name, mobile number and of course €10. (U16's allowed to enter with parental consent).
Feel free to spread the word to anyone brave enough to put their knowledge
Here's a list of fixtures for 1 week one of the competition:
Week 1 – 13th Jan
Chelsea vs Leicester
Crystal Palace vs Burnley
Huddersfield vs West Ham
Newcastle vs Swansea
Watford vs Southampton
West Brom vs Brighton
Spurs vs Everton
Best of luck to all entries, thanks you for continued support.
---
Pic of the Past ………..down memory lane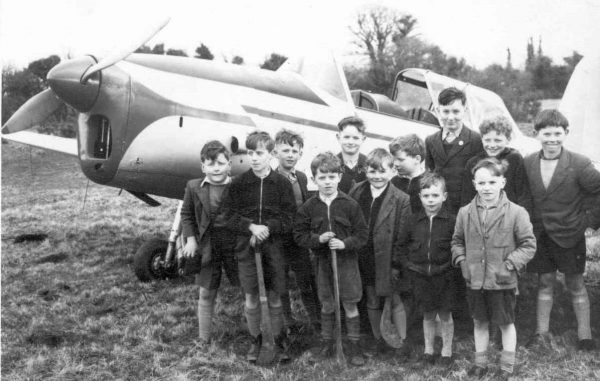 Cooke's Field
Fitz Chadwick, Pat Harty, Tommy O' Dwyer, Ned Harty, Oliver Ryan (R), Pat Fanning,
Bill Carroll, Sean Ryan (R), Denis Carroll and Paudie Maher
Front: Noelie and Tom Maher
(This was a popular airfield in the 1950s.)
---
Committee: Enda Ryan, Noreen Fahy, Marie McGrath and Derry O'Donnell
Many thanks to all those who contributed photographs and news items
Remember, we need you to continue to send us material so that we can keep our website current and interesting.
While we make every effort possible to ensure that the information contained in this Website is accurate and complete, we cannot accept any legal liability as a result of the inaccuracy or incompleteness of the information presented to users of this site.
Also, if you like what you see and want to leave a comment, remember to use the Guestbook