10 February 2016
10 Feb 2016
Scoil Naomh Cualán 
Grandparents' Day at Scoil Naomh Cualán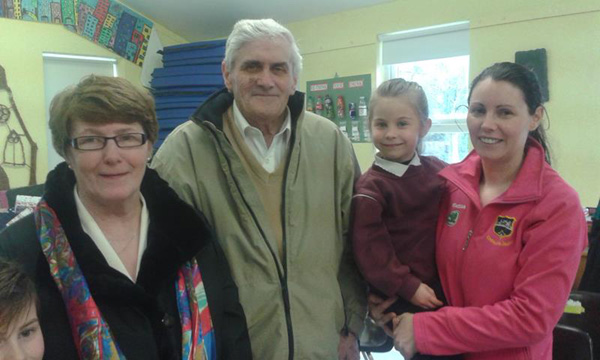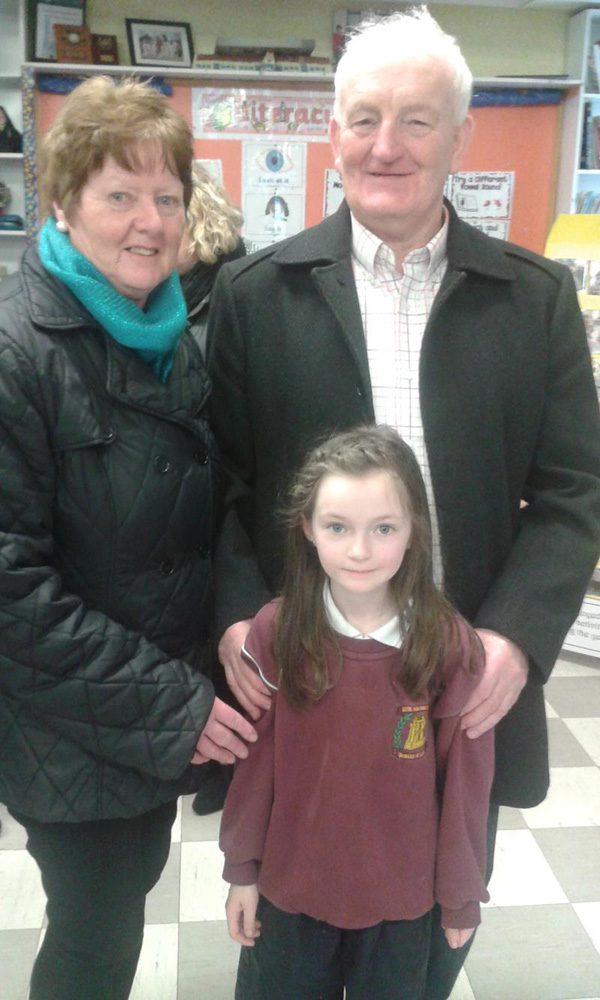 There were smiles and stories galore when grandparents came back to school to celebrate Grandparents' Day in conjunction with Catholic Schools' Week on Thursday, February 4th.Following a special ceremony which was led by Fr. Everard in the Sacred Heart Church, our very important guests adjourned to the school for a chat, a cup of tea and some lovely cakes and buns were prepared by the pupils in their honour. All at Scoil Naomh Cualán would like to say a huge 'thank you' to everybody who made the day so special. Mol an óíge agus tiocfaidh sí.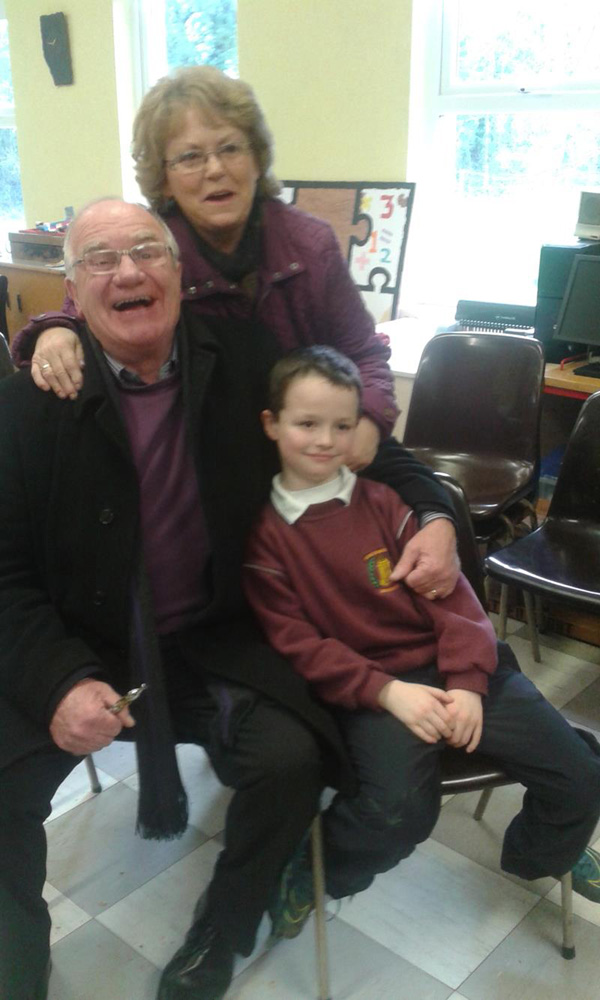 Schooldays-the best days!
To see more photos from Grandparents' Day click here
History Projects by fourth class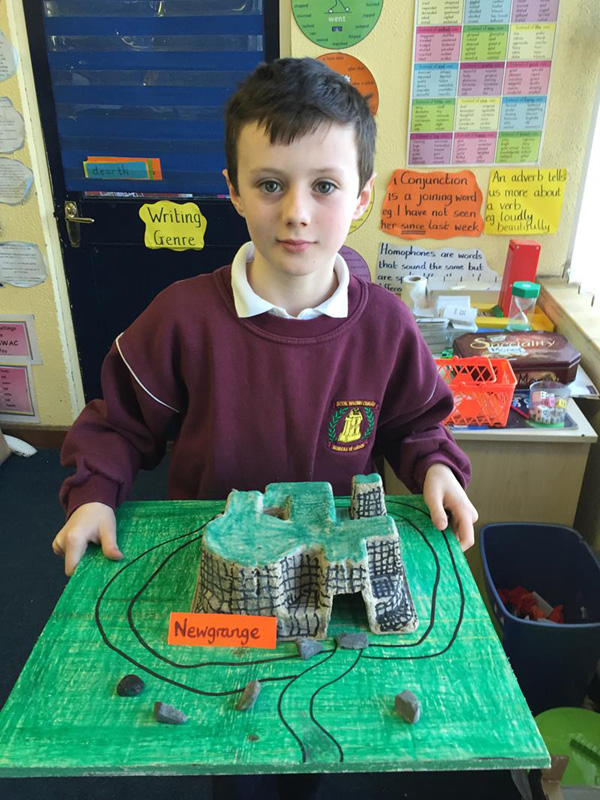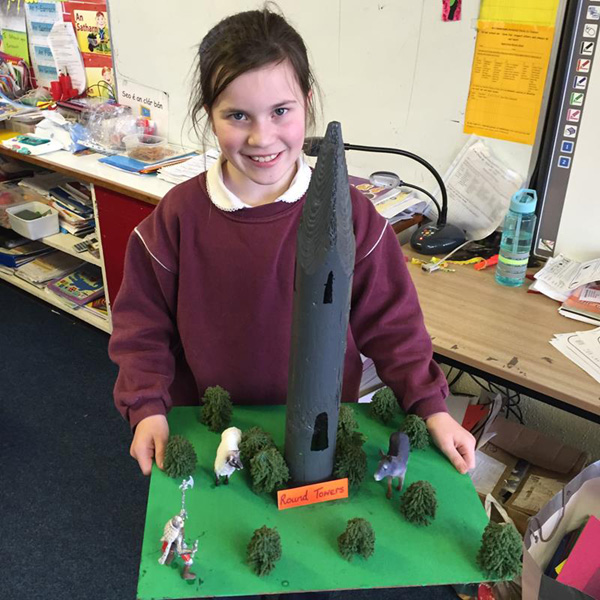 To see more photos of Fourth Class History projects click here
Chinese New Year and Pancake Tuesday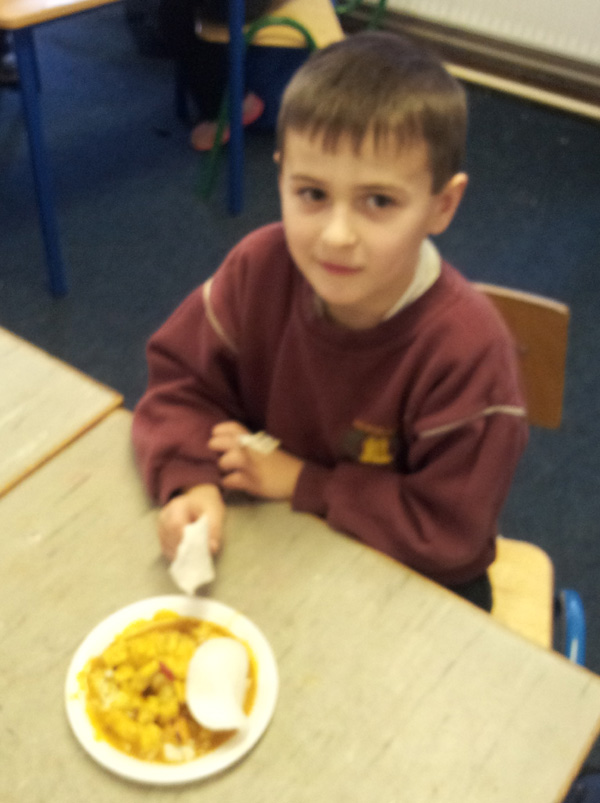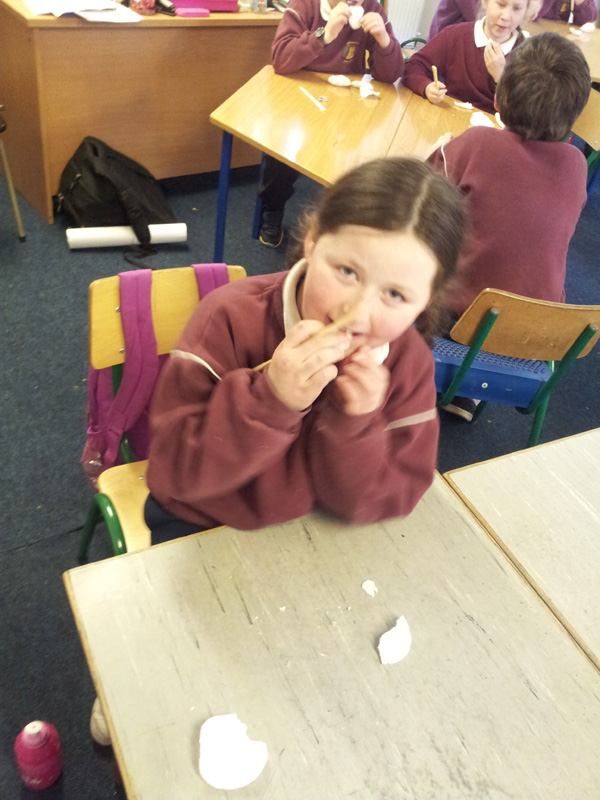 Enjoying Chinese New Year on Monday the 8th and pancake Tuesday  the 9th in Scoil Naomh Cualán
You can keep up with all our activities on www.scoilnaomhcualan.ie
---
St Joseph's College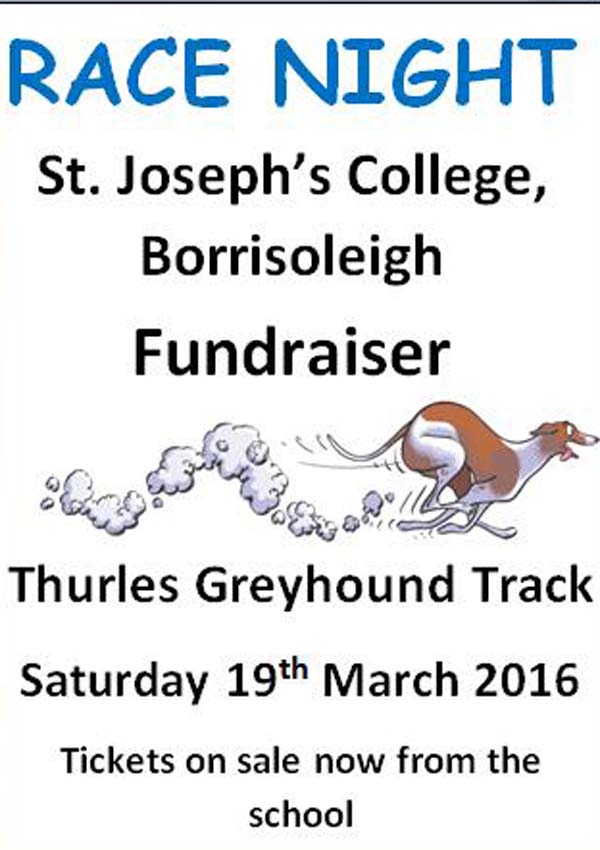 Excitement is building for St Josephs College Fundraiser Race Night at Thurles Greyhound Track on Saturday 19th March. Tickets are being sold by students and are also available to buy from the school. We look forward to a great night with students, parents and teachers. We hope to see you there!
Interschools at Tipperary Equestrian Centre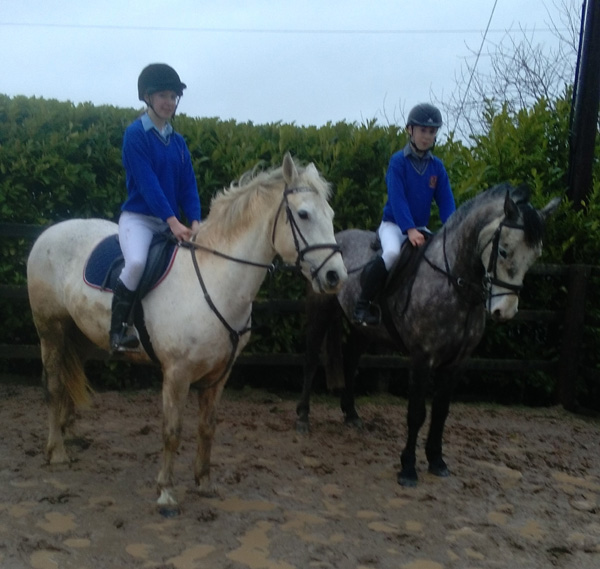 St.Joseph's College students Emma and Harry Stapleton, taking part in Interschools at Tipperary Equestrian Centre on 31st January. Emma and her horse Grey Lass have accumulated 25 SJI points. Harry has so far gained 15 SJI points.
Our BT Young Scientists Experience by Nicky Cooney and Anthony Ryan
We entered the BT Young Scientists Exhibition in October along with 4500 other students and we got accepted in November, which was thrilling news. We worked hard through the months on our project which is called Safe Watch. Safe watch is a project to enforce age ratings on movies by using facial recognition. We used a web cam and a raspberry pie (mini computer)to detect the face and recognize it. For example , if a nine year old walks into the room and the parents are watching an 18 movie the tv will shut off and turn back on once the child leaves the room.
We started the week on  Wednesday  with an opening ceremony , with Michael D. Higgins  giving an exceptional and inspiring speech. After the opening ceremony we headed back to our stand   and awaited our first judge who was Peter Taylor. We were nervous, but he was very nice and seemed genuinely interested in our project .Through the week we got a special visit from IFCO(Irish Film Classification Organisation). David Power came from the IFCO and was very interested in our project and  he gave us  great feedback on our project and invited us to the IFCO.  Intel came to our stand which was also very exciting. They gave us an invitation to come and see their company also.
We learned so much from the BTYSE. We met so many people and they were all so nice. The highlight of the week was meeting the representatives from Intel and IFCO. We are really looking forward to visiting them and we hope to expand our project  in the future.
Our teacher Ms Gorey helped so much with our project , giving us great advice. We would like to give a special thanks to her and to all the people who helped out with the project.
Walk & Talk
Every Tuesday we have a walk and talk for all students in the school led by the TY's. It commences at lunch for 10 minutes. We started off with the Transition Years asking two pupils to walk with them and have a chat, and then those two pupils ask another two pupils to walk with them and have a chat. Eventually, all students were walking and talking. The aim of this was to get students talking and to create a more positive atmosphere around the school for the upcoming Cycle Against Suicide
Fit Club
A fitness club is commencing on the first Thursday after mid-term. It will be on during lunch at 1:30-1:40 in the gym.
Borrisoleigh Cycle Club
Any students wishing to train and cycle with the Cycle Against Suicide Borrisoleigh Cycle Club are organising training sessions at the weekend.
---
Evening of Prayer through Song

with David Parkes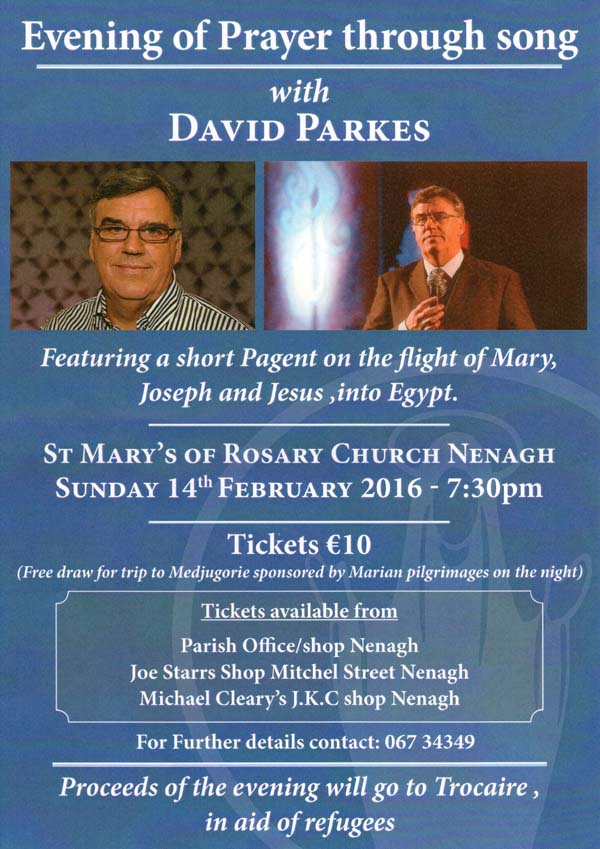 Talks on the Gospel of St. Luke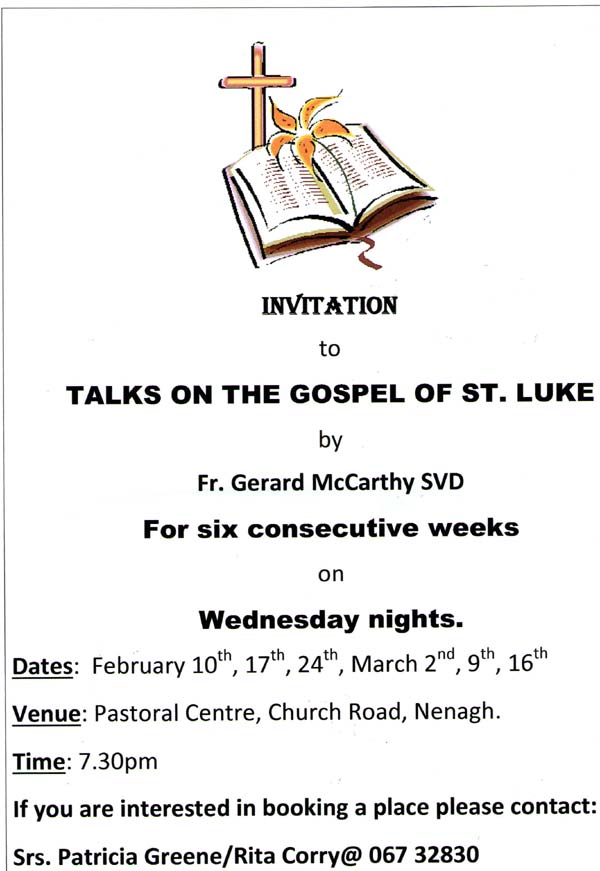 ---
From The Borrisoleigh Community Sports Complex Committee
Over the past number of weeks members of our recently formed committee for the Borrisoleigh Community Sports Complex have been calling to houses in the parish handing out brochures on the new development in the town park. These people are from the various committees that use the town park namely the Town Park Committee, GAA Committee and The Sports Complex Committee. Part of this includes the tax rebate fundraiser which we intend to finance the fabulous new development that is currently being built. As a committee we would like to sincerely like to thank all those who have contributed thus far to this great project. Your money will help us give a facility to the parish of Borrisoleigh that will be the envy of towns not only in Tipperary but across Ireland. While we are aware that it is costly we feel that it is an extremely worthwhile project that will serve generations and will be of benefit to both young and old and we thank you sincerely.
We have currently being discussing ways of giving recognition to those who are contributing to the scheme and people can rest assured that when the project is completed there will be some return to people to thank them for their efforts. It will be released in the future as to what this will be.
For anyone who has yet to sign up or for those who have been missed being called to we would be most grateful if you made contact with any committee member who can take you through the registration process and what the fundraiser entails. We are very close to hitting the required number that would enable us to have the project finished and paid for in a 3 year period. If this could be achieved it would be an extraordinary act of community fundraising for something that is going to be such a huge benefit to all in our community.
We would also like to extend our extreme thanks to The Borrisoleigh Church Finance Committee who recently made a very generous donation to our project. Their generosity has been very much appreciated by all working on our committee and we are delighted to see other organisations in the parish row in behind our project. We see this as yet again people believing in what we are trying to achieve.
---
 Borrisoleigh Track-Attack Notes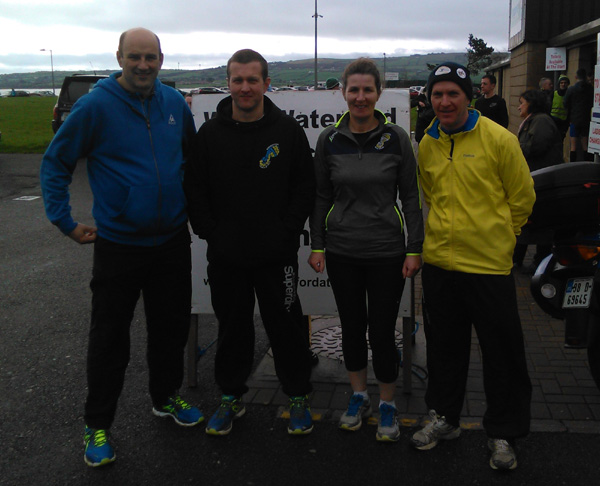 Track-Attackers at the Dungarvan 10 mile road race – Paddy Ryan, Noel Kennedy, Kathleen O'Meara and John F Kennedy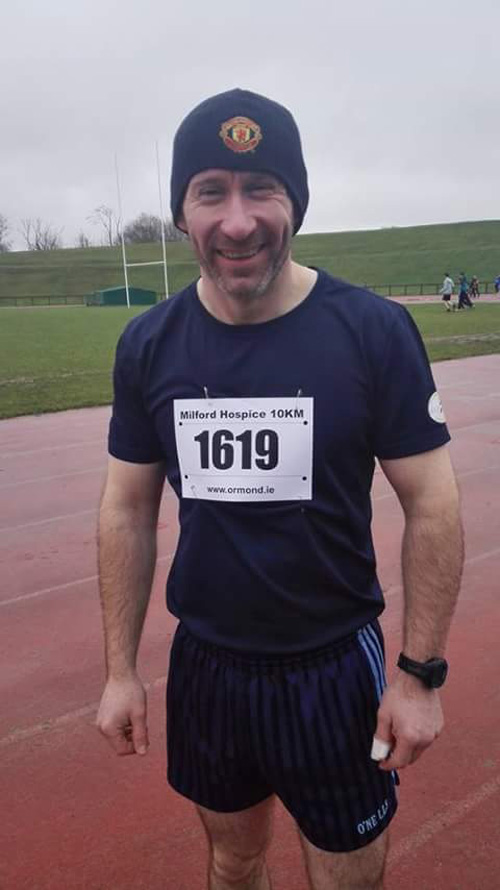 Track-Attacker Tom Shanahan at Milford 10km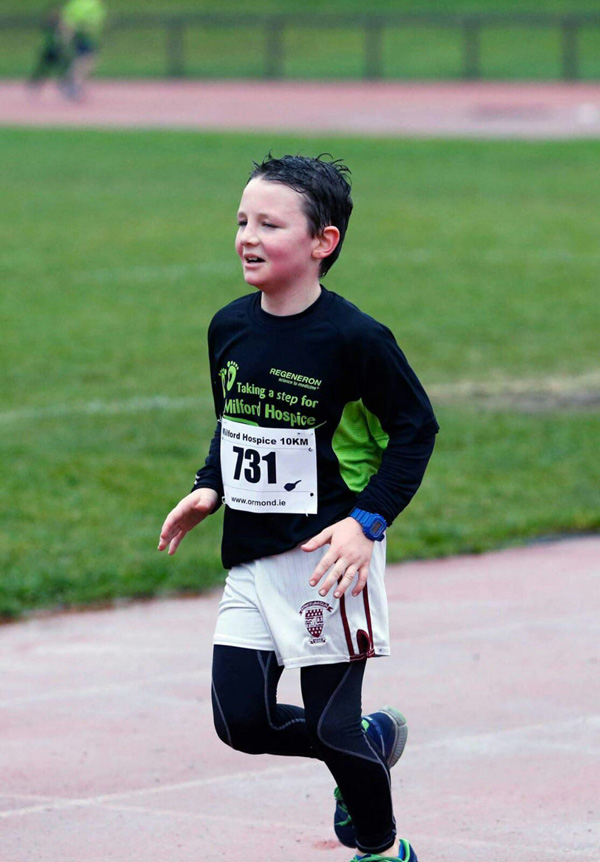 Track-Attacker Eamon Groome at Milford 10km
Gabrielle Shines Bright
Gabrielle Hodgins form shone brightly despite the atrocious weather conditions at the fourth round of the Track-Attack Safari Team Trek which is been kindly sponsored by Camsaw Distributers Ltd (main suppliers of OleoMac and Weibang lawnmowers). For the second week running, she recorded the maximum haul of 60 points for her team which in turn was the standout reason that saw the Antelope team which is captained by Ton Delaney move to second place overall on the league ladder.
Storm Henry and the Minister for the Environment, Alan Kelly were both in attendance to witness the 141 athletes who braved the driving wind and rain to complete their respective 3km, 4km and 6km distances.
As well as Gabrielle, the quartet of Philip Rabbitte, Edel Minogue, Oran Bergin and Olivia Murphy all recorded positive point's totals which in turn meant that the team picked up an extra 50 bonus points and they now sit in second place poised to make their move to eat into the Buffaloes lead.
For the second week running, the Buffaloes were the top scorers as they cemented their place at the head of the table. Aaron Reid was their jewel in the crown securing 60 points after a superb run that saw him complete the 4km course in 16:29. The team captain Mick O'Connor is certainly leading by example and following another hugely impressive showing he knocked a further 39 seconds from his PB. Siobhan Carey, Mairead Lane, Marie Madden, Luke Cooney and Donal Ryan all recorded PB's which guaranteed them the bonus points on the night.
Tracy Devaney's Tigers were the big movers of the night when jumping from 14th place overall to a podium placing of third following a string of excellent performances. For the second week running, Joanne Shanahan was their star performer with another 60 point addition. Tracy chipped in with 53 points while Margaret Meehan (21), Christine Rabbitte (10) and superb performance from young gun Darragh Fitzpatrick (30) contributed brilliantly to their positive league table movement.
The Cheetahs sit nicely in fourth place and were unlucky to lose put on the bonus points which would have brought them onto the podium. Colm Boyle and Seb Marchand were instrumental in their accumulation of points with both securing the maximum 60 on offer. Teresa Coffey and Tom McGrath were their other scorers on the night.
Making up the top 5 are last week's second place team, the Hyenas. Captain Joe Holland, Johnny Maher and a superb showing from Eithne Kennedy were their highest scorers on the night.
The full league table and all information about the Team Trek as well as other club activities can be found on our Facebook page at Borrisoleigh Track Attack.
---
 Mellon Educate
Recently PJ Younge Curraghleigh travelled to South Africa to help in the Masiphumelele Building Blitz in Cape Town along with 250 other people from Ireland.
In one week they built 6 class rooms and toilet facilities for 400 people in a very deprived community. The children in this community in appreciation for the work the group were doing entertained them one afternoon which was enjoyed by everybody .
Since the group returned, unfortunately, a fire swept through the township of Masiphumelele leaving over 800 people homeless.
Photos of their work can be looked up on the Masiphumelele Building Blitz Facebook page.
PJ would like to take this opportunity to thank everybody who supported him in anyway on doing this trip.
Thank you ALL
PJ Younge.
---
Scór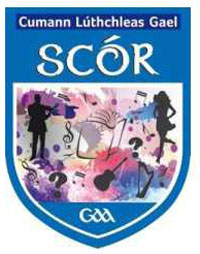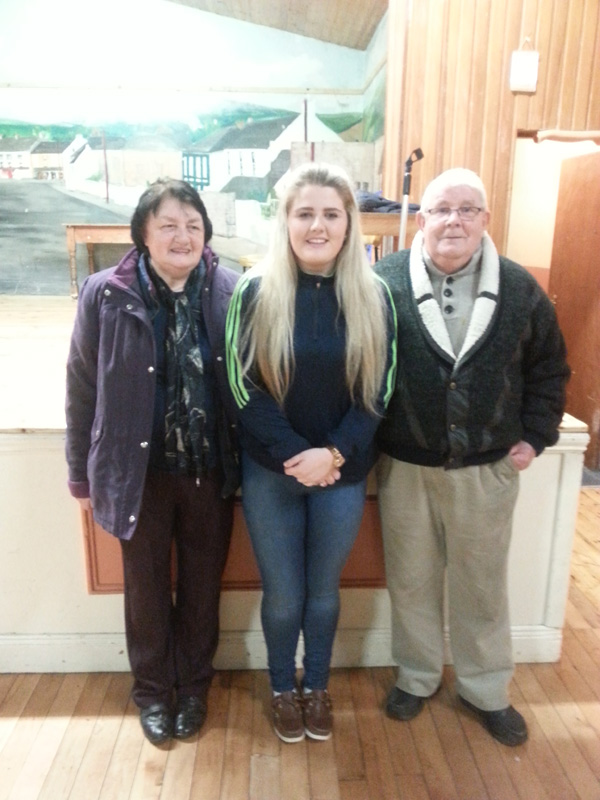 Scór na bPáistí
The parish final of Scór na bPáistí will take place on Sunday 14th February in the Marian Hall at 2pm.
Scór Sinsear
Scór Sinsear will take place in Clonmore hall on Friday 19th February at 8pm.  Please note change of date.
---
Borris-Ileigh GAA Club Notes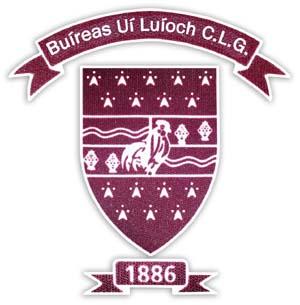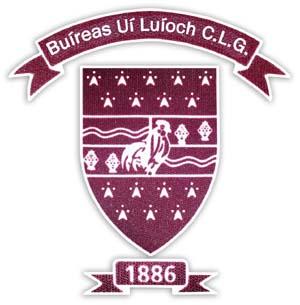 Lotto Presentation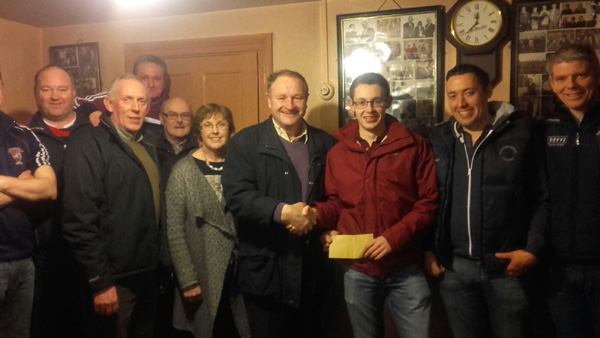 T.F. Stapleton presenting Michael Ryan (Jr), Glenarisk with his GAA Lotto winnings of €4,600. Congratulations Michael.
North Championship: On Monday night the draw for the Senior North Tipperary Hurling Championship took place in The Hibernian Inn in Nenagh. As some of you may already be aware there is a change coming to the structure of the championship due to a motion passed at a recent county board meeting. The divisional championships now must be played off over a maximum of 4 rounds. As the north now has 14 teams it was felt that the following was the best proposal to meet the new system. 2 teams have received a bye to the quarter finals, while the following 12 teams will play off against each other to make up the rest of the quarter finalists. It will be a straight knock out championship so one loss will be elimination from the competition.
The two teams who received the byes were Borrisokane and Kilruane. They will wait for the winners of the following games; Borris-Ileigh v Silvermines, Nenagh v Templederry, Kiladangen v Tommevara, Roscrea v Lorrha, Ballina v Portroe, Burgess v Moneygall
Tipp Supporters Club: Applications are now being taken for membership for the Tipperary Supporters Club for 2016. The cost is just €30 and is of great source of income to the Tipperary training fund. If you are interested in joining please contact TF Stapleton
Sympathies: The club would like to express their sympathies to the family of the late Ned Harty, Upper Main Street who died over the weekend. Ned was involved in many underage teams throughout the years and was a hugely popular figure in the community. We will be sadly missed by all who knew him.
Adjourned AGM: The adjourned AGM will take place this Thursday evening 11th in the pavilion. Any nominations are to be with Gerry Treacy by 7pm Thursday evening
---
Borris-Ileigh Camogie Club

Fashion Show
All roads lead to the Templemore Arms Hotel on Friday February 12th for the event of the year. Borris-Ileigh camogie are strutting their stuff, and take to the cat walk for this the 3rd Fashion Show event. The models, shops and organisers are all set, and looking forward to seeing you all there.
Shops showing their clothes are as follows: Born, Lar ná Pairce, Morans Menswear, En Paris, First Editions, Dunnes Stores, Bourkes Sports, McLoughney Menswear, Mullally's and Sixty Three.
Guests can enjoy wine and cheese on arrival, and we have many fabulous spot prizes for you to win.
Tickets are €10, and are available from any committee member or player. Many thanks to all our sponsors and to all who have provided spot prizes for the evening.
Kick off at 8p.m. Hope to see you all there…
Tesco sponsorship for clubs
Borris-Ileigh camogie club have been included in Tesco sponsorship for clubs, so the more tokens that are collected in Tesco Thurles, the more funds could be generated for the club. We would really appreciate your support and many thanks to Tesco Thurles.
---
Paddy Stapleton Fitness Plus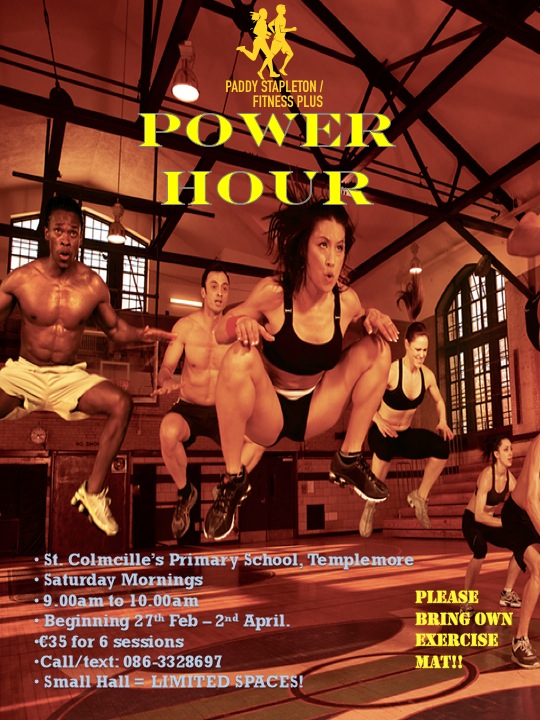 Paddy Stapleton Fitnesss Plus 086-3328687
---
Sr. Aine Historical Society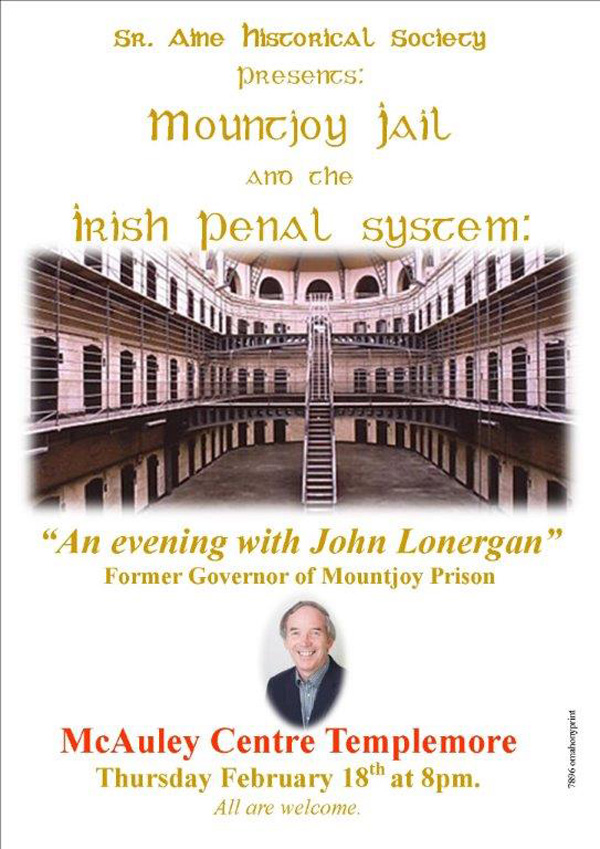 ---
 Pic of the Past … down memory lane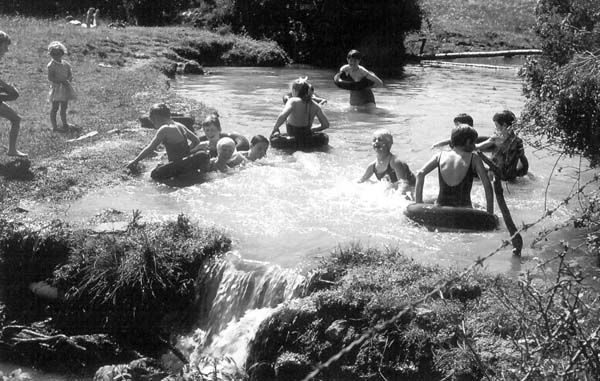 Swimming at Cappanilly This river is behind Shanahan's Foodmarket.
---
Committee: Enda Ryan, Noreen Fahy, Margaret Cowan, Marie McGrath, Aileen Óg Groome and Derry O'Donnell

Many thanks to all those who contributed photographs and news items. Remember, we need you to continue to send us material so that we can keep our website current and interesting.
Send your email to: info@borrisoleigh.ie

While we make every effort possible to ensure that the information contained in this Website is accurate and complete, we cannot accept any legal liability as a result of the inaccuracy or incompleteness of the information presented to users of this site
Also, if you like what you see and want to leave a comment, remember to use the Guestbook!