10 August 2016
10 Aug 2016
 Borrisoleigh Playground Development
Charity Cycle in aid of Borrisoleigh Playground Development Sunday 18th September.
40K cycle commencing at McDonagh Square at 11am
For sponsorship cards contact Patrice on 086-3664456 or Evelyn on 086-1206538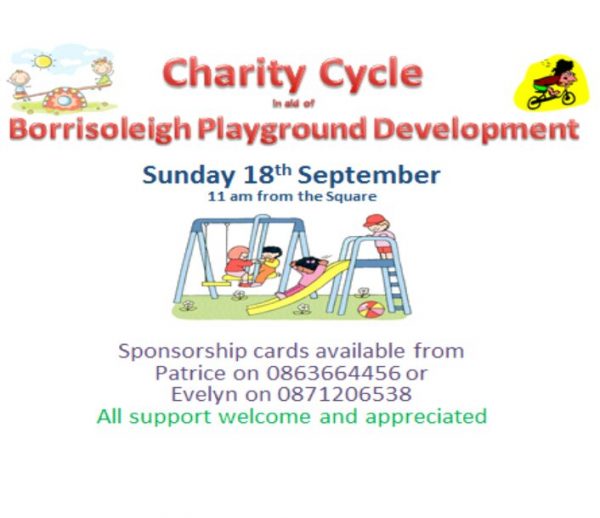 ---
Borris-Ileigh Camogie Notes

SENIORS:
Congratulations to Mikey and Cloda, prize winners in the recent "Guess the Score" competition held by the Senior team for the Munster Final. Presentation of prizes by Manager David O'Connor and Captain Nicole Walsh. Try your luck and predict the score for the All Ireland Semi-Final, contact any of the Senior players or management for details. Many thanks to everyone for supporting our Senior team.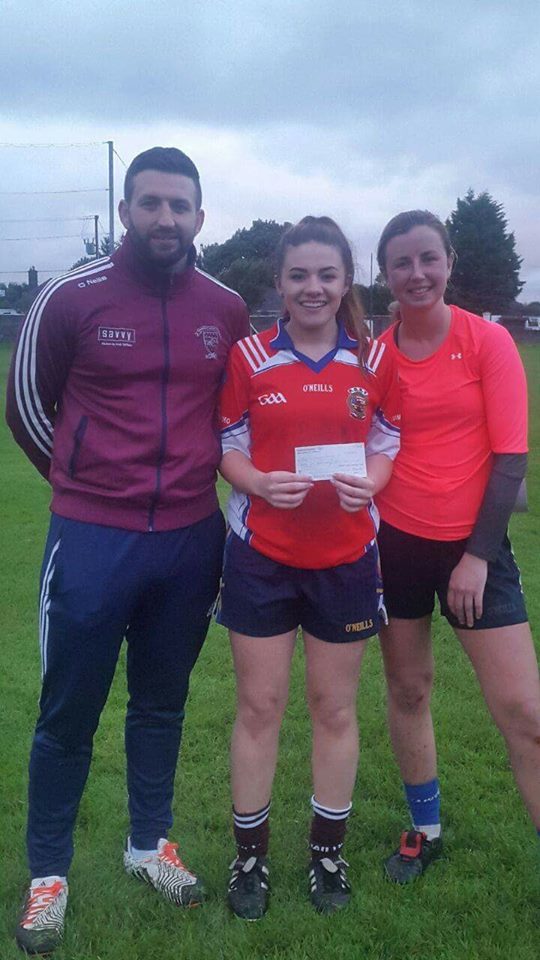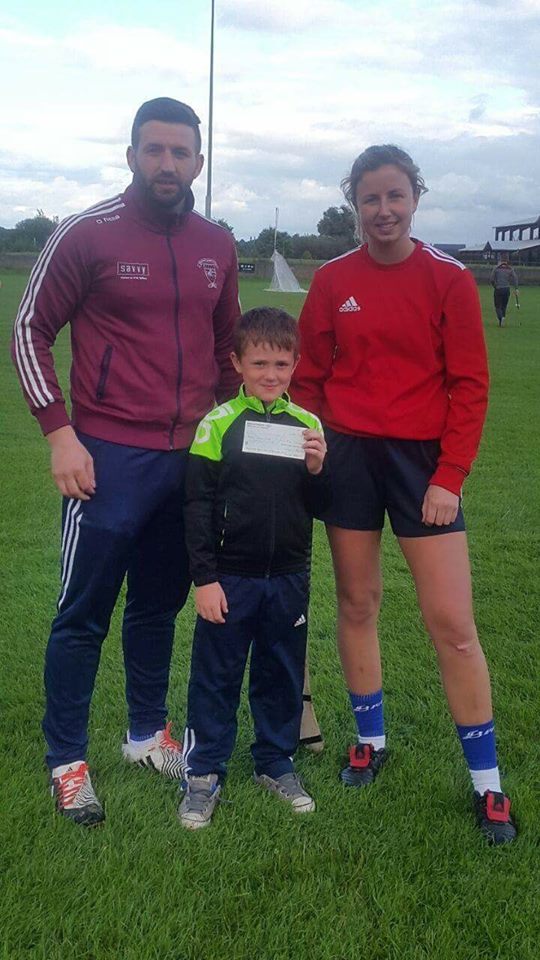 MINORS have commenced the Championship and play Portroe this week, good luck girls. Remaining fixtures as follows:
Tues Aug 16th v Burgess (home).
Thurs Aug 23rd v Thurles (home).  
U14 camogie League starts shortly and we play Thurles, Moycarkey and Templemore.
Confirmation of dates will issue by text.
U12 Autumn League has commenced and the first match v Cashel took place on Tuesday, results to follow. Remaining fixtures as follows:
Fri Aug 12th v Brian Borus (away)
Fri Aug 19th v Newport (home)
Fri Aug 26th v Burgess (home)
All matches at 7pm – Good luck girls.
Remaining U10 County blitz days as follows:
Aug 20th and Sept 10th at the Camogie Grounds, The Ragg.  
Next U8's blitzes scheduled as follows:
August 13th & September 3rd, also at the Camogie Grounds.
"Like" Borris-Ileigh camogie page on Facebook for further updates.
---
Borrisoleigh Active Social Club
Our outing for this month takes place on Tues Aug 23 to Cobh, Co. Cork. We will get the train from Thurles to Cobh. We will visit their Heritage Centre and then get a ferry to Spike Island for a guided tour.
It is suggested to purchase your train tickets on-line. The cost of visiting the Heritage Centre and the ferry/tour to Spike Island is €30 but if we have enough people interested in going we might get a discount. If you are interested in going please give your name to Lucia 086-3961211 or Dolores 086-3815020 as soon as possible to make final arrangements .
---
Film Screening
The screening of, Deirdre, a short film by Jo Southwell will take place Saturday 13th August at The Arts Centre, Nenagh. Deirdre was shot in both Nenagh and Templederry – starring India Mullen, Sean Doyle, Zeb Moore and Elaine Fox. Deirdre has been nominated for numerous awards including Los Angeles CineFest and WOEFF following on from its win at the Hollywood International Moving Pictures Film Festival. Jo Southwell would like to invite all the cast, crew, those who helped make this film possible and members of the public to attend the public screenings on Saturday 13th August at The Arts Centre, Nenagh with two screening at 15:00 and 19:00. Jo would also like to invite those local companies who have an interest in the production of the feature film to attend the press night on Friday 12th August at The Abbey Court Hotel. Tickets for this event are FREE and can be got at www.eventbrite.co.uk. Jo can be contacted at southwelljo@gmail.com or find her on Facebook, Jo Southwell.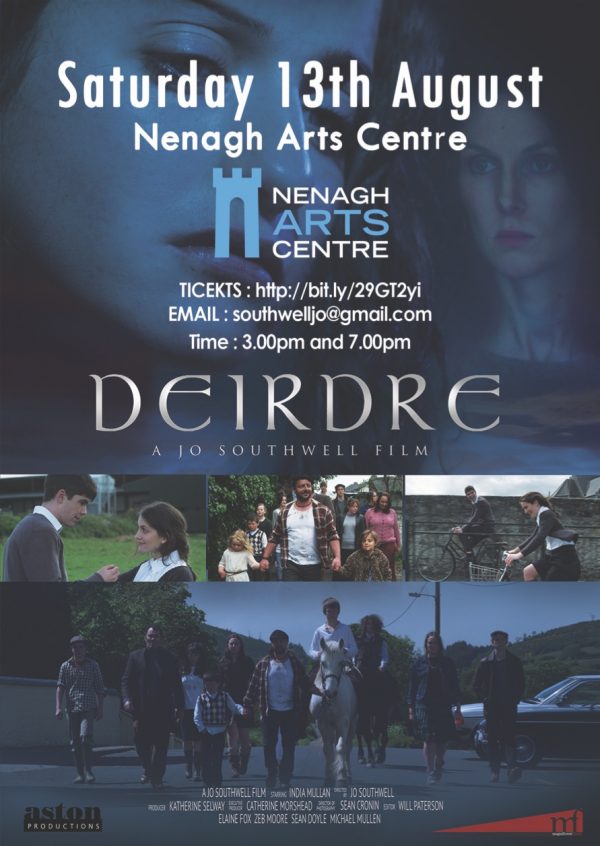 ---
Maria Ryans Volunteer work in South Africa 
I would like to say a huge thank you to everyone to came to support my fundraiser table quiz in Stapletons Bar on the 29th of July. A great night was had by all. I would also like to thank everyone who made individual donations, donated spot prizes for the quiz, those who helped on the night and those who spread the word about the quiz and my volunteer work. Preparations are fully underway and getting very excited about the trip in October.
Maria
---
House Clearance Sale 
Complete House Clearance Sale Saturday 27th August. Complete contents of house. Moving Sale. Kitchen furniture and appliances, bedroom furniture, living room furniture etc. Everything must go. Phone 086-3201557 Mary Carroll, Curraghgraigue, Borrisoleigh.
---
Congratulations
Jane's Flower Cabin has won Mrs2Be Brides Choice Award 2016 for Best Wedding Florist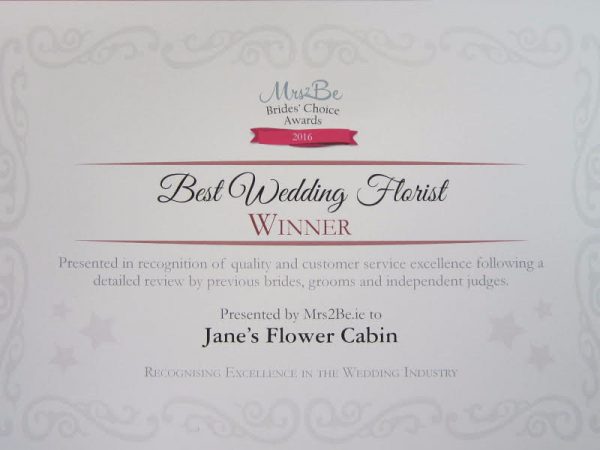 ---
Pic of the Past ………..down memory lane
---
Committee: Enda Ryan, Noreen Fahy, Margaret Cowan, Marie McGrath, Aileen Óg Groome and Derry O'Donnell
Many thanks to all those who contributed photographs and news items. Remember, we need you to continue to send us material so that we can keep our website current and interesting.
Send your email to: info@borrisoleigh.ie

While we make every effort possible to ensure that the information contained in this Website is accurate and complete, we cannot accept any legal liability as a result of the inaccuracy or incompleteness of the information presented to users of this site
Also, if you like what you see and want to leave a comment, remember to use the Guestbook
---