Parish Notice
---
Borrisoleigh Community Development Association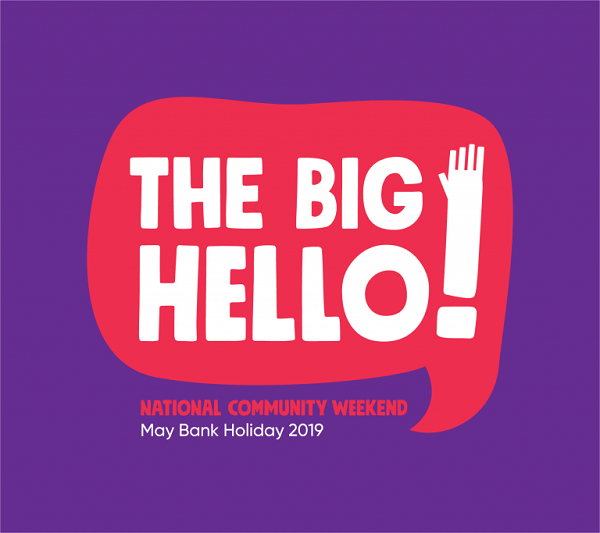 Borrisoleigh Community Development Association (BCDA) would like to invite you to 'The Big Hello' on Saturday May 4th at 4pm in the Community Centre.
The Big Hello!, Ireland's National Community Weekend, is going to be a weekend of community celebration. The event is a celebration of the great spirit of community that exists across the country, and is an effort to help people who share communities to come together, get to know each other, and deepen the sense of community in their area.
BCDA are hosting this free event in Borrisoleigh and all are welcome to attend. In particular we would like to see representatives from committees and volunteers of the various clubs and organisations in the Parish attend. So much work is done by committee members and volunteers throughout the year who volunteer their time and we would like to reward your efforts with a chance to enjoy some refreshments and meet your friends and neighbours in a relaxed and friendly environment. Keep an eye on this website for further details.
Rathmoy Golden Mile Tree Trail
Preceeding the event in the Community Centre, Rathmoy Residents Association in association with BCDA are officially launching the Rathmoy Golden Mile Tree Trail. This event starts at 2pm. In conjunction with CM Signs of Thurles, signs have been erected along the Golden Mile with information and history of trees along the walk.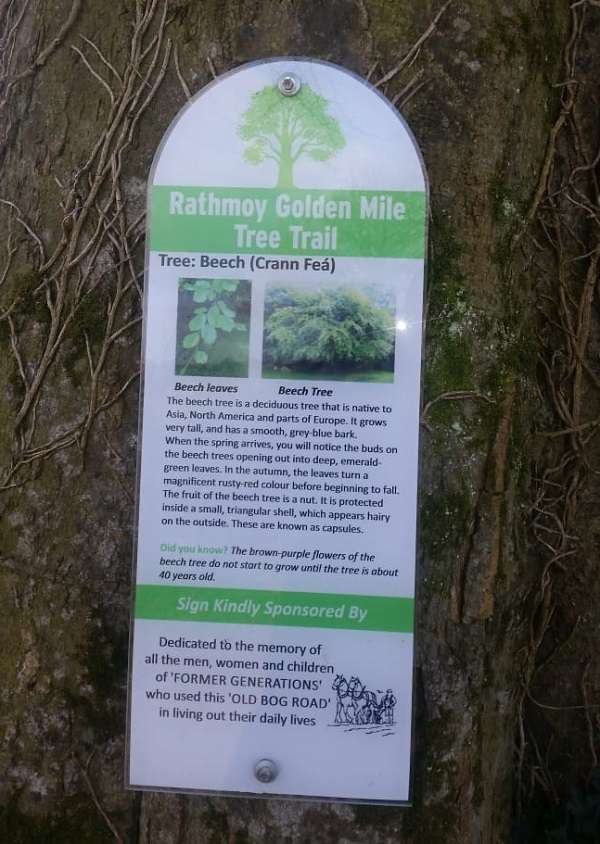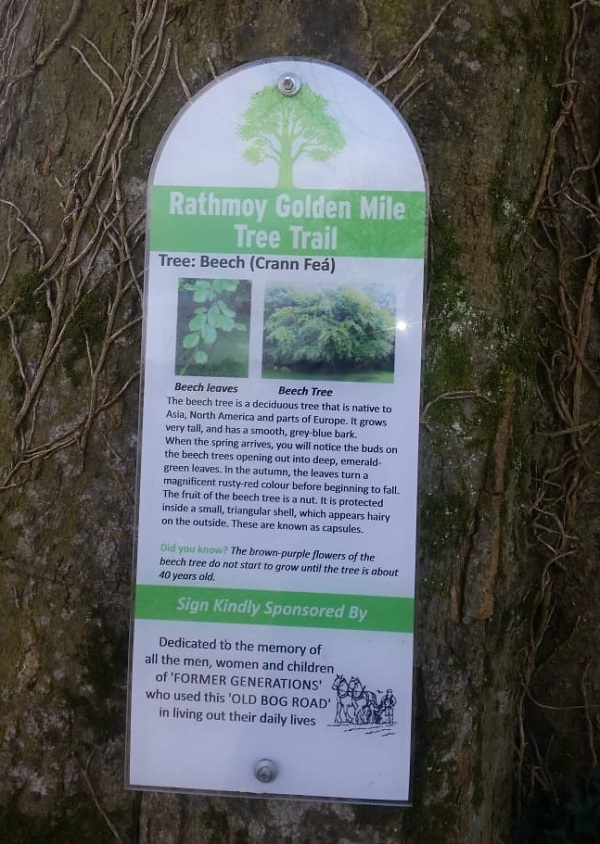 Dr. Aine Lynch of the
National Parks and Wildlife Service
and Tom Gallagher from Cabragh Wetlands, will be in attendance and will speak a little about the biodiversity of trees etc. as the walkers move along. There will also be a Seanchaí and historian to guide us through some of the very interesting stories of Rathmoy. Tales such as 'Moll the Shilling', 'The White Witch' and plenty more will entertain and inform all who attend. Attendees are asked to park in the Town Park and take the 3 minute walk down towards Rathmoy to take part.
At the end of the walk approximately 3.30pm there will be quick quiz to test your knowledge of what you have learned! Afterwards everyone is invited back to join in with 'The Big Hello' event in the Community Centre.
So put it in your diaries, Saturday 4th May, and make sure to attend 'The Big Hello' and join us in celebrating the wonderful community spirit that is alive and well in Borrisoleigh. You can attend either of the events or both, the choice, like the community, is yours!
Split The Pot Coming to Borrisoleigh
Borrisoleigh Community Development Association will be starting a fun fundraiser in the near future called 'Split The Pot'. Stay tuned for more details!
---
Borrisoleigh Track Attack Notes
Kiely & Lane are Borrisoleigh Mile Champions
The third annual Borrisoleigh Mile which was sponsored by Declan Maher Financial Services Ltd turned out to be a cracking race with the trio of Michael Kiely (Crusaders A/C), John Fitzgibbon (Thurles Crokes) and Paddy Cummins (Moycarkey Coolcroo) going shoulder to shoulder from the gun to the finish line.
The pace never relented and it couldn't as the trio of Ted Collins, Aaron Quigley and Tom Walshe from the brilliant Nenagh Olympic stable of young talent, Rory Morrissey from Mountmellick and Dundrum's Shane Buckley were all within touching distance of the lead and more than willing to take advantage of any slip up from the leading trio.
With 400 metres to go, it looked like a battle between Fitzgibbon and Cummins was about to develop but the former Borrisoleigh man refused to throw in the towel, he dug deep to make his more on the slight incline coming into the village and out-sprinted his close challengers to take the Gerard Ryan Perpetual Trophy in a time of 4:35.
Second place went to the Crokes athlete as he continued his fine form of late to finish in 4:37 while Cummins was a further one second in arrears. The aforementioned quintet all broke the 5 minute barrier while a total of 41 athletes dipped under the 6 minute barrier.
The women's race was equally as brilliant. The young talent coming from the Nenagh Olympic Club at the moment is endless which is testament to the brilliant structures and coaches they have in place.
With the course record standing at 5:28, it was well and truly smashed when Sarah Lane dipped beneath the finishing gantry in an outstanding time of 5:04 to claim the Paddy Dolan Perpetual Trophy. Sarah was pushed all the way however by Dundrum's Dymphna Ryan who pulled out all the stops to finish in a hugely impressive 5:08. Nenagh claimed their second placing on the podium when Ailbhe O'Neill finished in third spot thanks to a finishing time of 5:27.
On the local scene, Clonakenny's Michael Murray was the first Track-Attacker to finish in a time of 5:13 which was 5 seconds ahead of John Vahey with Adam Galvin a further 2 seconds in arrears. Baiba Vilande was the first female Track-Attacker to finish in a time of 6:16. Caroline Hassett was second home in 6:24 while Sinead O'Meara was in third finishing in 6:32.
---
St. Joseph's College Notes
Borrisoleigh Mile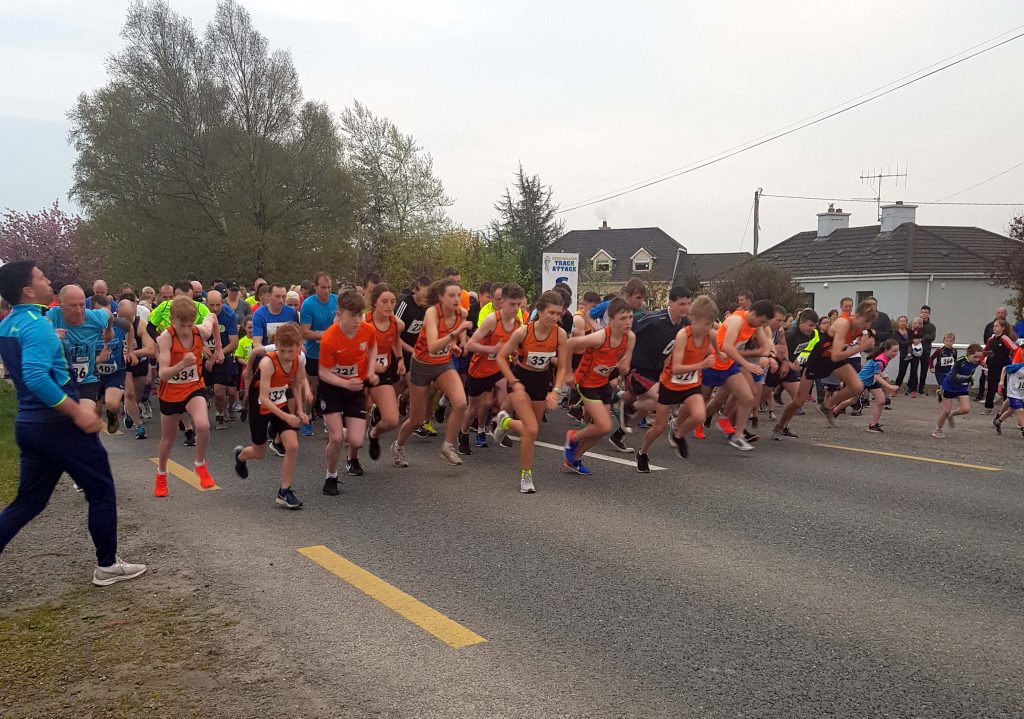 For the second year St. Joseph's College is delighted to be associated with the hugely successful Borrisoleigh Mile in conjunction with Borrisoleigh Track Attack, sponsored by Declan Maher Financial Services.
The school held a curtain-raiser event on Friday 12th April, which involved all students taking part, running, jogging, walking, and some novelty events also. This whet the appetite for the main event.
Borrisoleigh Mile was held on Easter Monday, 22nd April on a beautiful sunny evening. We were absolutely delighted with the crowds and the spirit of competition and participation was alive and well. It was also lovely to have the 1964 winner of the Borrisoleigh Mile in attendance.
St. Joseph's College wishes to thank each and every person who contributed to the successful evening; in particular Borrisoleigh Track Attack whose organisation and commitment is astounding. We are also hugely indebted to our Parents' Council for their spearheading of this event. The array of refreshments on the evening is becoming one of the highlights of the event.
We are looking forward to next year's Borrisleigh Mile.
Thanks again.
---
Borrisoleigh Active Social Club
Today Wednesday May 1st some of our members are off to the Manor Stone and Garden Centre in Ballacolla and are having evening tea in The Templemore Arms.
On Wednesday May 22 we'll have Rita a Pastry Chef from Mount Juliet coming to the Community Centre Borrisoleigh to give a Chocolate Cookery Demonstration with participation from our members.
Our Summer party will take place on Monday June 3rd in Finn's Bar Borrisoleigh. There will be finger food and music entertainment by Phil Maher. Everybody is welcome.
If anyone is interested in going to any of the above please give your name to Lucia 0863961211.
---
Retro 80's Disco Party

Pic of the Past
---
Committee: Enda Ryan, Noreen Fahy, Marie McGrath, Derry O'Donnell and Fiona Max
Many thanks to all those who contributed photographs and news items
Remember, we need you to continue to send us material so that we can keep our website current and interesting.
While we make every effort possible to ensure that the information contained in this Website is accurate and complete, we cannot accept any legal liability as a result of the inaccuracy or incompleteness of the information presented to users of this site. We also reserve the right to edit material for suitability to a website format.
Also, if you like what you see and want to leave a comment, remember to use the Guestbook