Parish News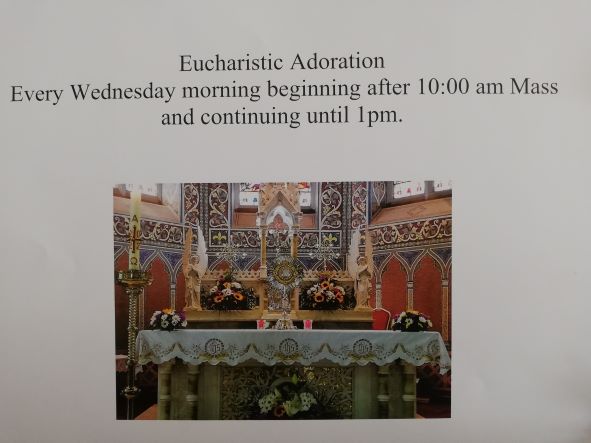 Collection: Last Sunday's Collection amounted to €810
Congratulations: To our under U-16 Camogie team who won the County Final in the Ragg, last Friday. They had a comprehensive win over Cashel King Cormacs. Well done to all concerned.
Good Luck: To all our Junior and Leaving Cert Students who will begin their respective exams next Wednesday. We wish them every success.
Education of Priests Collection: Will be taken up next Sunday.
In St. Mary's Church in Knockainey on Saturday, June 4th, the eve of Pentecost from 12 noon to 1 pm we are holding an hour of Music, Prayer, Praise and Adoration. All are welcome. There will also be teas and coffees in the Community Centre afterwards.
Do you or somebody you know suffer from addiction?
Addiction to Alcohol, Drugs, Gambling, Pornography, Food, Internet etc. steals life from so many people. Please come to the shrine of Matt Talbot in Our Lady of Lourdes Church, Sean Mc Dermot street, Dublin, on Sunday 12th June at 2pm, and join our annual national pilgrimage to pray for the miracle of freedom from all these addictions. For more information, visit www.matttalbotprayersociety.com or contact vita@matttalbotprayersociety.com ROI (048) 71262894
LOUGH DERG THREE DAY PILGRIMAGE runs Wed 1st June until 15th August (Sat 13th Aug is final day to begin the Pilgrimage).
Admission €80 | Booking advised | Concessions available for students, seniors and groups.
All booking info, including organised parish groups available at www.loughderg.org, email info@loughderg.org or telephone 0(0353) 71 9861518.
Lough Derg, Pettigo, Co Donegal, F94 N289
VOICE is based on networking, peer mentoring and empowering disabled people to be agents for change. It uses Zoom to build online collective spaces for disabled people.
The disabled participants who join the online sessions will be exposed to a mix of Guest Speakers on relevant, useful topics i.e. Employment supports, Assistive Technology, etc. There will be an opportunity to learn about and participate in the various programmes ILMI deliver i.e. CREATE, this programme is an innovative course that looks at the perceived and real blocks disabled people to pursue employment etc. and works with people to address the barriers. ILMI is a DPO, a Disabled Persons Organisation. If people want more information, they can contact me on 087 7189237 or at this email address, nicolameacle@ilmi.ie.
Thought for the week: Give to the world the best you have, and the best will come back to you.
---
Borris-Ileigh Camogie Club Notes

County Champions:
Congratulations to our Under 16 team who defeated Cashel King Cormacs on a 4-10 to 0-08 scoreline to win the County A Plate Final.
Under 12's:
Last week, our Under 12 White team defeated Ballina while our Maroon team defeated Moycarkey in their second round of the Championship respectively.
On Sunday next, both teams travel to Ardcroney to play Kilruane MacDonaghs. The Whites play at 10am while the Maroons play at 11am.
Under 14s:
Our Under 14s play Roscrea on Thursday night in the Park at 7pm in their last round of the round robin section.
Under 10's:
Our Under 10's travel to Dundrum tonight (Wednesday) to play in their second County Development Blitz.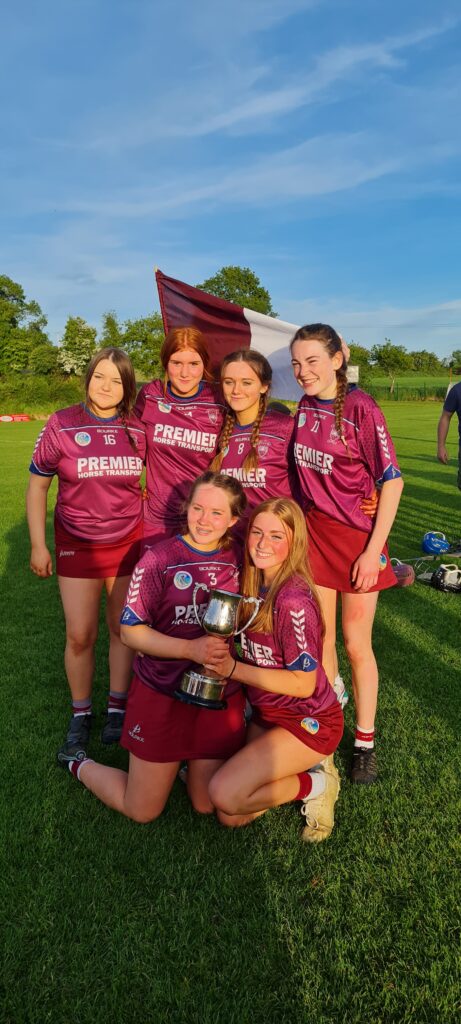 Under 16's Laura Ryan, Emma Maher, Alesha Fanning, Ava Bevans,
Tara Kennedy and Eve Maher after their County final victory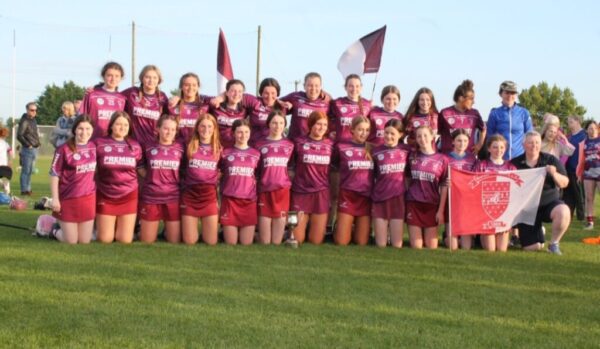 County A Plate Champions
---
Pilgrimages to Medjugore
---
Borrisoleigh Active Social Club
Borrisoleigh Active Social Club were back on the road last week. They headed off by bus to the Chocolate Garden of Ireland and Rathwood Garden Centre in Carlow on Wednesday. The weather was very kind which encouraged our members to buy a plant or 2 or 3.
Some of our members took a class on chocolate mould making. This was great fun and everyone enjoyed making their chocolate works of art. This finished up with everyone getting a homemade ice cream. Overall a great day was had by all and many thanks to our driver Eoin who was very patient with us. We are looking forward to the next trip which will hopefully be really soon.
Our June meeting takes place this Wed June 1st at 7pm in the Community Centre Borrisoleigh. We'll have a guest speaker from Age Friendly Ireland.
---
Family History query
John Connors of the Historical Society received an enquiry from Australia re this house. The person enquiring says it is where her ancestors hailed from and the photo was taken in the 1960's. Does anyone recognise it or where it might have been? If you do you can contact John at
borrishistory@gmail.com
---
Guestbook entries
From time to time we get entries in our Guestbook from descendants of Irish emigrants from the area looking for information. Maybe some of our readers would be able to help with their queries?
---
Pic of the Past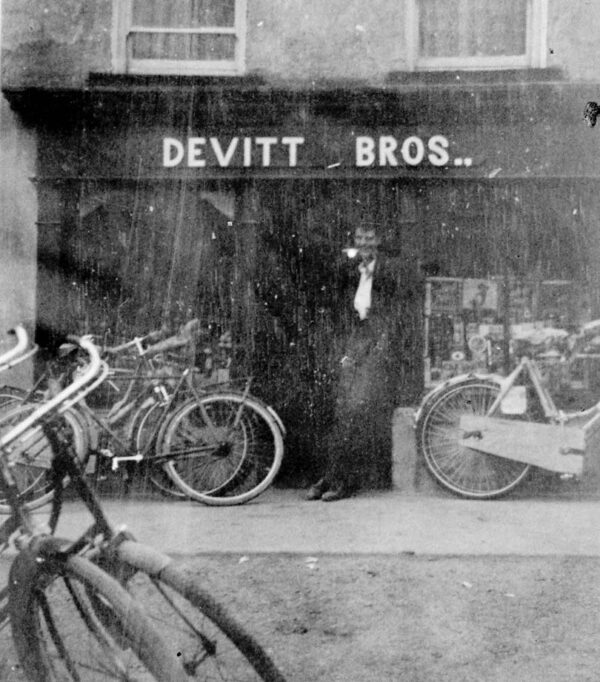 Devitt Bros.
This bicycle shop was situated on Main Street,
next-door to Lanigan-Ryan's.
---
Your Website Needs You
Committee: Enda Ryan, Noreen Fahy, Marie McGrath, Derry O'Donnell
Many thanks to all those who contributed photographs and news items.
Remember, we need you to continue to send us material so that we can keep our website current and interesting.
Send your email to: info@borrisoleigh.ie
This website is supported by Borrisoleigh Community Development Association.
While we make every effort possible to ensure that the information contained in this Website is accurate and complete, we cannot accept any legal liability as a result of the inaccuracy or incompleteness of the information presented to users of this site. We also reserve the right to edit material for suitability to a website format.
Also, if you like what you see and want to leave a comment, remember to use the Guestbook