1 December 2021
01 Dec 2021
Parish News

Anniversaries: Saturday December 4th @ 7pm Mass Mick Bourke, Gortnaboul, 1st Anniversary
Sunday December 5th @ 11am Mass Thomas and Margaret Dunne, Carrigeen, James and Ellen Kent and their daughter Elizabeth, Rathmoy.
You are also asked to remember in your prayers Baby Darell Keane Main St. Borrisoleigh, Tom Maher Dromcondra, Dublin and Cullohill Borrisoleigh, Kathleen Brennan, Holycross and Chrissie Dunne, Tipperary who were interred during the past week.
Collection: Last Sunday's Collection amounted to €506.
Nine Day Rosary Novena for Ireland
There will be a 9 Day Rosary Novena beginning Tuesday 30th November and ending on Wednesday 8th December. People all over Ireland will pray the Rosary together each evening at 9pm. On the final evening at 9pm on Radio Maria the Primate of All Ireland Archbishop Eamon Martin will lead the final Rosary live.
If you are gathering to pray in groups we encourage you to gather safely adhering to Covid 19 regulations.
"A Programme of Formation for Lay Pastoral Ministry and Leadership"
This programme will be offered in the Archdiocese of Cashel and Emly in the Academic Year 2022-2023. It is designed and developed as an initiative across the Diocese of the Cashel Province.
It is an exciting initiative and an opportunity for those interested in engaging as volunteer catechists or lay pastoral workers to develop the skills necessary to undertake these ministries.
The initial phase of the programme is that of Orientation and Discernment and this will run from January to June 2022.
An overview of the Programme will be offered on Monday 6th December and Thursday 9th December-details will be finalised. Further details are available on notices at the back of the Church. Should you require further information please contact Fr. Hennessey.
Retreat Notice from Vincentian Fathers Ireland
"A Listening Heart" – Online Time of Recollection
Thursday 2nd December 3 pm
Conference by Fr. Vincent Stapleton – Cashel and Emly
For the last six months a small group of Irish Vincentians have been exploring ways to support fellow priests here in Ireland, especially in these Covid times.
The team comprises of Fr. Aidan Galvin, formerly a leader of the Mission Team, along with Fr. Seán Farrell and Fr. Michael Mc Cullough.
Recently, Fr. Leo Creelman of Clogher, Fr. Paul Glennon of Dublin, Fr. Vincent Stapleton of Cashel and Emly, and Fr. Barry Horan of Galway, Kilmacduagh and Kilfenora have joined the group. The group seeks to provide spiritual support for those in diocesan ministry in Ireland, taking the motto, "A Listening Heart" as a title for the initiative.
Given the current situation with Covid-19, our first Advent Retreat will be facilitated via Zoom on Thursday December 2nd from 3.00 pm to 5.15 pm
3.00 p.m. : Introduction by Fr. Michael McCullagh followed by
Opening Talk by Fr. Vincent Stapleton of Cashel and Emly.
3.30 to 4.30 p.m.: Private prayer time in one's own oratory/home.
4.30 p.m. Faith sharing.
5.00 p.m. Evening Prayer of the Church led by John and Gráinne O'Keeffe of Maynooth.
To participate via zoom the meeting ID is: 848 4547 7028
Password: 978594
Thought for the week: Be who you are not what the world wants you to be.
---
Scoil Naomh Cualán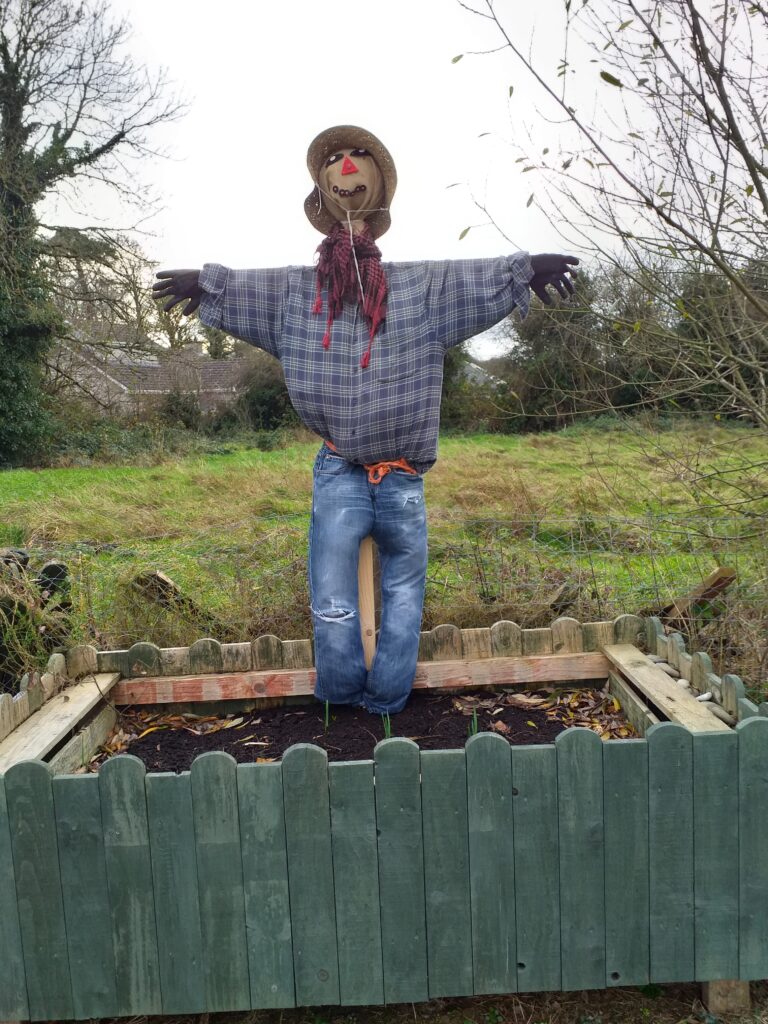 The boys in our Le Chéile 1 class have been very busy the last few weeks making our scarecrow. He is currently guarding our newly sown bulbs and he is getting ready to protect our spring vegetable patch. The boys and girls are trying to think of an appropriate name for him.
---
Borrisoleigh Festival News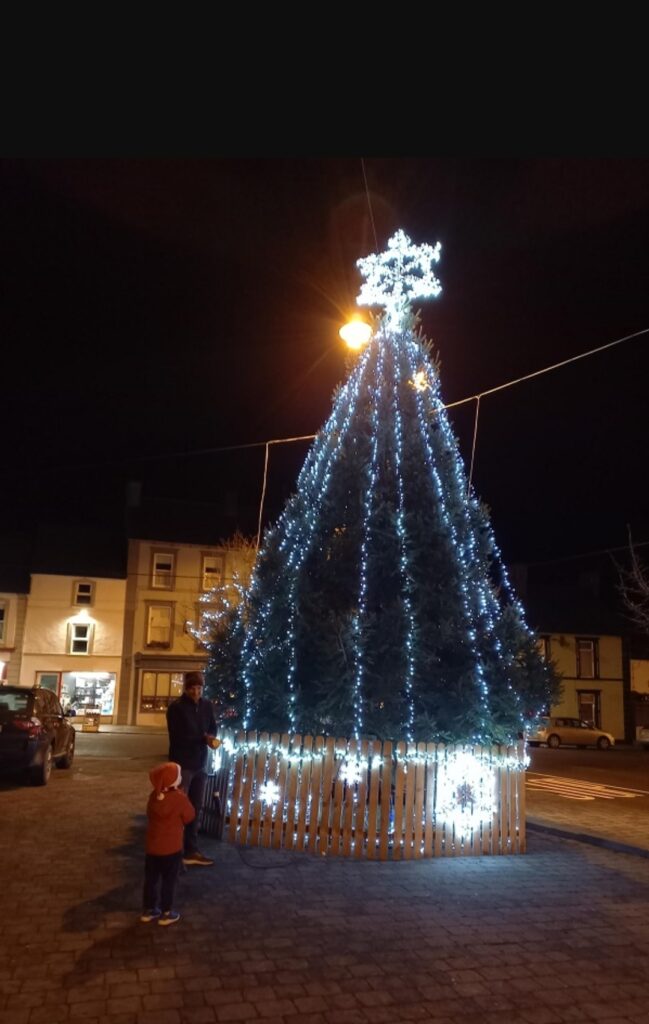 Please refrain from parking on McDonagh square on Friday night December 3rd as the Christmas tree is being put up early on Saturday morning (December 4th)
---
Community Centre Borrisoleigh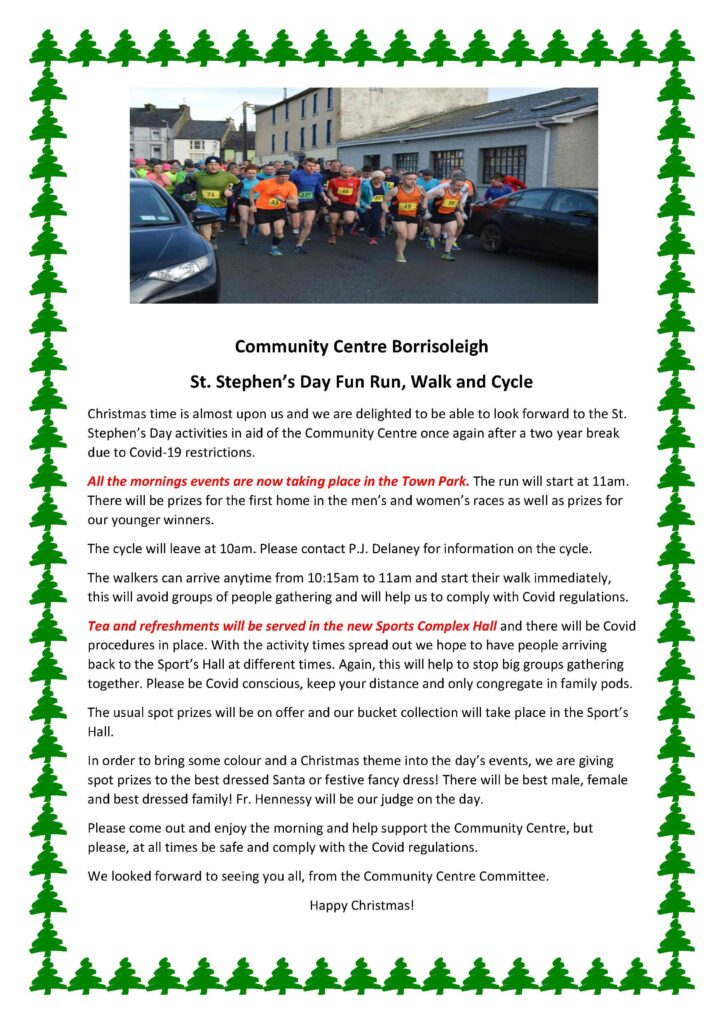 ---
AXA Community Bike Ride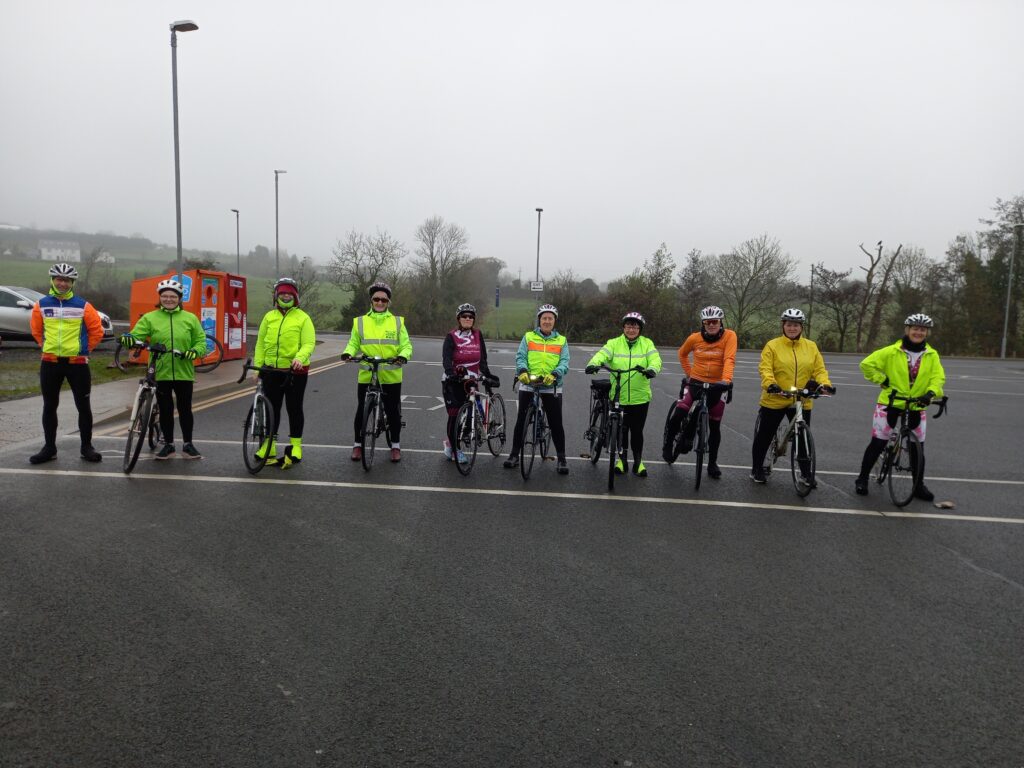 Happy Christmas to everyone who joined us for an AXA Community Bike Ride this year. As our December 12th cycle to Loughmore Community Tearooms is our last cycle for this year please go to the website and register for a lovely group fun cycle with mince pies for refreshments. Thanks to leaders Christy and John F for organising the cycles and to all who helped us out over the year. It was a great year with very enjoyable cycles. Our highlight being a visit to the new Limerick Greenway.
---
Pic of the Past
---
Your Website Needs You
Committee: Enda Ryan, Noreen Fahy, Marie McGrath, Derry O'Donnell
Many thanks to all those who contributed photographs and news items.
Remember, we need you to continue to send us material so that we can keep our website current and interesting.
Send your email to: info@borrisoleigh.ie
This website is supported by Borrisoleigh Community Development Association.
While we make every effort possible to ensure that the information contained in this Website is accurate and complete, we cannot accept any legal liability as a result of the inaccuracy or incompleteness of the information presented to users of this site. We also reserve the right to edit material for suitability to a website format.
Also, if you like what you see and want to leave a comment, remember to use the Guestbook