04 April 2018
04 Apr 2018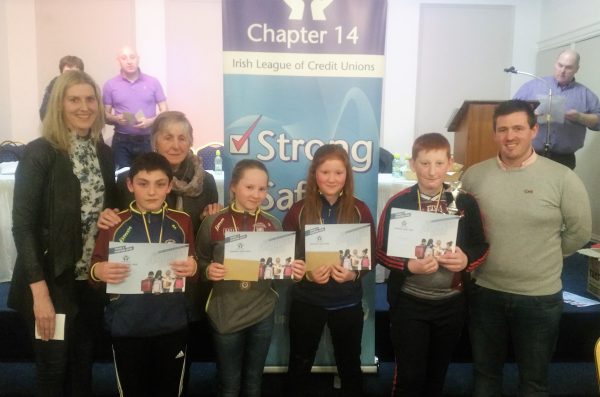 RDS, here we come!
On April 8th, Scoil Naomh Cualán will be represented in the National Final of the Credit Union Quiz in the RDS Dublin. Our fantastic U-13 team, consisting of Emma, Eoghan, Razuk and Tara have already been through two difficult stages of the competition and have emerged victorious on each occasion. The team have been incredibly dedicated and hard working. Go n-éirí an t-ádh leo.
---
Marian Hall Lotto Results
Lotto Numbers: 7, 15, 16, 21
No winner.
One match 3: Christine O Dwyer, Main St.
Next week's jackpot: €6,500
---
Birthday celebrations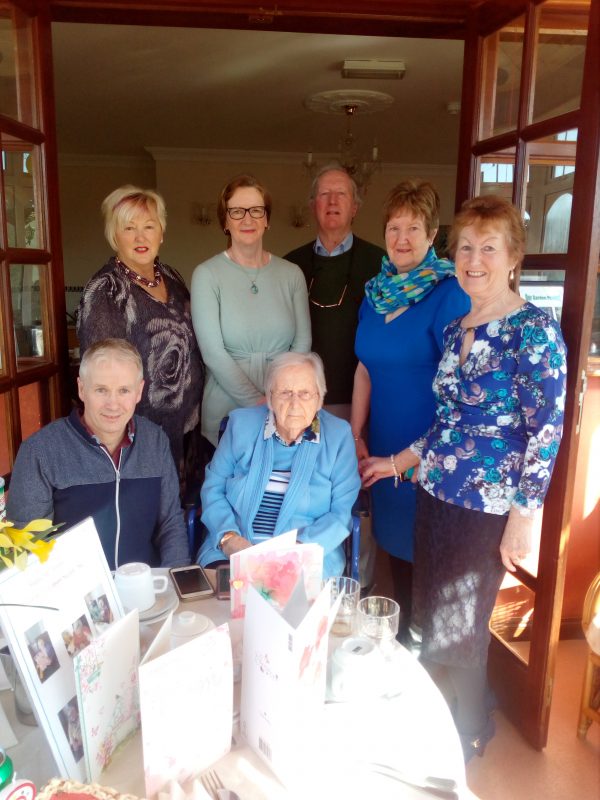 Mary Ryan, Raphael, from Currabaha celebrating her 98th birthday with family
---
Track-Attack Notes
Double-Trouble Champions
The Track-Attack Double-Trouble Series which was sponsored by Declan Maher Financial Services have come to its conclusion and it proved to be a huge success. We had 22 groups of 11 athletes with each group named after a famous Irish athlete. Four of the athletes namely Sonia O'Sullivan, Derval O'Rourke, David Matthews and Frank O'Mara sent Track-Attack messages complementing our efforts which was a nice touch.
We ended up with a 3 way tie in one group and a 2 way tie in another which meant we had 25 prize winners in total. Natasha Kennedy was the first to be called to the podium after ruling supreme in the Mark Carroll Group. She was a model of consistency right from the start and was one of the shining lights of the entire series.
The fruits of youth came through impressively in the Sonia O'Sullivan Group with the efforts of Aisling Boyle deservedly getting recognised with the winning honours. Teresa Coffey was the outstanding athlete in the David Matthews Group where she grinded out some terrific times over the 3km distance. One of the stand-out performers of the series was the winner of the Eamon Coghlan Group where Co. Louth native Micheal O'Hagan showed outstanding levels of improvement.
Outstanding performances from both Eamon Ryan and David Ryan on the last scoring night saw them come to the fore in their respective groups. Eamon came up trumps in the Frank O'Mara Group while David edged the Mark English Group. The Michael McKillop Group trophy made its way to Templederry thanks to the performances of Paudie Dwan. Week on week, Paudie left every ounce of effort out on the track and again he's a very deserving winner.
The Jason Smyth Group winning trophy also winged its way to Templederry when Martina Ryan fought off the best efforts of all her nearest challengers to receive the laurels on presentation night. Two of the most outstanding and impressive performances of the entire series came from Templederry young-guns. Adah Minogue and Aisling Kennedy. Their performances in the second half of the series in particular were extremely eye catching. Their times dropped drastically and the levels of determination and willingness to succeed were hugely evident even to the naked eye. Adah claimed the Paul Hession Group title while Aisling laid claim to the Fionnuala McCormack title and they were titles that were richly deserved.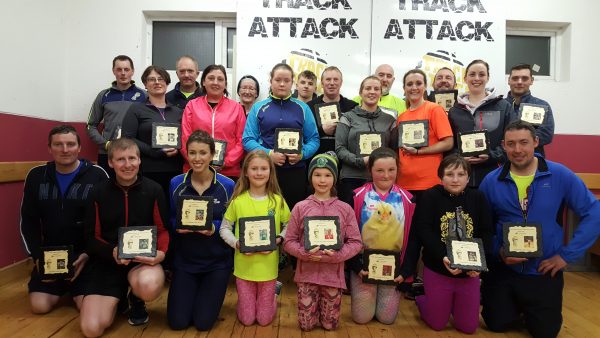 Group winners of the Track-Attack Double-Trouble Series which is sponsored by Declan Maher Financial Services
Not to be outdone by her Father, Aodhamair O'Hagan's efforts were also acknowledged with a top podium position in the David Gillick Group. Another young Track-Attacker that deserve great credit for her efforts over the past few months. Colm Boyle also made it a family double when he finished joint winner of the Thomas Barr Group to equal his sister Aisling's victory. Colm was joined as group winner with Denis Ryan following a string of excellent performances from both performers.
Daniel Madden rediscovered his form early in the series and as a result he drove on to victory in the Dick Hooper Group in impressive style. It was a mother versus daughter battle at the head of the Ronnie Delany Group right throughout with little separating Marianne Gleeson and Michelle Ryan on the leaderboard from very early on. In the end, it was Michelle that gathered the necessary momentum to get over the line to take the title in her debut series as a Track-Attacker.
Liam Leamy climbed to the highest rung of the Ray Flynn Group ladder fighting off the efforts of any pretenders to the title. Tara Kennedy's rate of improvement week on week was impressively sufficient to take the Catherina McKiernan Group title while Willie Corcoran had to fight right to the death to claim the Jerry Kiernan title in an extremely close and competitive group.
There was a French flair to the John Treacy Group with the top prize eventually resting with Seb Marchand. Therese Glendon marked her debut series as a Track-Attacker with an impressive victory in the Ciara Mageean Group while Delia Ryan was a very popular winner in the Marcus O'Sullivan Group. Clonakeeny's Michael Murray fought off a string of tough challenges to earn the Neil Cusack title.
The three way tie came in the Derval O'Rourke Group. Heading into the final night, it looked near impossible to separate Siobhan Carr and JJ Bourke and this proved to be the case but following a superb performance from Jacqueline Minogue on that final night, she also earned a place on the loftiest step of the podium.
---
Book Launch
Glankeen of Borrisoleigh by Rev. M Kenny S J. A history of the parish of Borrisoleigh, Co. Tipperary, originally published in 1944 and which has been out of print for several decades is being republished in an updated and expanded format. The new book is being launched in The Community Centre on Friday 18th May at 7.30pm
The new publication will include a reproduction of Fr. Kenny's original work plus several new chapters covering Borrisoleigh casualties in the Great War, An updated history of the ancient monastic site of St Cualainn. A listing of the gravestone inscriptions in Glankeen Cemetery along with a map of the grave locations. Descriptive interpretation of the gravestone iconography found in the cemetery and essays on some notable personages interred in Glankeen.
The republished work will be available in limited edition hardcover and softcover bindings. Pre publication prices are as follows; Hardcover €27.50, Softback €20. To reserve a copy email; glankeen@tipprevolution.ie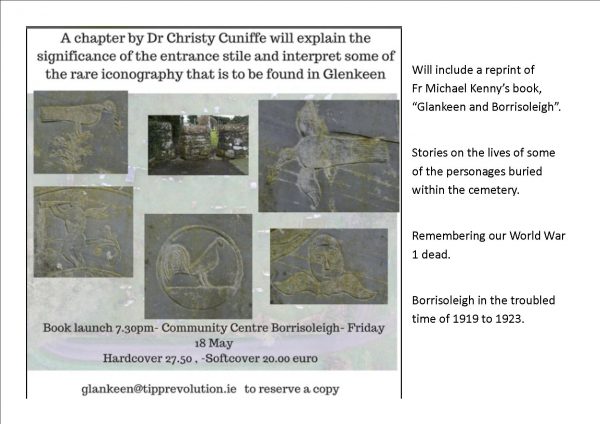 ---
Youth helpers fundraiser for Lourdes.
Aoife Max has organised a raffle as part of her fundraising for going to Lourdes as a youth helper in June. Cards are available in Walsh's, Hurleys, O'Dwyers butchers, O'Connell's pharmacy & Finns Bar, Borrisoleigh or from Aoife or myself. €2 per line or 3 lines for €5. Please support. Raffle will take place in Finns Bar Borrisoleigh on Saturday April 7th @ 7pm.
---
Borrisoleigh Active Social Club
The April meeting of Borrisoleigh Active Social Club takes place in the Community Centre Borrisoleigh on this Wed April 4th at 8pm. This will be a night with a difference. We are having a Trad session. Entertainment is being provided by a host of local and very talented young people. We are extending an invitation to everyone to join us for a good evening. Refreshments will be provided.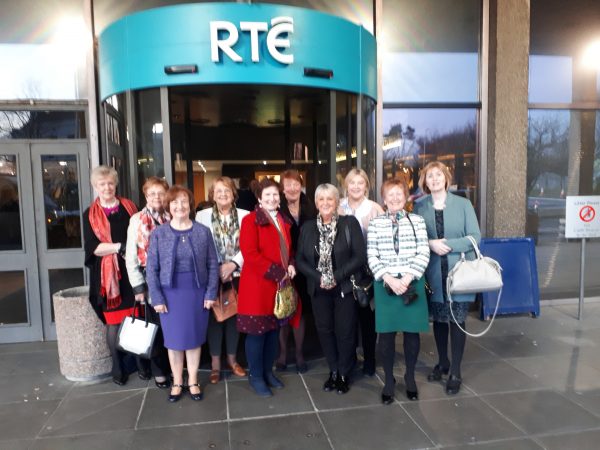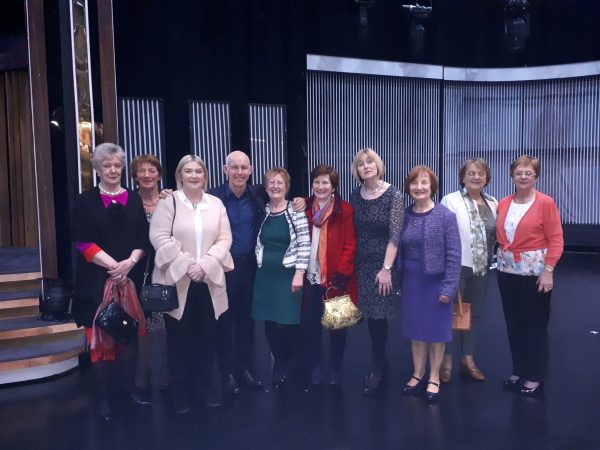 Last Saturday night a group of members of our club went to the Ray Darcy show. The reports are they had a good night and came home with lots of goodies.
Next week we have another group heading off to Killarney. This is the first night away that the club has organised and hopefully everyone will enjoy themselves.
---
Borris-Ileigh Camogie Club Notes

REGISTRATION: If you have missed our registration dates and wish to join the club this year, please contact 087 4380801, or hand in completed form and fee at training. Many thanks. All new members welcome.
Adult player €50, Juvenile €30, Committee/Trainers/Social members €20
CLOTHES COLLECTION: Time to do the spring clean!
Clothes collections will take place on Saturday April 21st at the pavilion from 10.00 am to 12midday and on Monday and Tuesday evening (April 23rd & 24th) from 7 to 8pm. Paired shoes and belts also accepted. Your support would be appreciated.
​​​​​U16's play Moycarkey on this Saturday April 7th at home at noon. Good luck girls.
U12's had a great win over Cashel on Friday last at home.
Final score Borris-Ileigh 3-06 to Cashel 3-01.
Scores from: Emma Maher 0-02, Aoife Fitzgerald 1-01 and Ava Bevans 2-03.
Next game away vs. Cahir at 6.30 p.m. Good luck girls.
U10, U8 and U6 training will re-commence shortly.
---
Loughmore Drama Group
Loughmore Drama Group's re-scheduled production of The Chastitute by John B Keane will take place in the Community Centre, Loughmore, on Friday 6, Saturday 7 and Sunday 8 April at 8pm. Come along to hear John Bosco telling his own story of his quest for love.
---
The Woodlands of Loughglynn.
Tipperary In The Decade Of Revolution.
On 19th of April 1921, two men, Stephen McDermott and Sean Bergin, were shot dead in an engagement with Crown Forces under the command of Captain McKay of the Leistershire Regiment, near Loughglynn in County Roscommon.Sean Bergin was a native of Nenagh Town and at the time of his death was an organizer of the IRA's south Roscommon Flying Column. Prior to his death, being in poor health, he was hiding out in the house of Roger McDermott near Loughglynn woods when he and his party were captured in the course of a military sweep of the area. Bergin and McDermott were shot dead while in captivity. Their comrades, Toby Scally and Thomas Satchwell escaped and survived to tell the tale.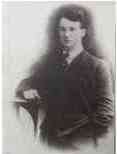 The famous ballad, "The woodlands of Loughglynn", was composed in memory of the two men and the event in which they lost their lives.
On 21st April next, in conjunction with Ormond Historical Society, we are traveling by bus to Loughglynn, where in collaboration with a local committee, we will hold a commemoration in honour of Sean Bergin and his comrade McDermott.
Along with the ceremony at the monument that marks the spot where the men fell, there will be a programme in the local community centre, consisting of talks and lectures, also song and music.
"Tipperary in the Decade of Revolution" is a voluntary and non political group. Our aim is, in a meaningful way, to honour and commemorate those from our county who contributed significantly to that period 1913 to 1923. Along with organizing commemorative events, we work in conjunction with local groups and historical societiesin the task of keeping our history alive and relevant.
Bus leaves Templemore at 8.10 am.
Borrisoleigh 8.30am
Nenagh 9.00am.
For further details, — 0862752634—johnconnors@tipprevolution.ie
---
Borris-leigh Juvenile Club
Borrisoleigh Juvenile Club would like to thank everybody who came and supported our Table quiz last Friday night. To our Quizmaster on the night Michael Tierney who done a fantastic job and to Vera Hogan and Paddy Ryan who corrected all the questions on the night a big thank you to you. To the local businesses and shops who kindly donated raffle prizes we thank you for your continued support. We look forward to another great year ahead.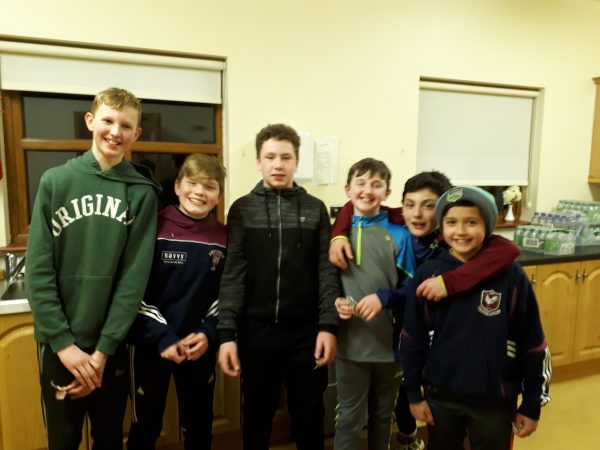 The winning team on the night
---
Pic of the Past ………..down memory lane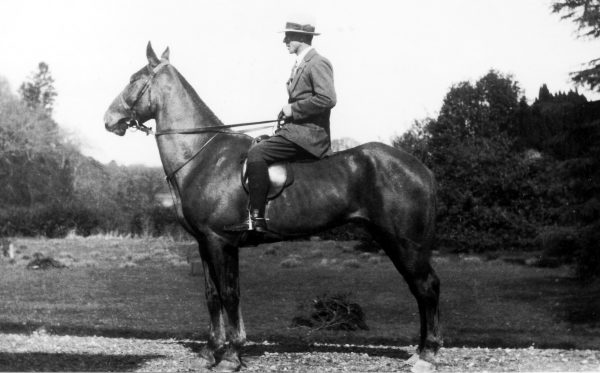 Timothy Woodlock, Cottage
(1887-1972)
---
Committee: Enda Ryan, Noreen Fahy, Marie McGrath and Derry O'Donnell
Many thanks to all those who contributed photographs and news items
Remember, we need you to continue to send us material so that we can keep our website current and interesting.
While we make every effort possible to ensure that the information contained in this Website is accurate and complete, we cannot accept any legal liability as a result of the inaccuracy or incompleteness of the information presented to users of this site.
Also, if you like what you see and want to leave a comment, remember to use the Guestbook