St. Joseph's College Notes
 Students taste life as a space scientist in Cassini competition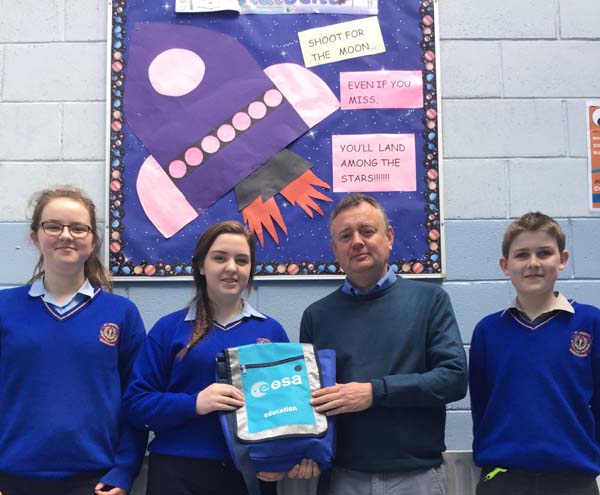 St Joseph's College, Borrisoleigh had the honour of being the only Irish school with winning entries in the 'Cassini scientist for a day' competition. This is an international competition coordinated in Europe by the European Space Agency. To enter, students needed to first research the three targets that were set especially for the competition. Students then selected one target that they found interesting and were asked to write a 500 word essay describing why.
For the 2015 -2016 competition, students could choose between: an image of Saturn 's rings,also including three of Saturn's moons: namely Tethys, Enceladus,and Mimas; a distant image of Jupiter ; or a short movie of Saturn's moon Tethys passing behind another moon Rhea.
The winning essays were by Caitriona Ryan(second year), Niamh O Brien(TY), and Joseph O Donoghue(first year). The winners are pictured with Kevin Mc Carthy, Acting Principal.
Student Council end of year report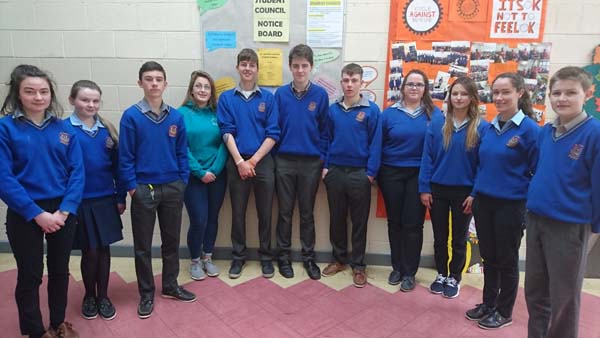 The election of representatives from 2nd to 5th year to student council took place on 28th September. At our first meeting on 2nd of October the members reviewed and ratified their constitution and elected the officers. Joanne Minogue was elected as chairperson.
1st years organised a petition for inclusion at student council. This petition was considered by the members and a decision was made to change our constitution to hold first year elections in January of each school year. The student council supervised these elections in January.
Canteen food appeared as a topic for discussion for most meetings and student council members made several suggestions to the relevant authorities re: improvement in quality of food and inclusion of healthier food options on the menu. Some success was achieved, for example pasta appeared on the menu and the soup recipe was changed.
During the year members conveyed requests from the student body to council meetings. These ranged from more seating on the corridor for students in early in the mornings to improvements in toilet facilities. These requests were conveyed to management by student council members and some significant improvements were achieved.
Student Council Chairperson Joanne Minogue and council member Richard O'Donoghue judged the winners of the "walk in my shoes" competition during mental health week.
In March the council held a survey among students re: a school jacket. The response was very positive with 98 of the 111 students expressing an interest in having a school jacket. The council then put forward a proposal to the Board of Management presenting their findings. This proposal is being considered by the BOM and the Parent's Association.
Mental Health Awareness week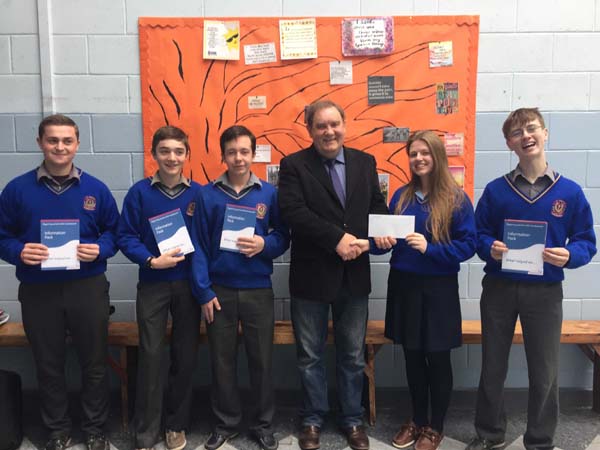 Following on from our Mental Health Awareness week earlier in the term , cheques were presented to Larry O Sullivan, Anam Cara and Michael Egan of Living Links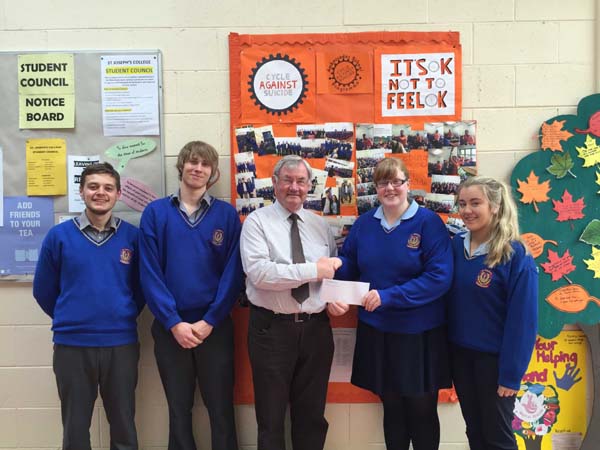 ---
Marian hall lotto winner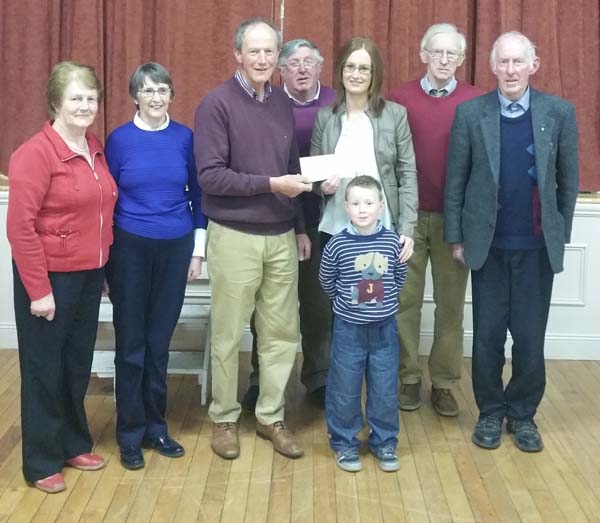 Congratulations to our recent lotto winner Joanne Grogan Coolderry.
Bingo takes place every Tuesday night at 8.30 in the Marian Hall. Local support would be greatly appreciated.
Lotto tickets can be purchased in local shops and businesses throughout the week and at bingo on the night. The lotto draw takes place during bingo every Tuesday night
---
 Graveyard Masses
The Annual  Graveyard Masses are as follows:
Ileigh – Thursday 9th June @ 8pm.
St. Brigid's, Borrisoleigh – Thursday   16th June @ 8pm
Glenkeen – Friday 17th June @ 8pm
---
Borrisoleigh Active Social Club
Marigold Festival 2016
In 2016 Active Retirement Ireland are hosting nine regional Marigold Festival series events in partnership with Home Instead Senior Care. The most local one for Borrisoleigh is being held in the Radisson Blu hotel in Limerick on Tues May 31 from 10.30 to 4.30. There is a Free shuttle bus from the train station to the hotel .
These are fun , interactive & informative days for ARI members and the general public. Each Marigold Festival is free to attend and everyone is welcome.
Our monthly meeting for June takes place on Wed June 1st @8.30 in the Community centre. At this meeting we will be presenting all the proceeds from our recent 12 hour walk to The Suir Haven Cancer Support Centre Thurles. New members are always welcome to join.
---
2017 Leaving Cert Students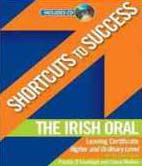 Bí Réidh Irish Summer Camp, 15th – 19th August 2016, St. Patrick's College, Thurles, 9.00 – 5.00 p.m. Monday to Friday for current transition and 5th year pupils.
Aim of the course is to prepare students for  Leaving Certificate Irish examination, the development of aural and oral skills using enjoyable and innovative methods and cultivating a love of the Irish language.   The Oral is 40% of the marks in the Leaving Certificate Irish Paper.
Fee €175.00 which includes activities and travel to activities, class each morning for 3 hours and afternoon activities include sport, swimming, surfing, fun bowling, climbing wall, orienteering, hurling etc.
Course run  by committed and experienced current second level teachers and a low pupil teacher ration.
Enquiries and names to Seamus on (0504) 23831 on or before  15th June as course subject to interest.   Course will run if minimum of 10 students are interested.   €60 deposit to secure a place.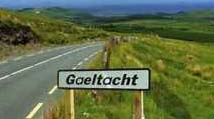 ---
 Fifi's Tots Open evening
We will hold our open evening on Thursday June 9th from 6.30 to 7.30 p.m. If you are thinking of preschool for your child call in for a chat. Enrollment forms & free preschool years information will be available to you.
---
Borris-Ileigh Camogie Club Notes

U14s had a great win over Moycarkey at home last Monday.
Final score 4-07 to 4-02. Scores from: Emma Doolin 2-00, Chantal Feighery 1-00, Katie Fitzgerald 1-02 and Katie Boyle 0-05.
Next game due to be played v Templemore away on Thurs June 2nd.
Good luck girls.
U12s will play Templemore shortly. Parents will be notified by text. Best of luck.
Next U8's blitz scheduled for June 11th at the Camogie Grounds, The Ragg. Parents will be notified by text.
---
Scoil Naomh Cualan
We are delighted to have been selected as the launch school for the 'Gum Litter Campaign' in this area. This event will take place in the school on Wednesday, 15th June 2016. Seamus Hanafin will be the guest speaker on the day. There will be a tv camera  on the day to cover the event as well as a photographer and local papers. E-GO bikes are being brought to the school for the children to try out. It is a huge privilege to be asked to be the launch school for this event. We invite all parents, families and any interested members of the community or community groups  to the launch. The time will be confirmed early next week.
---
Exercise Classes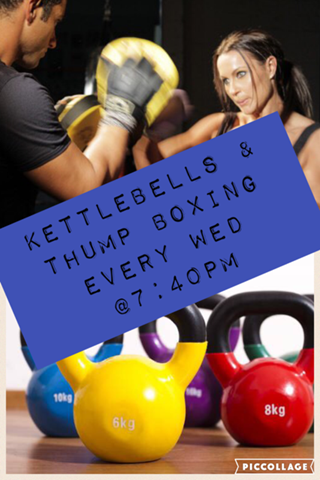 Exercise classes in the Community Centre every Wednesday at 7:40pm. If interested please contact: Jillian Dunne – 086 8482150
---
Borris-Ileigh Juvenile Notes
U6
Training continues every Saturday morning @ 11:30am.
U8 & U10
Training continues mid week and on a Saturday morning. Text message will be sent to confirm times.
U12
Both U12 Teams started their championship campaign on Friday evening last in Dolla against the Silvermines. Team A were the first game up. Our Boys and Girls put in a terrific performance and never gave up. They battled a very strong Silvermines side and were unlucky not to come away with a victory. The game ended in a draw. Will done to all.
Team B put in a fantastic performance. They fought really hard on the night. At half time only a goal separated the sides but in the second half Silvermines scored 2 goals in the last 10 minutes to secure victory.  Will done to all for putting in a great display.
U12 A Fixtures:
10/06: V Nenagh Eire Og venue Borrisoleigh tbc
24/06: V Ballina venue Ballina tbc
01/07: V Toomevara venue Borrisoleigh tbc
08/07: V Roscrea venue Roscrea tbc.
U12 B Fixtures:
02/06: V Kilruane venue Cloughjordan tbc
10/06: V Nenagh Eire Og venue Borrisoleigh tbc
24/06: V Roscrea venue Roscrea ( Date to be finalised)
01/07: V Moneygall venue Borrisoleigh tbc
08/07: V Burgess venue Kilcolman Park ( Date to be finalised)
15/07: V Newport venue Borrisoleigh tbc.
U14
Played Templederry/Ballinahinch  last Wednesday. They came up against a very strong team and fought really hard. Will done to all on the evening.
Fixtures:
01/06: V Moneygall/Clonakenny venue Borrisoleigh tbc
08/06: V Borrisokane venue Borrisokane
22/06: V Newport venue Borrisoleigh
29/06: V Burgess venue Kilcolman Park
06/07: V Portroe venue Borrisoleigh
13/07: V Lorrha/Shannon Rover venue Lorrha.
U16
Best wishes to all starting your exams.
Fixtures:
04/07: V Kildangan venue Borrisoleigh
11/07: V Kilruane venue Cloughjordan
18/07: V Silverines venue Borrisoleigh
25/07: V Toomevara venue Toomevara
08/08: V Nenagh Eire Og venue Nenagh
15/08: V Roscrea venue Borrisoleigh
22/08: V Lorrha/Shannon Rovers venue Ballinderrry.
U15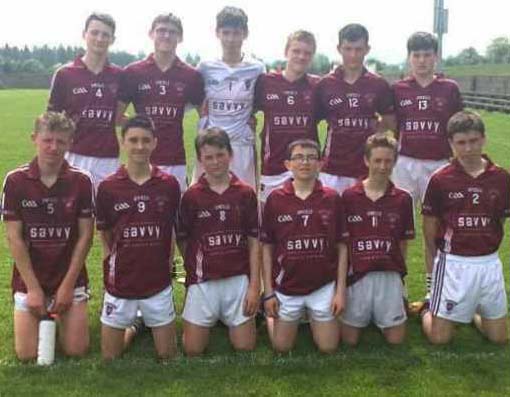 10 aside Munster Blitz was held in the park on Saturday. Our U15s put in an outstanding performance throughout all their games and have now qualified to participate in the final in Mallow. Will done to all involved and the best of luck in the final which takes place in Mallow on the 11th June.
Congratulations to Scoil Naomh Cualan U11 & U13 teams that won the schools county final in Cuman Na mBunscoil in Semple Stadium on Thursday last.  Fantastic effort by all involved.
---
A.M Bootcamp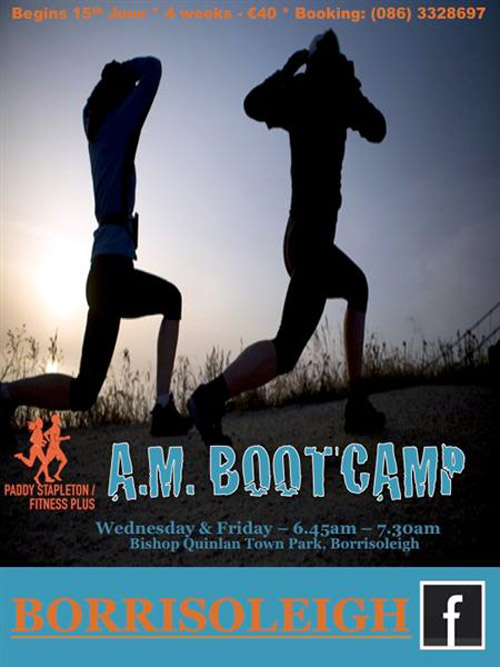 ---
Pic of the Past ………..down memory lane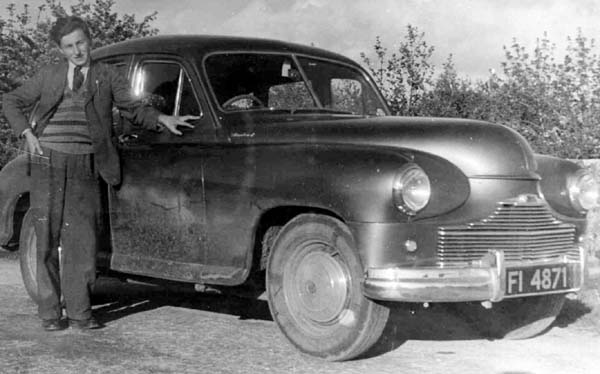 Eddie Kenny with his Standard Vanguard which was bought new in 1949 for £630
---
Committee: Enda Ryan, Noreen Fahy, Margaret Cowan, Marie McGrath, Aileen Óg Groome and Derry O'Donnell

Many thanks to all those who contributed photographs and news items. Remember, we need you to continue to send us material so that we can keep our website current and interesting.
Send your email to: info@borrisoleigh.ie

While we make every effort possible to ensure that the information contained in this Website is accurate and complete, we cannot accept any legal liability as a result of the inaccuracy or incompleteness of the information presented to users of this site
Also, if you like what you see and want to leave a comment, remember to use the Guestbook